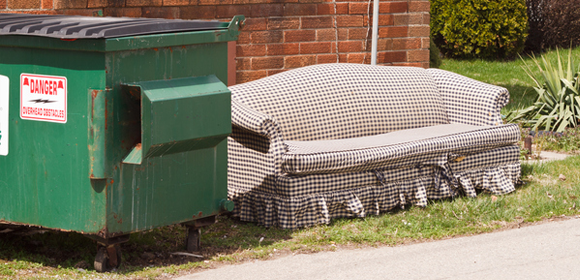 Updated December 6, 2022
When it's time to part ways with the family couch or futon, hiring a junk removal service is a quick and affordable way to get rid of your old furniture.
Simply leaving your couch curbside does not mean that your regular trash service will pick it up and can likely get you fined in many areas.
We've gathered everything you need to know if you have a couch that you need to get rid of.
Jump to:
---
---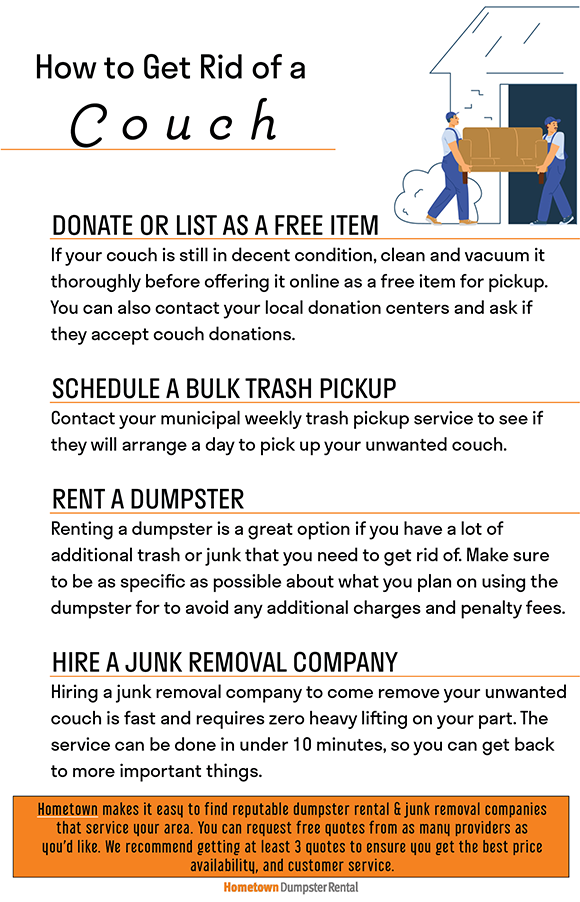 Donate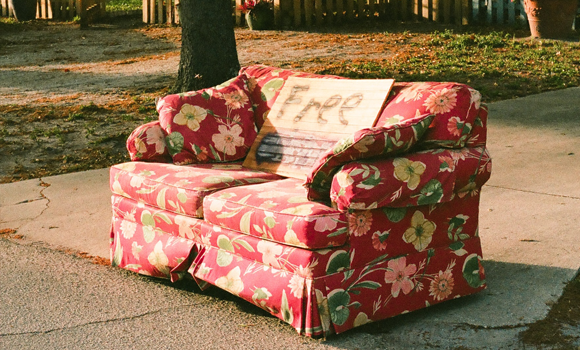 If your couch is still in decent condition, an easy way to get rid of your couch is to donate it.
Some places like Goodwill and The Salvation Army still take cloth furniture depending on where you live, but it's becoming more and more common for these large pieces of furniture to no longer be accepted at large chain donation centers.
Instead, you could make a listing on Facebook Marketplace or Craigslist and offer it as a free item to any families that may be in need.
Not only can you feel good about helping out a family in your community but having someone come to you and remove your couch requires very little effort on your part.
Schedule Bulk Trash Pickup
Some municipal weekly trash pickup services offer bulk trash pickup if it is scheduled ahead of time while others only offer it a few days out of the year.
Not every company does but double-checking with your local provider is worth a call.
If you are able to arrange a pickup, placing your couch or futon curbside with the appropriate "ticket" or "tag" that is often provided by your city is usually all you need to do.
---
---
Rent a Dumpster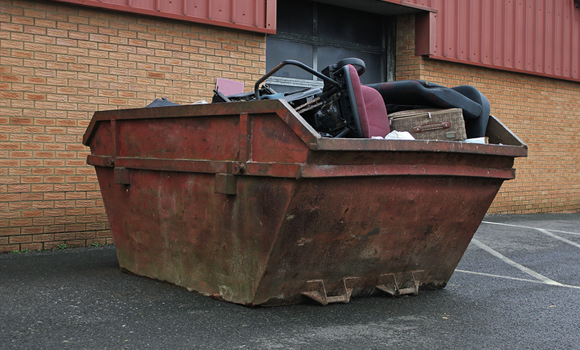 Renting a dumpster to throw out your couch is a great idea if you also have a lot of other unwanted items to get rid of.
Especially if you're cleaning out a whole house or living area, roll-off container rental is great for spring cleaning, debris removal, and more.
If you do a house cleanout and decide to rent a dumpster, be sure to ask the rental company what items are accepted in their dumpster and be as specific as possible about the items you intend to dispose.
This will ensure you avoid getting hit with overage fees that aren't included in your dumpster rental quote.
Read more:
Hire a Junk Removal Company
One of the easiest ways to get rid of any unwanted furniture is to hire a junk removal service.
Hiring a junk removal company to get rid of your old couch is affordable, fast, and requires zero labor on your end.
Hometown makes it easy to find reputable, locally-owned junk removal companies in your area.
You can request free quotes from as many providers as you'd like.
We recommend reaching out to at least three different providers to ensure you get the best price and customer service.
Discuss your needs in detail with the companies you speak with and let them know about any special requests or requirements ahead of time, like if you want contactless service or have narrow stairways or entryways.
---
---
Continue reading: