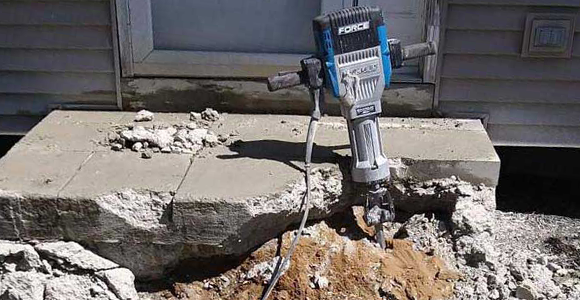 Updated January 19, 2023
Renting the right size dumpster for concrete disposal can be tricky because of how heavy it is.
While a 10 yard dumpster can hypothetically hold up to 10 yards of debris, there are weight limits in place to make loading and traveling with the dumpster safe for the driver and others on the road.
Weight limits also ensure that the dumpster rental company doesn't lose profit, as they are charged to empty their dumpsters based on the weight of the content.
---
---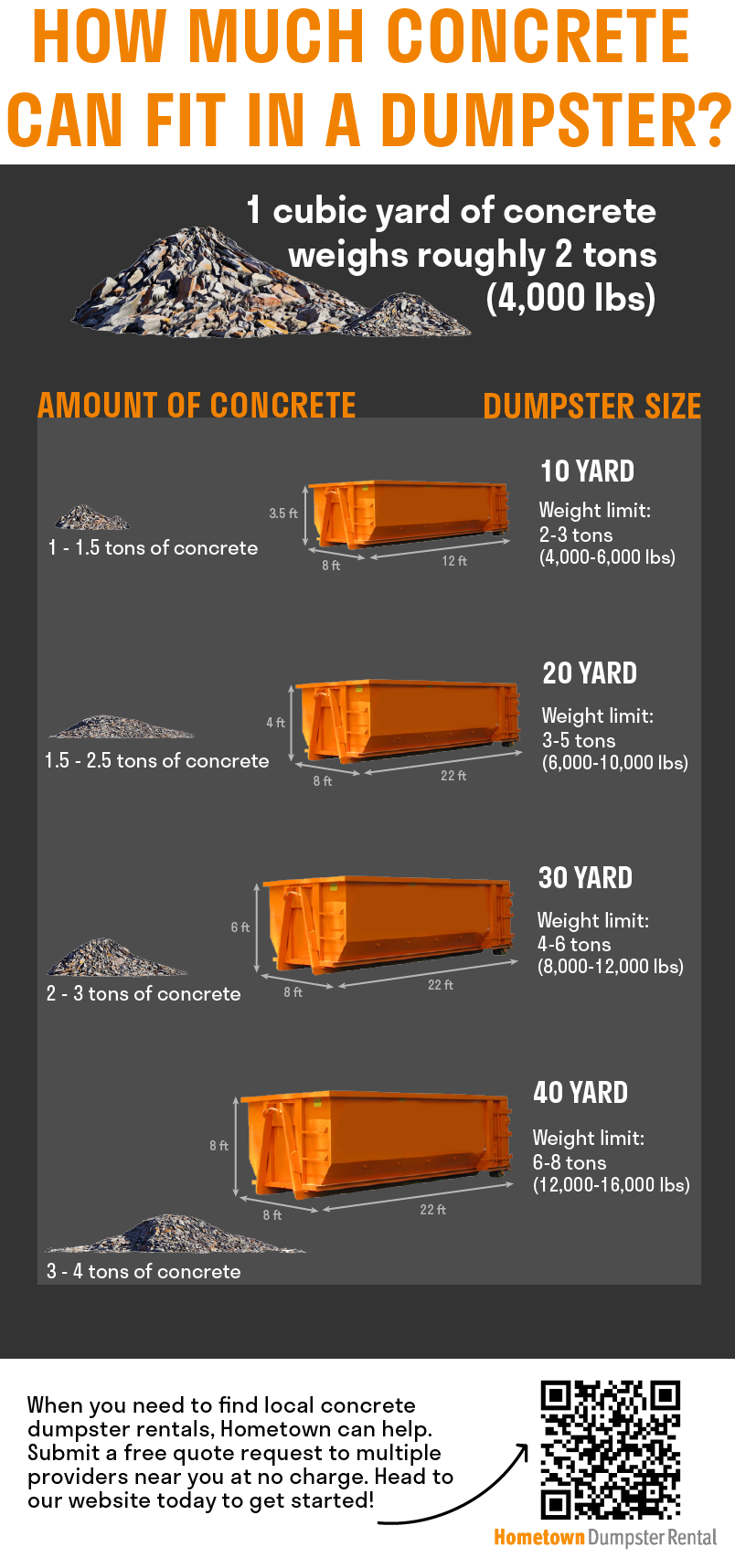 Concrete is one of the heaviest types of C&D debris that contractors throw out
On average, 1 cubic yard of concrete weighs 4,000 lbs, or 2 tons.
The average weight limit of a 10 yard dumpster is 4,000-6,000 lbs, or 2-3 tons.
There are some dumpster companies that specialize in heavy C&D debris disposal, which is why it's important to be as specific as possible about how much concrete you intend on throwing away when speaking with different rental providers.
Use the infographic above for a visual on how much concrete would fit in different dumpster sizes, assuming each dumpster has the most standard weight limits in place.
Unsure about how much concrete your project will produce? Use the chart below as a baseline, and then speak with different dumpster pros in your area to learn more.
| | | | |
| --- | --- | --- | --- |
| Project Type | Dimensions | Amount of Concrete | Weight of Concrete |
| Single-Car Driveway | 40 ft L x 10 ft W x 4 in. D | 5 cubic yards | 10 tons |
| Double-Car Driveway | 40 ft L x 20 ft W x 4 in. D | 10 cubic yards | 20 tons |
| Patio | 15 ft L x 10 ft W x 4 in. D | 2 cubic yards | 4 tons |
| Pathway/Sidewalk | 15 ft L x 2 ft W x 4 in. D | 0.4 cubic yards | 0.8 tons |
When you're ready to find concrete dumpster suppliers, Hometown is here to help.
By answering a few short questions about your concrete disposal needs, you'll be shown pros in your area that are licensed, insured, and eager to provide a free dumpster rental quote.
---
---
Continue reading: