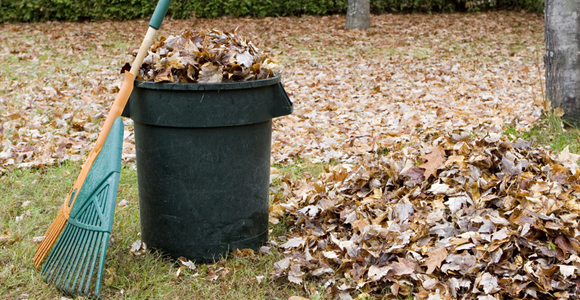 Updated September 29, 2022
When you have a pile of yard waste that you need hauled away and disposed of, professional junk removal services are a great solution.
If you've never hired these services before, Hometown is here to help answer all your questions so you can finish your yard cleanup project as soon as possible!
Here's how yard waste removal services work:
---
---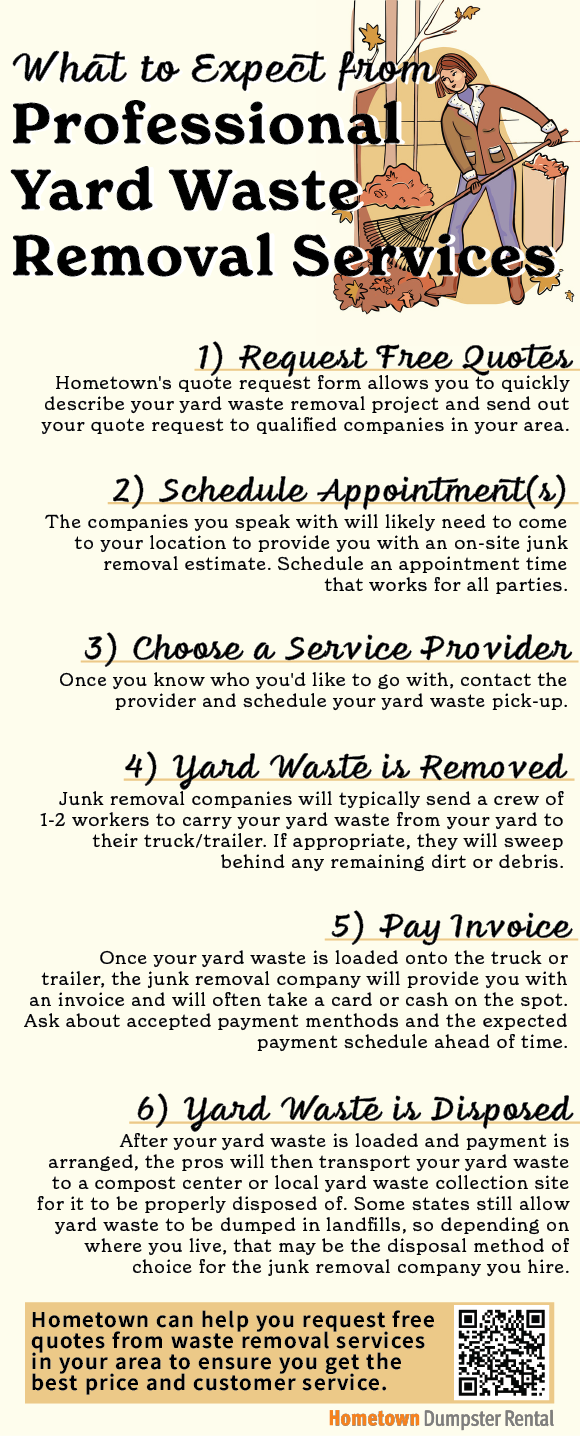 Request Free Quotes
One of the best ways to get the best price, customer service, and availability that fits your schedule is to get different quotes from local yard waste/junk removal providers.
Hometown's quote request form allows you to quickly describe your yard waste removal project and send out your quote request to qualified companies in your area.
Schedule Quote Appointment(s)
Depending on the size of your yard waste removal project, the companies you speak with may need to come to your location to provide you with an on-site junk removal estimate.
Some companies will ask for a photo of your yard waste via text message or email so they can provide you a quote over the phone, but every company and yard waste disposal project is different.
Whether you get quotes virtually or in-person, there will never be a charge for a project quote and you are never obligated to hire.
Junk removal providers understand that it's common practice for consumers to shop around and should never put pressure on you to hire before you're ready.
However, if you get an in-person estimate and you like the price they've quoted you, you can choose to hire them on the spot and they'll likely get to work removing your yard waste right away.
Keep reading: How to Determine Which Junk Removal Quote Is Best
Choose a Service Provider
Once you've gotten a handful of quotes from local junk removal companies, compare the information they've given you and choose the service that will best take care of your yard waste removal needs.
It's important to make sure you're getting a good price, but customer service and availability are just as important, so keep that in mind when choosing a junk removal company.
Once you know who you'd like to go with, contact the provider and schedule your yard waste pick-up.
Learn more: Questions to Ask Junk Removal Companies Before Hiring
Yard Waste Is Removed
Junk removal companies will send a crew of 1-2 workers to carry your yard waste from your yard to their truck/trailer.
If you have large or heavy pieces, like wood from a fallen tree, they may use dollies or other equipment to help them with their loading.
If your pile of yard waste was piled up on your driveway or sidewalk, they may sweep the area to make sure there is no dirt or debris left behind from your pile.
Unless the amount of yard waste is extreme, the removal should be fairly quick and completed within 10-30 minutes.
Pay Invoice
Once your yard waste is loaded onto the truck or trailer, the junk removal company will provide you with an invoice.
Oftentimes, they'll take a card or cash on the spot.
In some circumstances, they'll allow you to call into their office to pay your invoice over the phone.
Be sure to discuss payment before hiring services so that expectations are clear ahead of time for both parties.
Yard Waste is Properly Disposed
After your yard waste is loaded and payment is arranged, the pros will then transport your yard waste to a compost center or local yard waste collection site for it to be properly disposed of.
Some states allow yard waste to be dumped in landfills, so depending on where you live, that may be the disposal method of choice for the junk removal company you hire.
If you are someone who is environmentally conscious, be sure to ask the different companies you speak with how they intend on disposing of your yard waste.
Hauling your green waste to the landfill may be the most convenient for them, but there are typically more eco-friendly options available for yard waste.
Once you've paid your invoice and your yard waste is removed, all that is left to do is enjoy your renewed yard.
---
---
Learn more: