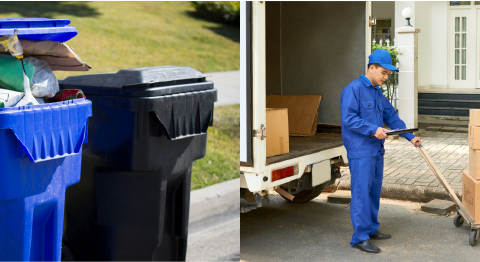 Updated August 30, 2022
If you're planning a cleanout project, you're likely wondering what's the best way to get rid of all the stuff you no longer want to keep.
Should you throw it out in your curbside trash bin? Would it fit?
Do you need a trash removal service or junk removal company to handle the disposal properly, and what's the difference?
Both services can help with getting rid of unwanted household trash and junk, but understanding the differences between the two can help you decide which is the best service that suits your needs.
We'll go over the three main differences between trash removal and junk removal services.
Jump to:
---
---
Small Trash Collection vs Bulk Collection
A vast majority of trash removal or trash collection services are not willing to accept certain items or pick up a trash bin that's overflowing.
So, if you have anything to toss that won't fit in your trash cart—or isn't allowed—junk removal services are a great solution.
Your local trash and recycling department may offer yearly programs designed to help homeowners get rid of bulky or large amounts of household junk.
Many cities offer a trash pick-up day or community dumpster event to help community members get rid of larger items or bulk trash.
While a great option in some circumstances, these events typically only happen once a year and have limits on the type and amount of debris accepted.
Junk removal services provide a convenient solution to picking up bulky items, like furniture, as well as a large amount of smaller items—anything that doesn't fit in your trash bin.
Regular Service vs One-Time Service
Trash removal is the regular collection service that picks up trash from your curb.
A trash bin typically gets picked up on a weekly or bi-weekly basis for a fee that varies based on cart size.
In most cases, you sign up for regular trash removal services through your city's Public Works department, decide which cart size you'd like, prepay for a certain number of collections, and conveniently dispose of your trash and/or recycling on your scheduled date.
Junk removal is a one-time service that is scheduled in advance and paid for upon job completion.
When you have a disposal project, you can reach out to local junk removal companies for a quote (Hometown makes it easy!) and schedule the junk removal when it's convenient for you.
Landfill vs Green Disposal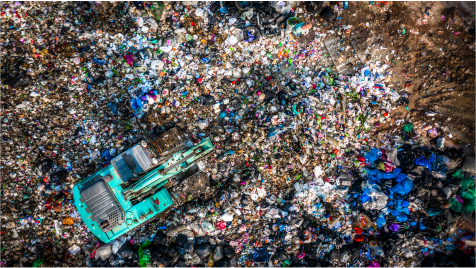 Trash collection trucks haul your trash to the landfill, where it's dumped and piled up.
Junk removal companies take the time to dispose of every item they haul away properly.
If the item can be donated, they will take it to a local charity. (Most will provide a receipt of donation, just be sure to ask.)
If the item can be recycled, they'll take it to a local recycling facility.
Only when there's no other option do junk removal companies take items to the landfill.
This is why junk removal is an extremely eco-friendly disposal option.
---
---
Learn more: