Updated December 15, 2022
Between Black Friday, Cyber Monday, and being unable to resist the urge to buy new decor, the holidays are typically a time when we're bringing more stuff into our home than we're taking out.
By the time the new year rolls around, you're probably already looking forward to spring cleaning.
On top of that, the holidays often bring visiting family, get togethers with friends, and more hosting than you're typically used to.
Before you let the holiday clutter bog you down, follow this guide to declutter, get organized, decorate to impress, and discover the best ways to streamline it all.
Table of Contents:
---
---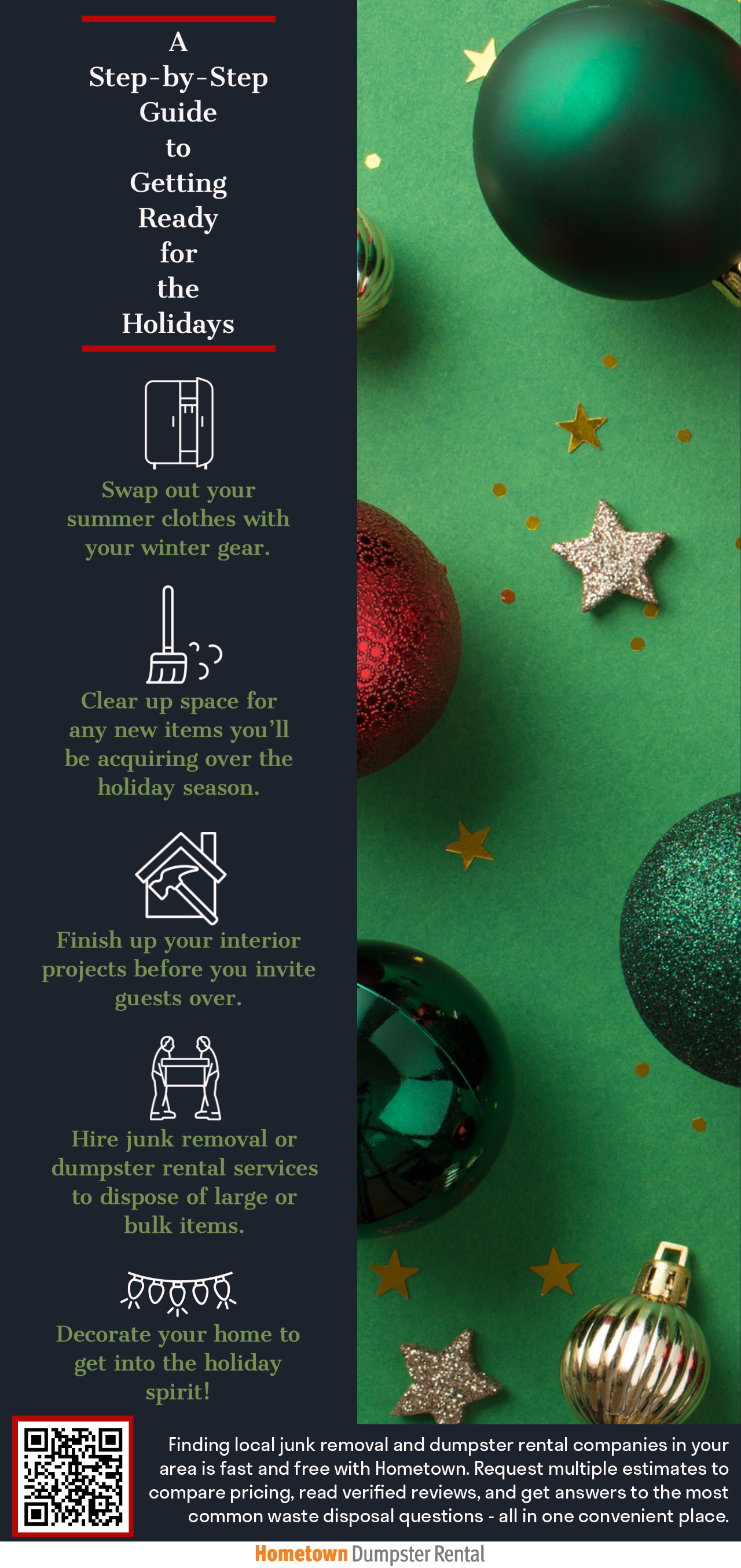 Step 1: Swap Out Your Wardrobe
If you haven't already, it's time to swap out your spring/summer clothes with your fall/winter gear.
Having two separate wardrobes that you can pack away after the season changes allows you to...
Have more space in your closets/dressers
Find clothing you actually want to wear much easier
Have space for new pieces you might accumulate over the upcoming season
While you're packing away your warmer weather clothes, set aside items that you rarely touched over the past season.
Whether you have pieces that no longer fit, have gone out of style, or they're falling apart at the seams, get rid of these items before you pack up your summer wardrobe.
Similarly, while you're unboxing your winter clothes, set apart any items that you know you'll likely not wear often or at all this upcoming season.
Doing this periodically throughout the year helps keep your wardrobe manageable so that you can easily access the clothes you actually wear as well as free up valuable storage space that can be used for new items that you purchase or are gifted during the holidays.
Step 2: Declutter Unwanted and Unused Items
In the same vein, organizing and decluttering the storage space in your home before the holidays is a great way to clear up space for any new items you'll be acquiring over the holiday season.
A clean, organized house does wonders to relieve day-to-day stresses and improve the overall safety of your home, which is perfect for what many consider a stressful time of year.
Follow the "6 month rule" when you're struggling to determine what is worth hanging on to and what is better off donated or tossed in the trash.
The 6 month rule is a general guideline for decluttering that indicates it's best practice to get rid of anything that you haven't used in the last 6 months (other than seasonal items, in which case you can extend the timeframe to 1 year).
In most circumstances, if you haven't used an item in 6 months, it's not worth hanging on to.
Another great rule of thumb is the "in-and-out rule", which states that every time you bring a new item into the home, remove an old one.
Read more:
Step 3: Finish Interior Projects You've Put Off
If you plan on hosting this holiday season, take advantage of contractors' slow season and finish up your interior projects before you invite guests over.
Winter tends to be the slow season for demo contractors, so if you've previously put any projects on pause, consider tackling these projects before the holidays arrive.
When we host the holidays, we spend so much time in the kitchen to prepare. Why not get the upgrades you've had your eye on and enjoy the space you're doing it in?
Or, if you've been thinking about investing in new flooring, take advantage of Black Friday deals!
If you need interior demo for your interior project, Hometown can help you find local pros in your area.
Learn more:
Step 4: Hire Junk Removal Services or Rent a Dumpster
If you only have a bag or two worth of items to get rid of, dropping it off at a donation center or tossing it in your regular trash should be sufficient.
When you have large amounts of junk to get rid of or heavy, bulky items that aren't easily removed, hiring professional services will be the best option for a stress-free declutter.
Junk removal companies often haul away furniture, old appliances, e-waste, demo debris, and bulk amounts of junk and are able to do so within a matter of minutes.
If you have 7 cubic yards or more worth of stuff to part ways with, renting a dumpster will likely be a more cost-efficient option, given you are able to do the heavy lifting and loading on your own.
When you need large disposal solutions, find reputable professionals in your area by searching on Hometown.
We publish locally-owned companies across the U.S. to help consumers connect with qualified junk removal and dumpster rental providers who offer great customer service and don't overcharge.
Supporting local businesses not only benefits your local economy, but when it comes to the dumpster and removal industries, they typically offer the best pricing and personalized services.
Getting multiple quotes to compare pricing and availability is easy, free, and can be done within a matter of minutes!
Continue reading:
Step 5: Decorate Your Updated Space
Once your house is all tidy and organized, it's time to enjoy the fun part of the holidays.
Decorate your home to get into the holiday spirit, or at the very least, to provide extra lighting during the darkest time of the year!
---