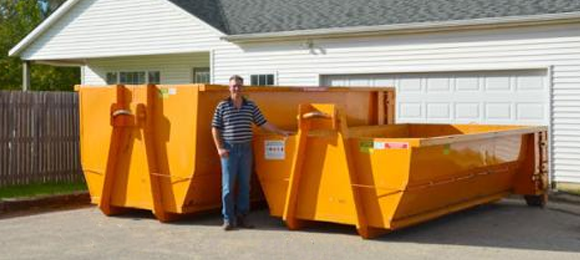 Updated June 2, 2023
Small dumpsters are a popular choice for residential cleanups like spring cleaning, construction debris cleanup, single-layer roof tear offs, and more.
10 yard roll-off dumpsters are versatile, compact, and designed to fit nicely in a standard driveway.
Some bins are constructed with shorter sides for easier side-loading of heavy debris, such as concrete or dirt.
10 yard roll-off containers are considered small dumpsters and hold 10 cubic yards of debris, but their size and shape varies.
In this article, we'll discuss...
---
---
How Much Will Fit Inside a 10 Yard Roll-off Dumpster?
An easy way to estimate how much space 10 cubic yards actually consumes is to visualize the size of a standard stove.
One 3 ft x 3 ft x 3 ft stove takes up 1 cubic yard of space.
Picture 10 of these stoves to estimate the amount of volume 10 cubic yards takes up.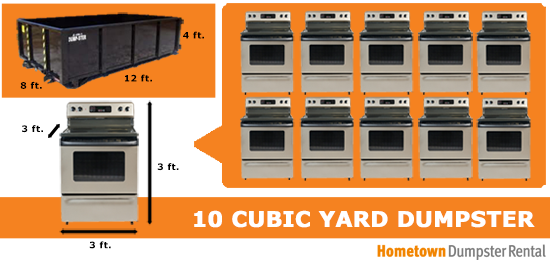 Different Container Styles

Standard Tub-Style or Flat-Bottom Container
Common exterior dimensions of a standard 10 yard bin are 12 ft long x 8 ft wide x 3.5 ft high
Features a swinging back door(s) for easy walk-in loading
Lowboy Dumpsters
Much lower sidewalls than standard 10 yard roll-offs
Common lowboy dimensions are 20 ft long x 8 ft wide x 2 ft high
Designed specifically for very heavy debris like concrete, dirt, or rock
Back door opens to form a ramp for easy loading
Dumpster Trailers
Rubber-tired dumpsters
Common dimensions are 14 ft long x 7 ft wide x 3 ft high
Easier on asphalt driveways or lawns than steel wheels and feet
Not as common as standard roll-off dumpsters
Is a 10 Yard Bin Right for Your Project?
10 yarders are generally used for two types of cleanups: heavy debris (e.g., concrete, dirt, roofing shingles, etc.), and small cleanouts of non-bulky wastes (e.g., attic cleanout).
The best way to ensure a 10 yard container will accommodate your cleanup is to call a local dumpster rental company and discuss the project with them.
While a 10 yard dumpster is usually the most affordable option, the project can get expensive when you find that a 10 yarder wasn't big enough to finish the job.
10 yard roll-off dumpsters are great for:
Moving dirt
Concrete debris disposal
Basement, garage, and attic cleanouts
Non-bulky household junk cleanout (e.g., spring cleaning)
Landscaping and yard debris
Roofing shingles
Remodeling projects or small flooring removal
When you're on the fence about which size to choose, the bigger container is usually the safer choice. Renting a dumpster that is too small can mean having to rent an additional dumpster, instantly doubling your disposal costs.
Alternative Options
It may also be worth considering hiring a junk removal company for your cleanup.
In some instances, junk removal may be the more affordable solution, particularly for small cleanups.
Junk removal is great for the disposal of furniture sets, small debris piles, or situations where you can't do the loading yourself.
Whether you're in need of a junk removal crew or a dumpster rental, Hometown can help you find locally-owned and licensed companies that service your area.
By entering your zip code and answering a few quick questions about your project type, you'll be shown qualified disposal companies near you.
Request free quotes to compare pricing, customer service, and availability to choose the best company based on your particular needs.
---