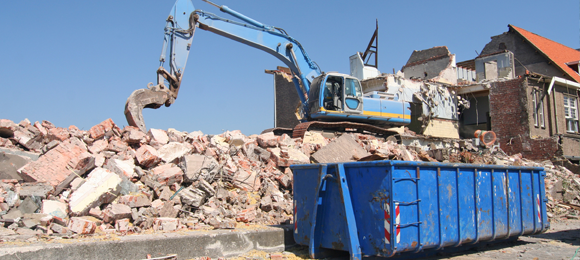 Updated September 1, 2022
Whether you're a professional roofing contractor or you're in the middle of a DIY demolition project, keeping your worksite safe and clean is an essential part of operating a successful project.
When you produce large amounts of construction and demolition debris, your only options are to hire a junk removal company, haul the debris to the landfill yourself, or rent a construction dumpster.
Renting a dumpster is the best choice in order to keep your worksite as safe and clean as possible throughout the duration of your project.
Neglecting to properly contain your debris until your project is finished creates an unnecessary hazard for you and everyone else working on the project site.
We've gathered everything you need to know about renting a dumpster for a variety of different worksites.
We'll go over:
---
---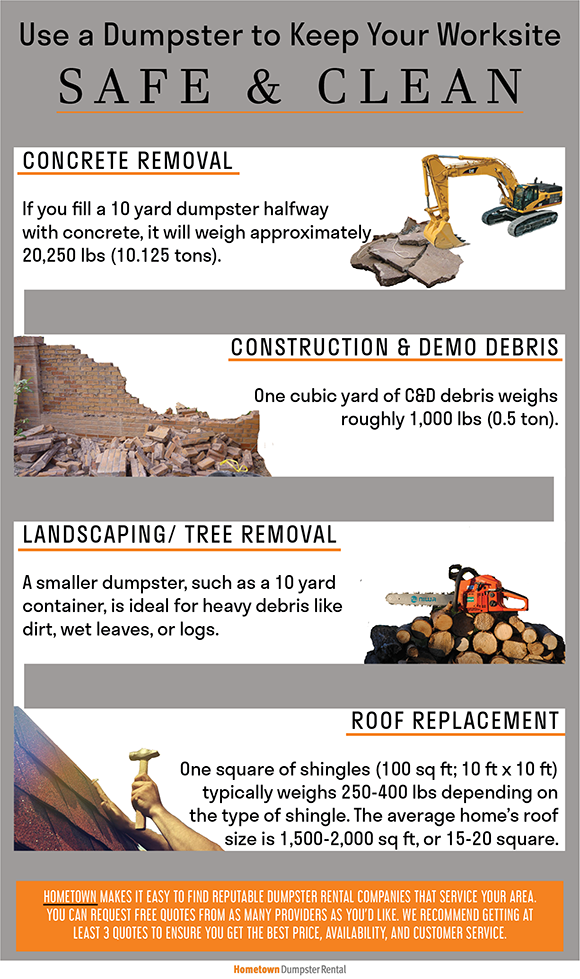 Concrete Removal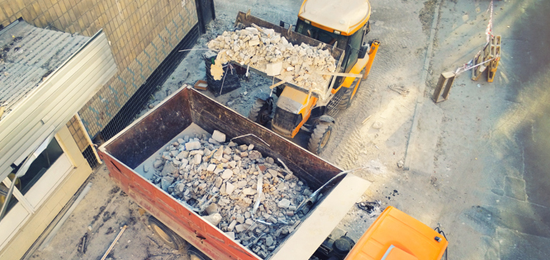 Unsurprisingly, concrete is a very heavy type of debris.
Generally speaking, a 10 yard dumpster is usually big enough to dispose of the debris from a concrete slab, driveway, or patio.
However, the weight limit of a 10 yard dumpster may not be enough to accommodate the weight of your concrete debris.
On average, one cubic yard of concrete weighs approximately 4,000 lbs (2 tons), and the average weight limit for a 10 yard dumpster is 4,000-6,000 lbs (2-3 tons).
Some companies offer specially built concrete dumpsters that can hold up to 10,000 lbs (5 tons) and are your best option if they are available in your area.
Most concrete surfaces, like driveways, slabs, patios, etc., are poured about 4 inches thick, so use this measurement when calculating your estimates.
Consider these examples to get a better idea of how much your project's debris might weigh.
Average Weight of Concrete Removal Projects
| | | | |
| --- | --- | --- | --- |
| Project Type | Dimensions | Average Yard Volume of Debris | Average Weight of Debris |
| Single-Car Driveway | 40 ft L x 10 ft W x 4 in D | 5 Cubic Yards | 5,000 lbs (2.5 tons) |
| Double-Car Driveway | 40 ft L x 20 ft W x 4 in D | 10 Cubic Yards | 10,000 lbs (5 tons) |
| Patio | 15 ft L x 10 ft W x 4 in D | 2 Cubic Yards | 8,000 lbs (4 tons) |
| Sidewalk/Pathway | 15 ft L x 2 ft W x 4 in D | 0.4 Cubic Yards | 1,600 lbs (0.8 ton) |
If you fill a 10 yard dumpster halfway with concrete, it will weigh approximately 20,250 lbs (10.125 tons).
If you fill a 10 yard dumpster one-third of the way with concrete, it will weigh approximately 13,500 lbs (6.75 tons).
It's important to understand the average weight of concrete so you don't overfill your dumpster and get stuck paying overage fees.
Learn more:
Construction & Demolition Debris
The most common construction dumpster sizes are 10 yard, 20 yard, 30 yard, and 40 yard containers.
Roll-off dumpsters are designed to make loading heavy and bulky material as easy as possible by featuring an open top and a swinging side door so that you can walk in large and heavy items.
There are several things to keep in mind before renting roll-off dumpsters for construction and demolition (C&D) debris, like:
Type of Material(s)
Amount of Debris
Project Duration
Rental Providers' Availability
Providing as much detail as possible to the dumpster rental company will help them guide you in the right direction regarding which size would be best for your project.
If you find yourself debating between sizes, going with the larger size is always recommended as it's very easy to underestimate your total weight.
Going with the larger dumpster could save you from having to rent a second or third dumpster—that's several hundred dollars you'll save on disposal costs.
One cubic yard of C&D debris weighs roughly 1,000 lbs (0.5 ton).
Once you have an idea of how many cubic yards of debris your project will produce, you'll have a good understanding of your dumpster needs.
The following chart will help you estimate the weight of debris your project produces.
Average Weight of C&D Debris
| | |
| --- | --- |
| Type of Debris | Average Weight per Cubic Yard |
| Bricks | 2,500-3,500 lbs (1.25-1.75 tons) |
| Drywall | 500-750 lbs (0.25-0.375 ton) |
| Wood | 300-500 lbs (0.15-0.25 ton) |
| General Household Debris | 150-400 lbs (0.0.75-0.20 ton) |
Keep reading:
---
---
Landscaping Projects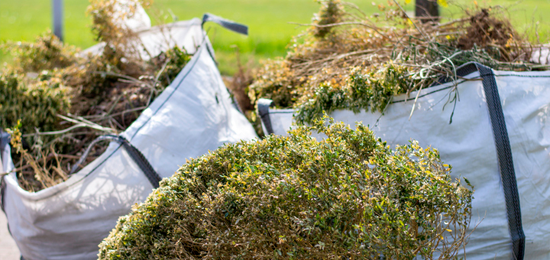 Renting a dumpster for yard waste offers convenience, speed, and a great value for cleaning up large landscaping projects.
It's a viable option for jobs like removing large amounts of dirt, tree debris removal, brush removal, and more.
The dumpster size that is right for you will vary by the scope of your project and the rental company supplying the container.
Some rental companies only authorize 20 yard dumpsters for use on yard waste disposal projects, while others may allow yard debris in 10, 30 or 40 yarders.
The main concern for the rental company is the weight of the load because yard debris tends to be on the heavier side.
Materials such as wet leaves, dirt, large tree logs, and other heavy material can drive the weight of the load up substantially.
It's important to know the exact type of debris to be disposed of and the approximate amount of it.
Your dumpster rental provider can help in estimating the amount and weight of the debris to ensure the right dumpster is selected to handle the project.
This chart will help give you a ballpark estimate of your weight allowance needs when shopping around for dumpsters.
Average Weight of Yard Waste and Inert Debris
| | |
| --- | --- |
| Type of Waste/Debris | Average Weight per Cubic Yard |
| Dry Dirt | 2,000 lbs (1 ton) |
| Wet Dirt | 3,000 lbs (2 tons) |
| Rock/Gravel | 2,400-2,700 lbs (1.2-1.35 tons) |
| Tree/Logs (10' diameter cut to 3 ft lengths) | 10 logs= 1,000 lbs (0.5 ton) |
| Brush/Leaves/Organic Matter | 1,000-1,500 lbs (0.5-0.75 ton) |
A smaller dumpster, such as a 10 yard container, is ideal for heavy debris like dirt, wet leaves, or logs.
The reason it's not common for dumpster rental companies to rent out 30 or 40 yard dumpsters for heavy debris is that the weight would exceed the lifting capacity of the roll-off truck.
A 10 yard or 20 yard dumpster is typically large enough to accommodate residential or light commercial yard waste disposal projects, like the disposal of downed trees, garden wastes, or large amounts of brush and leaves.
It can be difficult to estimate yard waste weight, especially when fallen trees are involved.
For example, the weight of a 50 ft pine tree can range anywhere from 2,000-5,500 lbs on average.
Every scenario is unique but an experienced dumpster rental company will be able to help you decide the best solution for the job.
Contacting local dumpster rental companies in your area for free quotes is important to ensure you find the best value yard waste dumpster in your area.
You may be able to get a discount for clean loading your dumpster with just yard waste that can be broken down, composted, or repurposed.
Learn more:
Roofing Projects
Shingle debris is heavy and if you don't plan properly, disposal costs can be quite significant.
One square of shingles (100 sq ft; 10 ft x 10 ft) typically weighs 250-400 lbs depending on the type of shingle.
The average home's roof size is 1,500-2,000 sq ft, or 15-20 square.
That means that the average roof weighs 3,750-8,000 lbs (2-4 tons).
When calculating your roof's weight, we also recommend factoring in an extra 50-100 lbs per square to cover the weight of any damaged plywood, felt, or other debris removed during a roof tear-off.
It's common for a 10 yard dumpster to come standard with a 4,000-6,000 lb weight allowance (2-3 tons).
While this may be enough to accommodate a 1,500-2,000 sq ft roof in some cases, in others, it may not.
Luckily, dumpster rental companies are experts at estimating the weight of your debris and recommending the right dumpster size for your project.
Use Hometown to find and reach out to multiple dumpster providers for quotes to get their opinion on which dumpster size you would need, how much it costs, and how much weight is included in the price.
The chart below is a quick reference when determining the right dumpster size for your roofing project.
Average Weight of Shingle Debris
| | | |
| --- | --- | --- |
| Size of Roof (3 Tab Shingles) | Estimated Weight of Debris | Recommended Dumpster Size |
| 15 Square | 3,750-6,000 lbs (1.875-3 tons) | 10 Yard Dumpster |
| 20 Square | 5,000-8,000 lbs (2.5-4 tons) | 20 Yard Dumpster |
| 25 Square | 6,250-10,000 lbs (3.125-5 tons) | 20 Yard Dumpster |
| 30 Square | 7,500-12,000 lbs (3.75-6 tons) | 30 Yard Dumpster |
| 40 Square | 10,000-16,000 lbs (5-8 tons) | 40 Yard Dumpster |
| 50 Square | 12,500-20,000 lbs (6.25-10 tons) | Two 30 Yard Dumpsters |
| 60 Square | 15,000-24,000 lbs (7.5-12 tons) | Two 30 Yard Dumpsters |
For large roof tear-offs, multiple roll-off containers are likely necessary.
The trucks used by dumpster rental companies can only lift and haul a certain amount of weight based on the capacity of the equipment and local hauling laws.
So if your roofing project is large, it's reasonable to expect the need for two dumpster trips.
Keep reading:
Find the Best Dumpster Rental Company
When it comes to renting dumpsters, the best pricing is almost always found at locally-owned businesses.
It's also important to get several different quotes to not only ensure the best price, but the right availability and customer service, as well.
Hometown makes it easy to search for reputable, licensed, locally-owned dumpster rental providers in your area.
---
---
Continue reading: