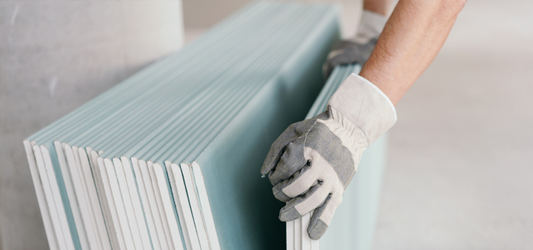 Updated November 1, 2022
If you've purchased more drywall than you ended up using for your project, there are several ways to get rid of your leftover material so that it's not sitting around taking up valuable space in your home or garage.
This guide will go over convenient, affordable, and environmentally-friendly ways to get rid of unwanted drywall.
Jump to:
---
---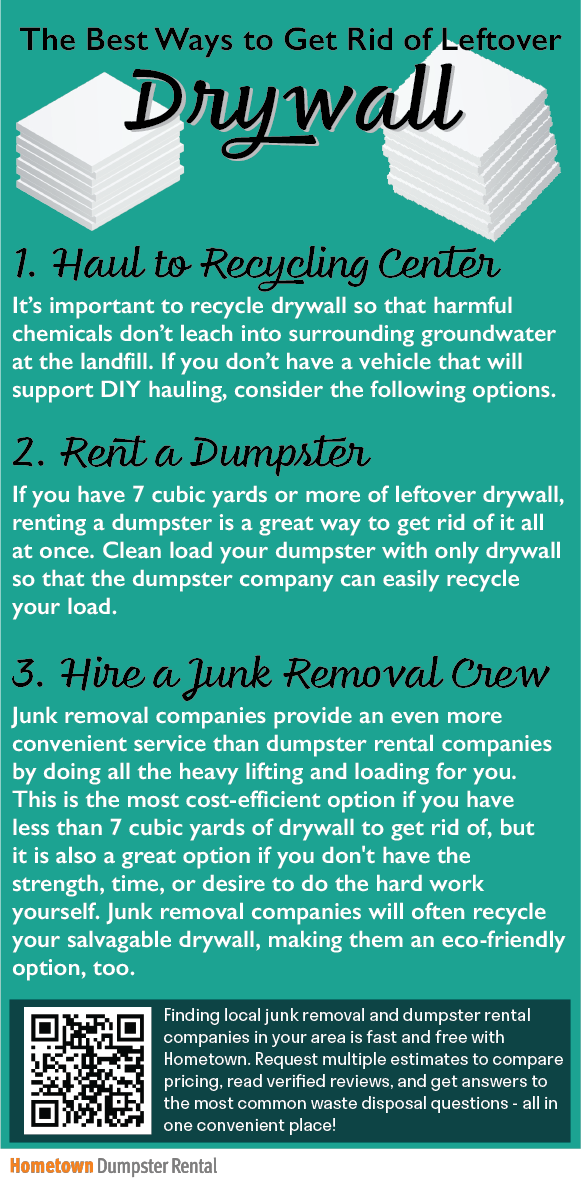 Haul to Recycling Center
It is important to recycle drywall rather than dumping it in landfills whenever possible.
The biggest issue with dumping drywall in landfills is the foul-smelling and potentially lethal gas it can produce when left to decompose in landfills.
Drywall can also leach harmful sulfates into the surrounding soil, contaminating local groundwater and putting wildlife at risk.
If you don't have a vehicle that allows you to haul the drywall, or if you don't have a local recycling center able to take your drywall, renting a dumpster or hiring a junk removal company is likely your best option.
Learn more: Benefits to Recycling Demolition Debris
Rent a Dumpster
If you have seven cubic yards or more of leftover drywall, renting a dumpster is a great way to get rid of it all at once.
Clean load your dumpster with only drywall so that the dumpster company can easily recycle your load.
Some dumpster companies may even give you a discount for clean loading your rental with only one type of material, which in this case would be drywall.
There are different dumpster styles and sizes available on the market to accommodate jobs of varying sizes.
Speaking with several different companies about your drywall disposal needs will give you a better idea of what size dumpster you should rent and how much you can expect to pay.
Getting multiple dumpster rental quotes from local companies is the best way to lock down the best price, customer service, and availability.
Hometown is the easiest way to request multiple dumpster rental quotes at once.
Our quote request form simplifies the process of getting free estimates from local dumpster rental service providers.
You can read about companies near you and select your own providers to get quotes from, or Hometown will match up your request to the right local experts for you.
If you don't have enough leftover drywall to justify renting an entire dumpster, hiring a junk removal crew is another great option.
Keep reading: How to Request Dumpster Rental Quotes with Hometown
Hire a Junk Removal Crew
Junk removal companies provide an even more convenient service than dumpster rental companies by doing all the heavy lifting and loading for you.
Rather than having a temporary disposal container sitting in your driveway overnight or for several days while you find the time to load it, a junk removal crew (typically 2 people) will come to your property and move all the drywall for you.
This is a most cost-efficient option if you have less than seven cubic yards of drywall to get rid of, but it is also a great option if you don't have the strength, time, or desire to do the hard work yourself.
Junk removal companies are trained to be as time-efficient and professional as possible, often sweeping up any remaining debris leftover from your drywall pile to ensure a completely clean space.
On top of that, junk removal crews prioritize salvaging, donating, and recycling materials whenever possible, so you can rest assured that your salvageable drywall will go to a good home.
Getting multiple quotes will help you determine what a fair price for junk removal is in your area.
Just like dumpster rental, Hometown makes getting local junk removal quotes fast and easy.
Our website provides an easy-to-use quote request form that you can send out to several service providers near you so that you can compare pricing and choose the best company with the best customer service.
Unsure whether you should rent a dumpster or hire a junk removal crew? Get free quotes for both!
Reach out to local disposal companies in your area to learn more about each service to determine which is the best choice for your particular project.
Get started by entering your zip code on Hometown and start learning about locally-owned dumpster rental and junk removal companies in your area today!
---
---
Continue reading: