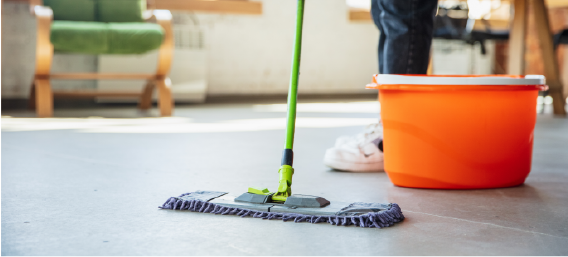 Updated April 17, 2023
Springtime brings warmer weather, more sunshine, and a feeling of renewal. What better time to get rid of junk or unused items cluttering up your home or business than spring?
Spring cleaning is a time-honored tradition for good reason: It's an ideal time to declutter your home or business and dispose of unwanted junk, waste, and debris.
In this guide, we'll discuss:
---
---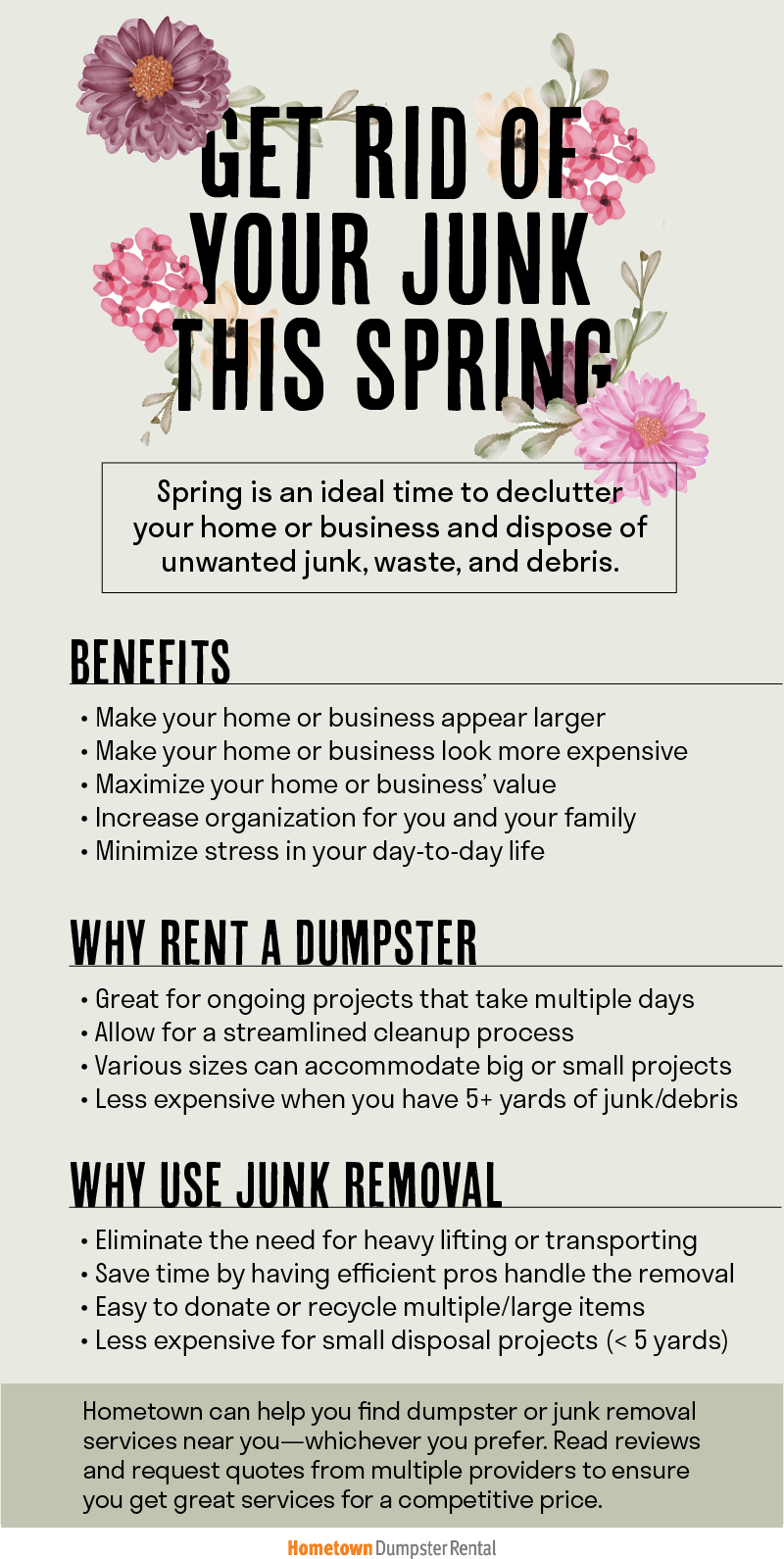 Benefits of Spring Cleaning Your Home or Business
Many homeowners and businesses make spring cleaning an annual (or biannual) event because of the countless benefits that come with it. A cluttered home is a breeding ground for health risks and safety hazards. Decluttering your home rids your space of unsightly junk and can positively impact your health, too.
Decluttering your home can increase organization, minimize stress, and even make your home or business appear larger and more expensive. Getting rid of junk and clutter helps to maximize your home or business' value, helping it stand out against the competition when it comes time to sell. For example, decluttering and staging your home can increase its selling value by 15-20% on average and get it sold faster, too.
When you're doing a deep clean or declutter of your entire home, you're likely to have a huge pile of items that you don't quite know what to do with. To help with the disposal process, we recommend renting a dumpster or hiring a junk removal company to assist with the junk and waste disposal.
Learn more:
Why Rent a Dumpster for Spring Cleaning
A dumpster rental is a great option for ongoing projects or projects that take multiple days to complete. Typically, you can rent a dumpster for a week (or more if need be) and fill it up as you go, which is why dumpsters are a great option for spring cleaning projects. Once it's full or your rental period is over, you can have the dumpster picked up and your debris hauled away and disposed of.
Renting a dumpster is also a great way to keep your cleaning project moving smoothly and efficiently without setting aside piles of junk to be disposed of later. Keeping a site clear of piles or unwanted items can allows you to complete the project quickly with minimal headaches or trip hazards.
Dumpsters come in multiple sizes—most commonly, 10 yard, 20 yard, 30 yard, and 40 yard. These sizes make them perfect for accommodating decluttering projects of all shapes and sizes, even estate cleanouts or hoarder cleanups.
In cases where you have 5-7 yards worth of items or more to get rid of, a dumpster is generally the less expensive disposal option.
---
---
Why Hire a Junk Removal Company for Spring Cleaning
Dumpster rentals offer a great DIY solution to spring cleaning projects, while hiring a junk removal company for spring cleaning provides all-inclusive service. With junk removal, a crew of one or two people (sometimes more for very large projects) comes to your home or business to assess your junk removal needs and provide an accurate estimate. If you agree with their quoted price for junk removal, the junk removal company will typically haul away your items on-the-spot. Once they finish loading your items into their truck, you pay the bill and say goodbye to your junk.
Most junk removal companies also prioritize donating items at a local charity whenever possible, making junk removal services an easy way to donate a large amount of items in one trip or heavy, bulky items that are hard to transport.
Junk removal services are less expensive when you only have a few large items to dispose of or less than 5-7 yards of junk.
Continue reading:
---