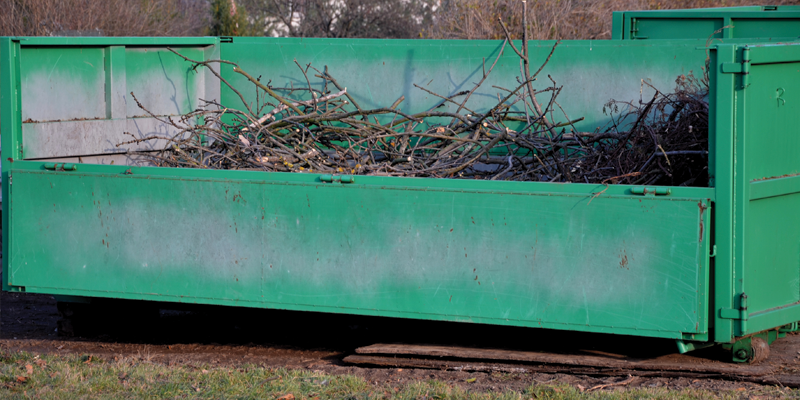 Updated May 16, 2023
With spring and summer comes the added responsibility of yard maintenance. When it comes to yard waste, there are different options available to help make the best use of your time and money.
When you only have a couple bags worth of yard waste, your regular waste management company will have specific days, weight limits, and bags required that will allow you to set them at your curb for trash pickup. It's when you have a large amount of yard waste to get rid of that other options will need to be explored.
In this article, we'll discuss the most popular ways to get rid of large amounts of yard waste and their average costs.
Jump to:
---
---

Junk Removal Services
The majority of junk removal services offer basic yard waste pick-up. The process of hiring a junk removal company is straight-forward and simple.
The first thing you should do is get quotes from multiple companies in your area. Hometown makes it easy with our single quote request form. All you have to do is answer a few short questions about your yard waste removal needs and then you'll be given up to 3 quotes from local junk removal services, all free of charge. Some companies may require that they send someone to your property to assess your yard waste and provide an on-site estimate for the most accurate quote possible.
One you agree to a price, you hire the junk removal company. If they're already there providing a quote, they'll typically get to work loading your yard waste right away. After all of your yard waste is loaded onto their truck, they'll provide you with an invoice that you can either pay on the spot or call into their office to pay over the phone.
From there, the junk removal company will haul your yard waste to the appropriate facility. Most yard waste, like branches, leaves, grass, twigs, brush, and downed trees are approved for recycling, so they'll be taken to a recycling company for the most eco-friendly disposal.
The price that a junk removal company will charge to haul away your yard waste will depend primarily on how much yard waste you have to get rid of, how much space your yard waste takes up in their truck or trailer, the type/weight of your yard waste, where you're located, and who you hire.
With that being said, the average cost for a small pile of yard waste ranges between $100-$200, but can cost as much as $600-$1,000 for a full truckload's worth of yard waste.
Continue reading:
Renting a Dumpster
Renting a dumpster to clean up large landscaping projects is convenient, fast, and a great value. It's perfect for projects like tree limb removal, brush removal, removing large amounts of dirt, and more.
It's important to note, however, that yard waste is prohibited from being dumped in landfills. So, in order for the dumpster company to legally and responsibly dispose of it, it must be kept separate from other household or commercial waste. The bottom line is that if you rent a dumpster to dispose of yard waste, you can only add yard waste.
The most popular container types available for temporary rent are roll-off dumpsters and trailer dumpsters. Roll-off containers have a side swinging door that makes loading heavy items, like tree stumps, easy. Trailer dumpsters sit on rubber wheels for easy transporting if you have to drive around a large property for your yard cleanup. Both options feature an open top so that you can quickly toss your yard waste over the side walls. If there is a chance of rain or severe weather while you have your dumpster rental, be sure to cover their open tops with a tarp or have it placed in a covered overhang or garage.
Dumpster rentals come in all different sizes, but the most popular sizes for yard waste disposal are 10-20 yard dumpsters. The average cost for a weeklong 10 yard dumpster is $250-$450, while 20 yard dumpsters tend to run around $350-$550 for a weeklong rental.
Your local costs could be more or less than these nationwide averages and will vary based on a number of different factors, like the type and weight of your yard waste, the size of your dumpster rental, how long you rent the dumpster for, cost of yard waste recycling near you, cost of living near you, and who you hire.
Finding affordable yard waste dumpsters in your area is fast and free with Hometown. We publish locally-owned dumpster rental companies across the U.S. to help people find affordable, local, and reputable disposal solutions for large projects. It's not every day that most of us need to rent a dumpster, so Hometown helps answer the most common dumpster rental questions to make the whole process simple and straightforward.
Enter your zip code, fill out our single quote-request form, and find licensed and insured dumpster companies that service your area. We recommend getting at least 2-3 quotes to not only compare pricing, but to find a company that provides a pleasant customer experience with the availability you need.
Learn more:
DIY Hauling
If you have a pickup truck, trailer, or other vehicle suitable for hauling, you could opt to haul your yard waste to a yard waste recycling facility yourself, but this is usually only more cost and time-efficient for a small amount of yard waste, like a single truck load's worth.
An example of what DIY yard waste hauling can cost is broken down below.
Cost of gas for 2 round trips to a yard waste recycling facility located 30 miles away: $30-$60
Cost of your time, assuming your time is worth $20 per hour: $40-$160
Dump fees: $0-$50
Total Cost: $70-$270
Having to make multiple trips to dispose of your yard waste yourself not only costs you in gas and dumping fees, but it can also be very time consuming. Loading your vehicle, driving to and from the yard waste facility, unloading your yard waste and paying for each transaction, and the amount of time you'll take cleaning out your vehicle afterwards could easily consume a full work day or more.
Consider the value of your time when deciding whether or not DIY yard waste hauling is right for you.
Read on:
---