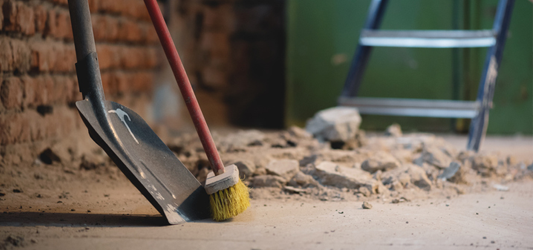 Updated January 19, 2023
Before beginning a construction, remodeling, or light demolition project, it's important to have a debris management and disposal plan in place for the debris your project produces.
Renting a dumpster or hiring a junk removal company are the most popular and efficient ways to get rid of construction debris, but you may be wondering, "How much does construction debris removal cost?"
Hometown publishes qualified, reliable, locally-owned junk removal and dumpster rental companies across the U.S., and we have years of data collected that can help give you an idea of what your construction debris removal project will cost.
We'll go over:
---
---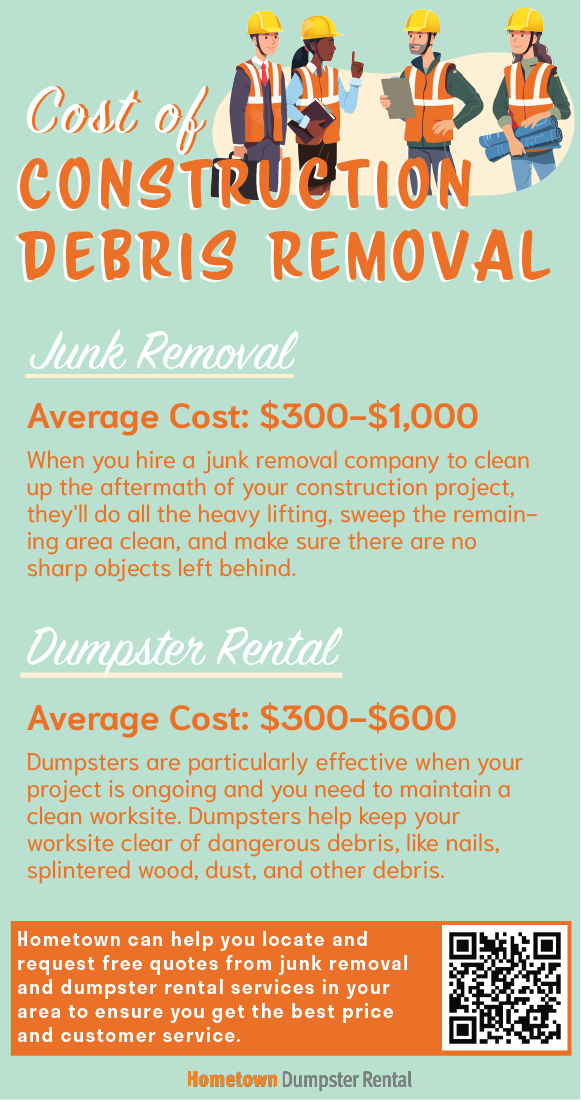 Average Cost of Construction Debris Removal Services
Hiring a junk removal company to gather, haul away, and dispose of construction debris is by far the most convenient method.
Quality junk removal companies know how to complete each job as thoroughly as possible in the shortest amount of time so that they can move on to their next job.
When you hire a junk removal company to clean up the aftermath of your construction project, they'll do all the heavy lifting, sweep the remaining area clean, and will make sure there are no sharp objects left behind.
While junk removal is more expensive than dumpster rental services, many find the all-inclusive service to be well worth the added expense.
Junk removal is a great option for construction debris removal if:
There are less than 7 cubic yards of debris.
The debris is mostly wood, fixtures, and other non-hazardous, lightweight debris.
You don't have the time, physical ability, or desire to handle the debris removal yourself.
Junk removal minimum fees generally start at around $100 for small pick-ups and increase from there.
The cost of construction and demolition debris removal ranges from $300-$1,000 based on U.S. national averages but can be more or less depending on your specific disposal needs.
For example, the debris removal of an average size bathroom remodeling project would be around $300-$500 on average.
Your particular debris disposal project will vary based on a number of different factors, so the best way to find out what a competitive junk removal price is in your area is to contact several companies for quotes.
Getting multiple junk removal quotes not only helps you compare pricing, but you can compare customer service and availability as well.
Search your zip code on Hometown's site and you'll be shown a list of licensed and insured junk removal companies that service your area.
You can learn more about each company, read verified real customer reviews, and request an unlimited number of free construction debris removal estimates.
Continue reading:
Average Cost of Construction Dumpster Rentals
Temporary dumpster rentals are a great way to manage debris from construction, remodeling, and demolition projects of all sizes.
Dumpsters are particularly effective when your project is ongoing and you need to maintain a clean worksite throughout the duration of the project.
If you're remodeling your bathroom or kitchen, for example, a dumpster can help keep your home clear of dangerous debris, like nails, splintered wood, dust, and other debris.
Residential dumpster rentals come in a variety of sizes, with the most popular being 10 yard, 20 yard, 30 yard, and 40 yard sizes. Most DIY projects can be accommodated with a 10 or 20 yard dumpster, while 30 and 40 yard dumpsters are typically reserved for larger commercial projects.
The average cost of a 10 yard dumpster ranges from $250-$450, and a 20 yard dumpster tends to cost between $350-$550.
If your construction project requires a 30 yard dumpster, you can expect to pay between $450-$650, and a 40 yard dumpster will cost $550-$750 on average.
These prices are based on U.S. averages and can vary quite a bit based on several different factors, like:
The type of debris you put in the dumpster.
The weight of the debris.
Landfill fees in your area.
Cost of fuel near you.
Who you hire.
One way to get the best dumpster rental price is to clean load the container.
Clean loading is when you only load when type of debris into a container, like only wood, drywall, or concrete, so that the material can be easily recycled.
Visit our blog for more tips on getting the best dumpster rental price in your area.
Just like with junk removal, Hometown can help you find locally-owned dumpster rental companies that service your zip code.
Getting multiple dumpster rental quotes is just as important as getting multiple junk removal quotes, and with Hometown, requesting quotes is always free.
---
---
Learn more: