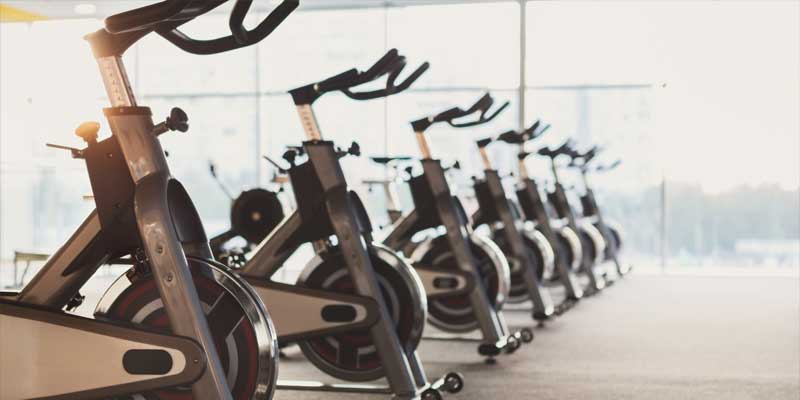 Updated June 12, 2023
Whether you have exercise equipment that no longer works or you've decided to free up some space for items you'll actually use, getting rid of exercise equipment isn't typically a one person job.
Junk removal services are the fastest, most convenient way to get rid of your old treadmill, row machine, exercise bike, or bench press.
If you've never used a junk removal service before, we'll go over everything you need to know about getting rid of your unwanted exercise equipment in the fastest, easiest way possible.
Jump to:
---
---

How to Dispose of Broken Exercise Equipment
Exercise equipment that is no longer in working condition will need to be recycled or disposed of rather than sold or donated.
For electronic exercise equipment, like treadmills or exercise bikes, local e-waste recyclers will likely accept these items for the most environmentally responsible disposal. Predominately metal items, like bench presses or free weights, are usually accepted by scrap metal recyclers.
If you live in an area that doesn't have these types of recyclers nearby, disposal at a landfill may be your only option.
Regardless of the disposal method that makes the most sense in your situation, junk removal services offer the handiest option when you don't have the time, strength, vehicle, or desire to haul and dispose of your exercise equipment yourself.
How Exercise Equipment Removal by a Junk Removal Company Works:
Find locally-owned junk removal companies in your area and request free quotes to compare pricing, customer service, and availability.
Choose the best company for the job.
The junk removal company will arrive as scheduled to load your workout equipment into their truck (and in some cases, first provide an in-person quote if they were unable to provide an accurate quote over the phone). You can have them come into your home to retrieve your items or you can have them placed outside for contactless pickup.
Pay your invoice before the junk removal crew leaves your home.
The junk removal company will haul your items to the appropriate facility, either a recycling center, landfill, or donation center.
Junk removal companies are trained to load up your unwanted items quickly and safely, being sure to cause zero damage to your walls and property. They'll load up your unwanted items, like workout equipment, into their truck or trailer, safely secure them, and haul them to the nearest recycling center or landfill. Oftentimes, these services are available the same or next day.
These types of companies typically send a crew of two with the proper tools and equipment to safely remove heavy items and mitigate the risk of injury or damage to property. This is especially helpful in cases where you have a large treadmill or exercise bike to remove, as these items tend to be bulky, heavy, and difficult to move.
The cost of exercise equipment removal will vary based on many different factors, including how much space your equipment takes up in the junk removal company's truck or trailer, disposal fees in your area, ease of access, where you're located, who you hire, and more.
With that being said, the following chart depicts national average costs for the removal and disposal of popular types of workout equipment.
Average Cost of Exercise Equipment Removal
| | |
| --- | --- |
| Type of Exercise Equipment | Average Cost for Removal |
| Treadmill | $150-$250 |
| StairMaster | $150-$250 |
| Exercise Bike | $100-$200 |
| Row Machine | $100-$250 |
| Bench Press | $75-$150 |
| Free Weights | $75-$250 |
*These figures are based on U.S. averages and could be more or less in your area.
Learn more:
---
---
Where to Donate Exercise Equipment
Exercise equipment that is still in working condition can be donated to local charity resale stores, community centers, or individuals.
Local resale stores, like Goodwill or The Salvation Army, will often take exercise equipment that is in clean and operable condition. You may also want to consider looking up youth homes, halfway houses, senior centers, women's shelters, LGBTQ+ centers, refugee organizations, homeless shelters, or other community programs and reaching out to see if any of them would be interested in your unwanted exercise equipment. Oftentimes, creating a post in Facebook groups for your designated area offering up items for free can attract several "buyers" happy to take your unwanted items off your hands.
If you can't find a group or individual willing to come and haul away your equipment donation for free, junk removal companies are a great alternative.
Most junk removal companies are happy to haul your unwanted fitness equipment to the donation center of your choice, handling all of the lifting, loading, and transporting so that you don't have to. They can even provide you with an itemized donation receipt for tax purposes if you request one.
The cost for junk removal services with the intention to have the items donated rather than disposed of is comparable but can sometimes cost slightly less. Because the junk removal company will not have to pay for landfill or recycling fees, they may pass those savings onto you when you have your items donated for free. There are also added savings if you itemize your tax deductions and make sure to get a receipt of your donation from the junk removal company on your behalf.
Read On: Donate Your Unwanted Items Easily with Junk Removal
How to Find Junk Removal Services Near Me
Whether you choose to have your unwanted exercise equipment donated, recycled, or disposed of, there is no safer or easier way to do so than with the help of junk removal services, and there is no better way to find a qualified junk removal provider in your area than with Hometown.
The junk removal companies that we publish are vetted to insure they are licensed, bonded, and insured to perform the services they offer, and we only publish reputable companies who provide a quality customer experience.
Our single quote request form makes it convenient to get multiple quotes that allow you to compare the cost, customer service, and availability of each service provider you chat with.
You simply enter your zip code, answer a few short questions about your equipment removal needs, and select up to 3 providers in your area to request a quote from. We'll even match you up with local services if you don't feel like looking through their profiles yourself.
Hometown knows the type of quality service you deserve and offers the quickest and easiest way to compare your options all in one easy-to-use place.
Try our free quote request form today and have your unwanted workout equipment hauled away in no time!
Continue reading:
---