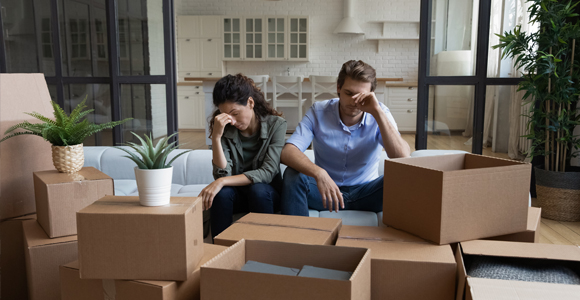 Updated December 13, 2022
Whether you're happy or sad about your divorce, you're almost definitely stressed.
Unless necessary for your safety, packing up and leaving in a rush might sound like an attractive idea but could end up causing more headaches down the line.
Having a proper plan in place is a crucial step in moving out after a divorce to make the stress of the transition as minimal as possible.
In this article, we'll go over our top 6 tips for making moving out after a divorce less stressful.
Jump to:
---
---

Speak With an Attorney
If you're going through a divorce, hopefully you've already hired a divorce attorney, regardless of how civil you and your former spouse intend on being.
Consulting your lawyer before moving out so that they can inform the decisions you make during the process is the best thing you can do before making any rash decisions.
It's a natural compulsion to want to move out as soon as the divorce paperwork has been filed, but as any good divorce attorney will tell you, moving out prematurely has the potential to negatively impact your financial assets and the custody of your children (if applicable) in certain states more than others.
Typically, the home is the largest asset a married couple has in their name. While it seems safe to assume that having your name on the deed and/or mortgage implies that this asset will be split evenly and there is no financial danger in leaving the home before the divorce is finalized; this is not always the case.
If the person moving out of the home is the one who makes more money, they could be liable for still paying bills related to the home in addition to any new bills they acquire in their new residence.
This alone can cause financial strain if you aren't adequately prepared.
When it comes to custody of the children, leaving the home prior to a custody agreement being established could end up hurting your rights in the future.
Leaving the home that the children live in makes it easier for the parent left in the home to gain more than 50/50 custody, and trying to get more time with your children could result in even more costly legal fees.
Take Inventory
Prior to moving out, you should take inventory of all your personal and marital belongings.
When there are items in question, discuss it with your ex spouse.
If the two of you don't agree, reference the court's decision on ownership if that has already taken place.
Otherwise, make note of these items and provide the list to your legal council so that it can be negotiated in court.
Separate Your Belongings
After it has been clearly established what belongs to you and what you can take from the home without contest, start separating your belongings.
Go through each room of the home and start packing your items so that you don't forget them and leave them in your spouse's possession.
The idea is to make sure you get as much as possible—if not everything—in one go, so that it isn't necessary to make multiple visits back to the home after you move to grab X, Y, or Z.
Removing all items at once is a helpful step in moving on.
Get Free Boxes From Facebook Marketplace
Moving, whether it be for divorce or other reasons, can certainly be costly.
Many people still think you have to go to home improvement stores to buy packing boxes, which can add up.
Check Facebook Marketplace to see if anyone is giving away their moving boxes.
Most people would rather let the next person to use their boxes rather than having to break down each box and recycle them.
Have Friends or Family Help
Having your friends and family help you move out after a divorce not only helps with the physical demands of moving, but it helps keep the mood light.
Divorce is a time in life when people rely heavily on their loved ones for advice, support, and companionship.
Don't deny your friends' and families' help out of fear that it might make them feel awkward or uncomfortable.
More often than not, they are eager to help and support you and allowing them to do so can even be a form of emotional support for them during this transition as well.
Hire Help
When you don't have friends or family to help, or if you're simply exhausted and don't have the time or desire to do the moving yourself, hiring help can be well worth the cost.
If you're the only person moving out and your ex spouse is staying in the home, hiring movers to transport your belongings and furniture can make your move significantly easier and less time consuming.
In the instance that you and your ex spouse are both moving out and selling the home, renting a dumpster is a great way to purge and get rid of old belongings that neither of you want to haul to your new home.
Temporary dumpster rentals are very affordable, especially if you and your ex split the cost.
You could also ask neighbors if they would like to share costs so that they can get rid of unwanted items as well.
If you have a lot to get rid of but not enough to justify renting a dumpster, hiring a junk removal company to haul away your unwanted items is a great solution.
Hauling your junk to a donation center or to the dump yourself is an extra task during an already stressful and busy time. Junk removal companies can quickly come and clear your home of unwanted items so that you can focus on moving the stuff you do want to keep.
Unsure whether or not dumpster rental or junk removal services are in your budget? Get free quotes with Hometown!
We publish locally-owned disposal services throughout the U.S. and make it easy for you to locate local providers that service your zip code.
Compare and contrast the different service providers you speak with to choose the best company for your project.
---
---
Learn more: