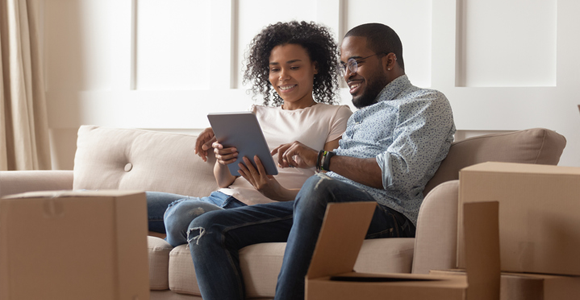 Updated November 16, 2022
Moving provides an opportunity to take inventory of all your belongings and start fresh in your new living space.
Decluttering and getting rid of old or unused items can improve your quality of life, but you might be wondering, "What do I do with all my old junk?"
There are several ways to get rid of your unwanted junk before moving, like:
---
---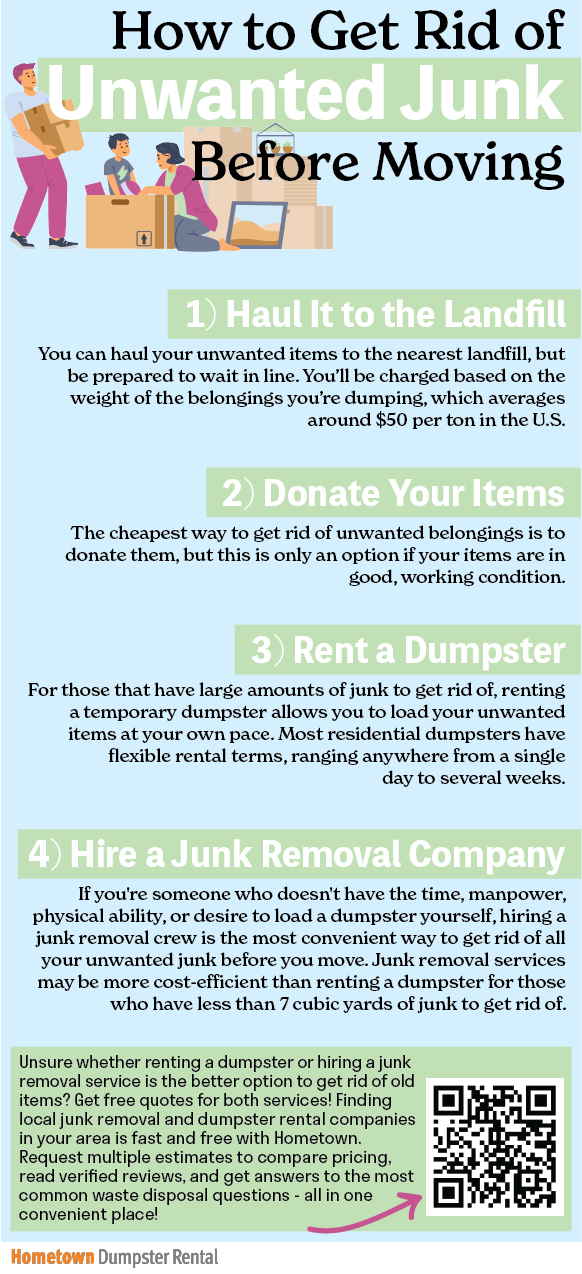 Haul It to the Landfill
One option for getting rid of old junk that won't fit in your regular trash bin is to take it to the landfill yourself.
When hauling items to the landfill yourself, be prepared to wait in line.
Depending on where your local landfill is located, wait times may be significant.
You'll be charged based on the weight of your items, which is around $50 per ton on average.
Taking your junk to the landfill yourself may be cheaper than renting a dumpster, but consider the cost of travel and the value of your time when deciding which disposal solution is best for you.
Read more:
Donate Your Items
The cheapest way to get rid of unwanted belongings is to donate them.
There are several ways to do this:
Drop them off at a donation center, like Goodwill or The Salvation Army.
Find a local charity that will send someone to pick up your belongings from your home.
Post an ad on Facebook Marketplace or Craigslists listing your items as "Free." You can even leave them on your porch for contactless pickup. Be sure to include a photo and description in your ad to attract the right "customer."
Leave your items at the end of your driveway with a sign that says "Free."
If your items aren't in decent working condition, donating won't be the right option for getting rid of your old junk before your big move.
Rent a Dumpster
For those that have a large amount of junk to get rid of, renting a dumpster is the perfect disposal solution.
Temporary dumpster rentals allow you to load your unwanted items at your own pace.
Most residential dumpster rentals have flexible rental terms, ranging anywhere from a single day to several weeks.
There are different dumpster styles and sizes available on the market to accommodate disposal projects of all sizes while still fitting in your driveway.
When it comes to renting a dumpster, the best price can most often be found with a locally-owned and operated company.
It's also best practice to get multiple quotes and shop around before making a decision on who to rent from.
Hometown makes it easy to request free quotes from multiple dumpster companies in your area with a single quote request form.
We do the research for you and present you with a list of licensed, insured, and reputable dumpster rental companies that service your zip code.
The customer reviews are all verified, so you can read about others' experience and make the best, most informed choice when deciding who to rent a dumpster from.
Learn more:
Hire a Junk Removal Company
If you're someone who doesn't have the time, manpower, physical ability, or desire to load a dumpster yourself, hiring a junk removal crew is the most convenient way to get rid of all your unwanted junk before you move out.
Similarly to dumpster rental, junk removal services can comfortably accommodate disposal project of all sizes.
If you only have a mattress and box spring or maybe just a couple boxes to get rid of, a removal crew can have your items loaded on their truck and hauled off your property within a matter of minutes.
Larger, more extensive projects can likely be done within a few hours.
Unlike a single flat rate when you rent a dumpster, junk removal companies will charge you based on the amount of space your items take up in their truck.
While junk removal services can cost more than renting a dumpster for those who have 7 cubic yards or more of junk, the convenience of not having to lift a finger is invaluable to many.
Unsure whether renting a dumpster or hiring a junk removal service is the better option to get rid of old items before your upcoming move? Get free quotes for both services!
Fill out Hometown's quote request form for both services and compare local companies.
Find out who has the best prices, best reviews, and the availability your timeline requires - all in one convenient place!
---
---
Continue reading: