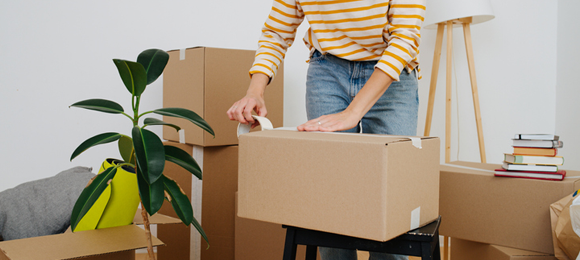 Updated July 28, 2022
Our homes tend to accumulate trash and junk without us realizing it. That is, until moving day rolls around.
It's amazing how much unwanted junk gets uncovered during a move, but renting a dumpster is a convenient way to lighten the load.
But before you begin, these tips can help ensure the entire dumpster rental process goes smoothly.
In this article, we'll discuss:
---
---

Choose the Right Dumpster Size for Your Pre-Move Cleanout
Different size home cleanouts require different size dumpster rentals, and with so many opinions to choose from, figuring out which size will suit your needs can seem like a daunting task.
Luckily, reputable dumpster rental providers are incredibly good at helping you choose the right dumpster size based on your detailed project description and should be happy to provide you with information and estimates without any fees or obligation.
That said, it's helpful to have a general idea of what size you should look into before calling companies for quotes.
These descriptions will help to give you an idea of which container size might be the best solution for your move.
Large Cleanouts
Large houses or highly cluttered homes may require a 30 yard or 40 yard dumpster to complete the job.
Bulky items, such as furniture or kitchen appliances, consume quite a bit of space inside a dumpster.
For example, a large sectional couch can take up six or more cubic yards by itself, so consider this when choosing a dumpster size.
30 yard roll-off dumpsters normally have a weight allowance of 4-5 tons (8,000-10,000 lbs), which equates to roughly 15 pickup truck loads worth of material, and averages between $350-$550.
40 yard roll-off dumpsters normally have a weight allowance of 6-8 tons (12,000-16,000 lbs), which equates to roughly 20 pickup truck loads worth of material, and averages between $550-$750.
Read more:
Medium Cleanouts
For small-to-medium-size cleanout projects, a 10 yard or 20 yard dumpster may be suitable.
20 yard roll-off dumpsters usually cost around $350-$550 and have a 2-4 ton (4,000-8,000 lbs) average weight limit.
10 yard dumpsters are typically the smallest size roll-off dumpster available from most rental companies with a weight limit of 2-3 (4,000-6,000 lbs) tons and rental prices that range between $250-$450.
When pitching heavy or bulky items, roll-off dumpsters offer the most convenient loading options due to their design.
Roll-off dumpsters feature an open top and swinging side door allowing for easy walk-in loading.
Keep reading:
Small Cleanouts
A 3 cubic yard bag-style dumpster (e.g., Bagster) may also be a good option for very small disposal projects.
While these bag-style dumpsters cannot handle large pieces of furniture or appliances, it is a viable option for clothing, general household junk/trash, toys, etc.
You can purchase Bagsters from most home improvement stores or online for around $30, but the majority of the cost will be the fee Waste Management charges you to pick it up.
On average, you'll be charged between $150-$350 to have your filled Bagster hauled off and disposed of.
Where you live will be the biggest factor that will determine how much a Bagster will end up costing you.
The higher the cost of living in your area, the higher the price you'll be charged.
You can load up to 3,300 lbs of approved material into the Bagster, provided it meets all other size/fill requirements.
Oftentimes, it makes more economical sense to rent a 10 yard dumpster rather than a Bagster.
Read more:
---
---
Schedule Your Dumpster Rental In Advance
"Winging it" just doesn't fly when leading up to a move, so planning ahead is a crucial step if you're trying to eliminate stress.
Plan ahead by scheduling your dumpster rental at least a month in advance of your move-out date.
Delivery
By booking a dumpster about a month in advance, lack of container availability shouldn't be an issue.
Most moves occur in the spring, summer, and fall, which are also the busiest times of year for dumpster rental companies.
Book your dumpster early to ensure a container is available for your project within the timeframe you need it.
How long you keep the dumpster on-site can vary based on your needs, but dumpster rental companies typically offer a standard 7-day rental period.
Most companies are flexible with this timeframe if they have sufficient supply (additional fees may apply).
Proper planning ensures you have plenty of time to load your dumpster, too.
If the job can be completed in a day, you may be able to get a better rate on a single-day dumpster rental. Be sure to ask your dumpster rental provider if discounts are available for shorter rental periods.
Pick-up
Knowing the dumpster pick-up date is important for several reasons but the most important is to ensure the container is gone before the new buyer moves in.
Schedule your dumpster rental pickup for at least a week before your move-out date.
Dumpster rental companies are occasionally delayed in picking up dumpsters, so be sure to have a buffer of at least a week between the scheduled pick-up date and your move-out date.
Minimize the stress of moving by avoiding a mad scramble as the deadline approaches.
Plan ahead and leave plenty of time to declutter and have the dumpster picked up.
You'll be glad to have a lighter load as you complete the move.
Avoid Additional Fees
Once you've agreed to the quote you're given by the dumpster rental company of your choice, you're likely not expecting to pay any more than the price they quote you.
In order to avoid paying additional dumpster rental fees, you have to understand the conditions of the quote you've agreed to.
Dumpster rental companies can tack on additional fees for any of the following:
Make sure to address the potential for additional fees when getting quotes from different service providers so that you can know how to avoid them.
We recommend getting at least 3 different dumpster rental quotes before renting a dumpster for your move.
This not only ensures you get the best price but also allows you to choose the best rental company for the job, not just the cheapest.
---