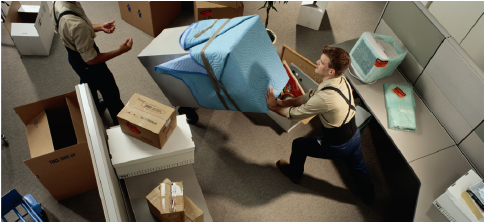 Updated July 1, 2022
Relocating your office can be stressful, whether you're a small business moving out of your home office and into a bigger space or a more established company relocating to a larger building
To ensure your office move goes smoothly, we've broken the process down into 10 simple steps.
Jump to:
---
---

Step 1: Assemble Your Team
The first step of planning a company office's relocation is deciding who will be the primary person in charge of coordinating and executing the relocation.
This person will serve as the in-office coordinator of the moving process, so they should be:
An authority in representing your company
Good at communicating
Highly organized
Capable of making decisions quickly when necessary
Typically, the smaller your project team is, the better.
Usually, the in-office coordinator will have one or two other team members to assist them in executing the move from the planning stages to execution.
Step 2: Nail Down Key Schedule Dates
One of the most important parts of planning a move is determining the key dates that will affect when things happen, like:
When your current lease (if you have one) is up
Your preferred (or scheduled) move-in date for the new office space
When any build-out or remodeling work is intended to start and finish
Intended start date for operations in the new office
Without a clear understanding of these dates, it will be hard to plan any of the details surrounding the move.
Step 3: Establish an Estimated Budget for the Move
The next step is to determine your budget for the move, or what your company can reasonably afford to pay throughout the relocation process.
When estimating your office's relocation budget, consider these potential expenses:
Cost to pay movers or packing services
Cost to repair existing office
Cost to repair or remodel new office
Additional hours for staff
Fees incurred if terminating current lease early
Cost to install IT systems in new office
This is just an idea of the various costs associated with an office move.
To ensure you stay within your budget, be sure you consistently review your budget, expenses, and your progress.
Keep reading:
Step 4: Pick a Moving Company
If you plan on using full-service movers who pack up, relocate, and unpack items in its new location for you, this is something you will need to consider (and schedule) early on.
Typically, they have a coordinator who works with you to determine the needs of your move, your desired schedule, and how extensive and involved the move itself will be.
They will then develop a project plan, schedule your services, and handle the relocation for you.
Step 5: Notify Employees and Customers
Let employees know of the upcoming move as early as possible.
Keep them up-to-date throughout the entire process so they know what to expect leading up to, during, and after the move.
It would also be helpful to create a relocation FAQ or timeline summary that you can physically post for employees to refer to whenever they wish.
Likewise, let any customers and vendors know of the upcoming move early on, and give them various updates throughout the process so they don't feel taken by surprise.
Relocating due to company growth is something to celebrate and announce with pride.
Finally, be sure you let the following places know of your impending move as well:
Relevant government departments
US Post Office
UPS, FedEx, and any other delivery service you use regularly
Phone, Internet, and/or other data service providers
Current office subscription services
Step 6: Plan Out Your New Office Layout
If you need to update, redesign, or repair your new office in any way, now is the time to do so.
If the space itself does not need to be physically repaired or updated, then it's time to establish a floor plan that will be attractive and conducive to workplace productivity.
Create mockups of various potential layouts for office spaces, furniture and decor, high-traffic areas, break areas, etc.
Once you create a few floor plans to consider, share them with your team and even your moving company or IT department to get their insight.
If you need new office furniture or equipment, now is the time to choose that as well, coordinate delivery to your new office at the appropriate time, and incorporate it into your new office design.
Find out more: Remodeling a Company Office Space: What's Involved and Who to Hire
Step 7: Itemize Your Existing Equipment and Materials
The next step in cleaning out your company's workspace before a move is to organize and itemize all your items, materials, and equipment to determine what you have.
By separating items according to purpose, it will be easier to determine what you want to keep, what you want to donate or recycle, what is trash, and the best organization system for moving your remaining items.
Sort through everything and separate things based on the purpose they serve, grouping things to make duplicates clear.
Step 8: Declutter as Needed
The next step of an office relocation is typically going through your current equipment and materials and decluttering as much as possible.
Are there things that you or your business no longer need?
Are there papers and documents older than 3-5 years old?
Do you have outdated equipment piling up in closets or corners of your office?
If your current office furniture or equipment is in decent condition, you can donate them in bulk quickly and conveniently by hiring a junk removal company to handle the donation for you. (Ask them to provide you with a donation receipt.)
If a large amount of equipment or furniture is not salvageable, then renting a dumpster to dispose of the items is typically the most convenient and cost-effective option.
Purge unnecessary files and move paper records to digital whenever possible to improve safety and efficiency.
Get rid of any unwanted items you have with the help of junk removal services or dumpster rental services.
Junk removal companies offer an all-inclusive service in which they come and haul away your unwanted items on your behalf, whether you have a couple computers to get rid of or an entire office to clean out.
Dumpster rentals offer a more DIY approach to getting rid of unwanted items. The dumpster is dropped off at your request and you then typically have a week to fill it up and complete your cleanup project.
Finding locally-owned dumpster rental and junk removal companies is easy with Hometown.
Easily browse dumpster rental companies or junk removal companies, read customer reviews, and request quotes from as many companies as you'd like.
This will allow you to ensure you get great services for a great price.
Learn more:
Step 9: Update Marketing Materials to Reflect New Information
Update all marketing materials to reflect your office's address change, including:
Company website
Google Business Address
Social media profiles
Business cards
Brochures
Flyers
Step 10: Execute Your Office Relocation
Now that you've followed all the previous steps, all that should be left to do is let the moving company relocate your furniture, set it up accordingly, and have your IT department set up all electronic equipment to allow your business to continue as usual in its new home.
Make the effort to keep the new office organized while also keeping an eye out for ways the space's functionality could be improved.
---
---
Read on: