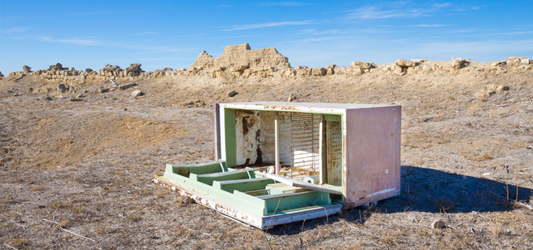 Updated August 30, 2022
As one of the most commonly used appliances in the home, there will inevitably come a time when you need to get rid of your old refrigerator.
There are a few different ways to get rid of a fridge and each will affect the price you will pay to remove your unwanted appliance.
We'll go over all your refrigerator removal options and the average cost of each so you can determine which service will best suit your needs.
Jump to:
---
---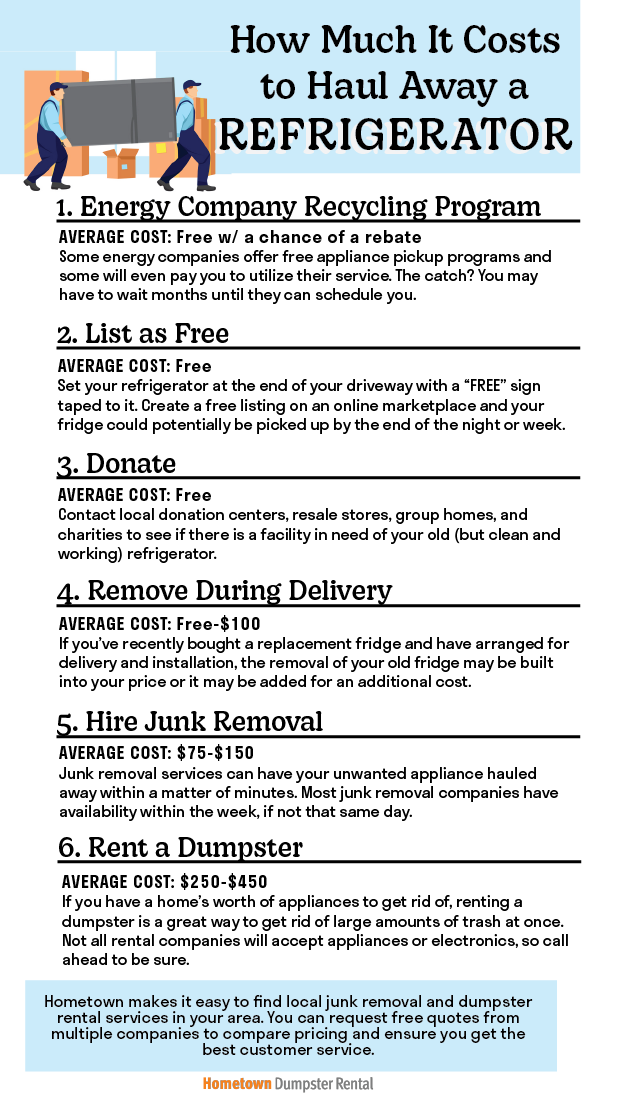 Energy Company Recycling Program
Time It Takes:
Weeks to months
Average Cost:
Free (Sometimes you can even profit from this service by $20-$50!)
Depending on where you live, your energy service may offer a free appliance removal program.
These free pickup and recycling services are becoming increasingly popular as more and more communities make larger efforts to preserve the environment through responsible disposal.
Appliances like refrigerators and freezers contain freon, which is a greenhouse gas that can pollute the environment and result in hefty fines if not handled properly.
Responsibly disposing of old appliances, especially refrigerators and freezers, is very important for the preservation of your local environment and global community.
If your local energy company offers a haul-away service for old appliances they'll oftentimes make the deal even sweeter by not just offering the service for free, but they may actually pay in you in utility credits or a refund check for just using their service.
You may be wondering, "What's the catch?". There is no "catch" so to speak, but these services are often booked far in advance with wait times of weeks and sometimes months at a time.
If you're in a pinch and need your fridge removed ASAP, this program is unlikely to be the solution to your problem.
Learn more:
List as Free
Time It Takes:
Hours to weeks
Average Cost:
Free
Listing your unwanted refrigerator as a free item for pickup on internet marketplaces like Facebook Marketplace and Craigslist can be a great option if it's still in working condition or if there is someone local who will scrap it for parts.
By creating a listing with a detailed description of your fridge and the condition it's in, as well as clear, well-lit photos, you may get lucky and attract the attention of the right "buyer" at the right time.
Be cautious when making the decision to give away your address to strangers online. Do your due diligence by checking the interested party's public profile to see if there are any red flags and signs of a catfish or untrustworthy character.
Arrange for pickup during the day and make sure you aren't the only person in the home when a stranger comes to pick up your free refrigerator.
If you have the strength and equipment to safely move your fridge to the road or on your porch, contactless pickup is an even safer way to carry out this exchange.
If you're able to place the fridge at the road, you could avoid making an online listing by simply taping a piece of paper to the appliance with the word "FREE" written on it.
Donate
Time It Takes:
Hours or days
Average Cost:
Free
If your fridge is in clean and working condition, you could look into donating it to a local charity or resale store.
Not all donation centers will accept appliances, so make sure to call ahead before hauling your heavy refrigerator all around town.
It may require some patience to do some research and find a group home or donation center that has a need for your working fridge.
Donating is a step more involved than listing an item for free pickup as it requires you to physically remove and load your heavy appliance into a vehicle or trailer large enough to safely haul it.
This should never be done without the assistance of others or with safe loading and hauling equipment, like dollies/hand trucks and ratchet straps.
If you have any health concerns, including back/neck pains, heart problems, or breathing issues, we strongly recommend having someone else do the work for you.
Remove During Delivery
Time It Takes:
Depends on the delivery company and stock status of new refrigerator
Average Cost:
Free-$100
This method only applies if you have bought a replacement refrigerator that is scheduled to be delivered to your home and installed by the company you've purchased it from.
The removal and hauling of your old fridge might be built into the installation cost, or they may offer this service at an additional charge.
Not all companies offer this service, so being clear with your expectations and asking questions before scheduling delivery is important so you aren't stuck with your old fridge in the middle of your kitchen after they've installed your new one.
If they do not offer this service, we recommend trying one of our other methods prior to delivery.
Hire Junk Removal
Time It Takes:
Hours or days
Average Cost:
$75-$150
Hiring a junk removal service to remove your refrigerator may not necessarily be the cheapest option, but it is typically the fastest and requires the least amount of effort.
Hometown makes it easy to find local junk removal companies that service your zip code.
You can contact multiple junk removal companies in your area for quotes to remove a refrigerator and to find out when their services would be available.
Most junk removal companies have availability within the week, if not that same day.
Where your home is located, where your fridge is located, the time of year, and who you hire will all impact how much your fridge removal will cost and how quickly it can be done.
The average cost to have a junk removal company remove a refrigerator is $75-$150.
The best pricing will almost always be given by locally-owned junk removal companies when compared to their large chain competitors.
If you have some other junk to remove from your garage, basement, or spare rooms, it's worth asking how much it would cost to have the removal company remove those items while they're there.
Junk removal crews are experts at getting rid of heavy, bulky, or large amounts of trash and junk at once.
Their goal is to be in and out as quickly as possible while leaving you with a fresh new space void of old clutter.
Continue reading:
---
---
Rent a Dumpster
Time It Takes:
5-7 day rental period on average
Average Cost:
$250-$450
Renting a dumpster is a great way to get rid of old appliances if you have a large amount to get rid of.
If you only have one or two items to get rid of, hiring a junk removal company could be cheaper and less labor for you.
If you have a home's worth of appliances to get rid of, however, renting a dumpster is a great way to get rid of these items fast.
10 yard and 20 yard dumpsters are common for getting rid of several appliances and range in price from $250-$450.
Roll-off dumpsters feature an open top and a swinging side door to make it easy to walk in and unload heavy, bulky items, like refrigerators or dishwashers.
Just like with junk removal, local dumpster rental services tend to offer the best pricing and customer service than their large chain competitors.
That's why Hometown has made it easy to find locally-owned dumpsters rental services near you.
You can request multiple free quotes, read real customer reviews, and get answers to common dumpster rental questions.
---
---
Keep reading: