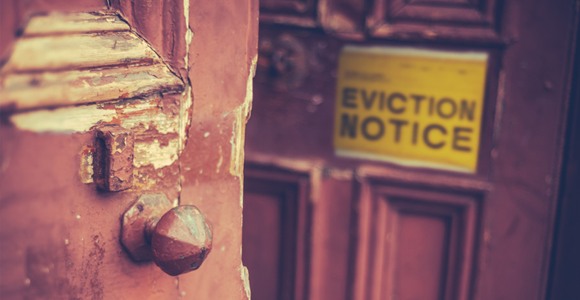 Updated February 23, 2023
Eviction cleanups can be messy, long, and potentially dangerous jobs.
For busy landlords or property management companies, hiring a junk removal service can be an invaluable resource to quickly clean out a rental so they can get their next tenant in as soon as possible.
We'll go over the several benefits of hiring a professional junk removal company to handle your eviction cleanout.
Jump to:
---
---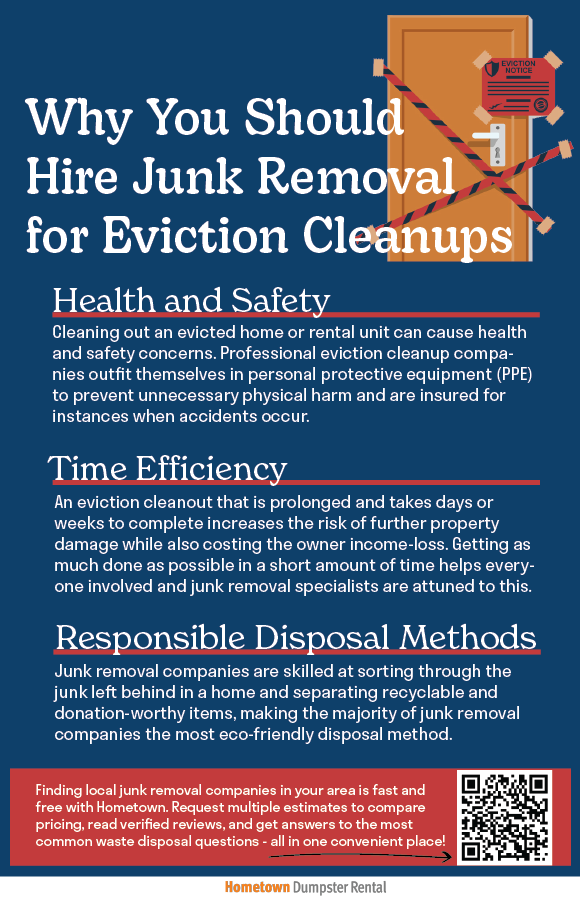 Health and Safety
As previously mentioned, cleaning out a home or rental unit that has been abandoned after an eviction can host health and safety issues.
Not all eviction cleanups have these problems, but some examples of common hazards found in eviction situations include:
Airborne: Dust, sand, insulation, particle matter
Biological: Mold, mildew, bacteria, asbestos, animal/human feces, insects, critters/animals, decomposing animals, decomposing food
Bloodborne Pathogens: Sharp edges, used needles, medical waste
Fire: Flammable materials, explosives, obstructed exits
Physical: Tripping hazards, animal/insect traps, weaponry, rusted metal, broken glass
Structural: Weakened flooring, ceilings, or walls from mold and/or water damage
Beginning an eviction cleanup project without first taking the necessary safety precautions could result in temporary or long-term health concerns, like infections, bodily injury, or respiratory issues.
Professional eviction cleanup companies outfit themselves in personal protective equipment (PPE) to prevent unnecessary physical harm and are insured for instances when accidents occur.
While not recommended, if you plan on performing an eviction cleanout on your own, getting your own PPE is absolutely necessary.
Time Efficiency
The best case scenario for an eviction cleanup is to have the tools and manpower to complete the task within a day.
If an eviction cleanout takes place over several days or weeks, the cost of income lost by not being able to begin improvement projects or moving in a new tenant can add up quickly.
It also increases the risk of further damage being done if there is sitting water or decomposing material.
Getting as much done as possible in a short amount of time helps everyone involved and junk removal specialists are very attuned to this.
The quicker the eviction cleanout is performed, the sooner you can begin checking off other boxes on your to-do list, like having the home professionally cleaned, replacing appliances or finishings, getting professional photos taken, and putting the home back on the market for rent or sale.
If you decide that the home or unit needs interior demolition work, find a local contractor on Hometown Demolition.
Responsible Disposal Methods
Renting a dumpster and and emptying the eviction home on your own is a great option if you're on a tight budget and have the time and strength to do so.
It's important to remember that items thrown in a dumpster will end up at the landfill, and if the home is full of items that are still in good condition, donating or recycling is a more environmentally response choice.
Junk removal companies are skilled at sorting through the junk left behind in a home and separating recyclable and donation-worthy items, making the majority of junk removal companies the most eco-friendly disposal method.
If you're interested in the cost of junk removal services, getting multiple quotes from local companies is the best method to:
Determine a competitive price in your area for an eviction cleanout.
Compare customer service.
Find a company who has the availability to maintain your desired timeline.
Hometown makes finding locally-owned junk removal companies and requesting free project estimates quick and easy.
By simply entering your zip code and answering a few quick questions about your eviction cleanout, you'll be shown reputable, licensed, and insured junk removal companies that service your area.
---
---
Learn more: