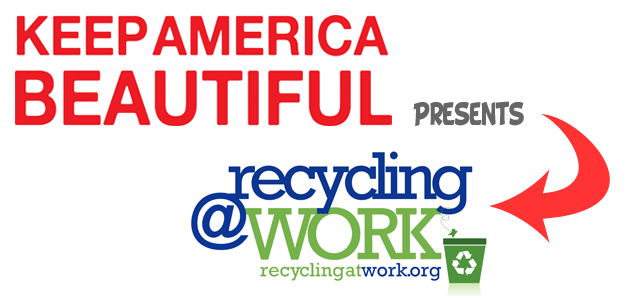 The current recycling rate in the U.S. is hovering around 35% and Keep America Beautiful (KAB) – a nonprofit aimed at promoting sustainability nationwide – is looking to change that. Specifically, KAB is promoting its new Recycling at Work initiative where businesses pledge to increase workplace recycling rates by at least 10%. It's a modest goal with a major upside.
About 45% of the estimated 250 million tons of total waste generated each year in the U.S. comes from commercial buildings, schools, hospitals, retail and governmental institutions (EPA, 2011). That's 112.5 million tons of trash, and much of that waste is recyclable.
You probably see recycling bins scattered throughout your workplace, but chances are if you did a little dumpster diving in the trashcans you'd find plenty of recyclable materials like paper, cardboard, and plastics. The KAB estimates that up to 90% of the junk tossed in trashcans at the workplace are easily recyclable. That 10% goal is looking veryattainable at this point.
Recycle that Bottle or Can, Don't Trash It
Boosting recycling rates by 10% should be a breeze for most businesses. While about 73% of paper products are recycled in the U.S., according to the EPA, less than 30% of plastic bottles and about 55% of aluminum cans reach recycle bins.
Based on these statistics, plastic and aluminum waste is a good place for your workplace to get started. For some perspective, a 10% increase in recycling of plastics nationwide would eliminate 3.25 million tons of plastic waste entering landfills in the U.S. – little change, big impact.
The Perks of Making the Pledge
Businesses that decide to take "the pledge" to boost workplace recycling rates by 10% or more get a few perks courtesy of the KAB Recycling at Work initiative – in addition to the fact you're helping to save the planet (can't forget that little benefit).
A 15% discount on recycling bins of all shapes and sizes at Busch Systems and Recycle Away
Free educational tools and a 10-step action plan for success in the program
Free promo materials to share your success with the world
Have your company logo featured on the RecyclingatWork.org website
The opportunity to pat yourself on the back for doing your part to help clean-up the environment
The key to reducing waste and increasing recycling rates is awareness. Nonprofits like Keep America Beautiful are doing a great job promoting sustainable living and offering incentives for doing so.