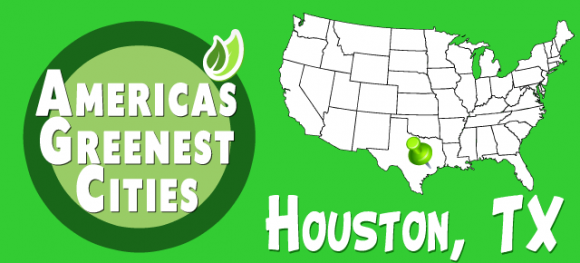 In part 1 of our ongoing infographic series called 'America's Greenest Cities', we take a look at why Houston, TX is becoming one of the most eco-friendly cities in the United States.
Houston is probably best known as being 'Space City', as it was home to NASA's Mission Control for the past 30 years up until the space program was halted in 2011.
Houston is also the energy capital of the world, which is both a blessing and a curse when it comes to eco-friendliness.
Producing energy at power plants and oil refineries naturally creates quite a bit of pollution, and so it's not surprising that Houston, TX has traditionally had some of the worst air quality in the country.
In fact, Texas leads in the nation in greenhouse gas emissions. But that's all beginning to change as the city has taken quite a few measures to green up the city, including adding parks, turning to renewable energy sources, using sustainable building materials and promoting alternative transportation (electric vehicles, bikes, etc).
Have a look at the infographic below to learn more about what the nation's 4th biggest city is doing to clean up its act.