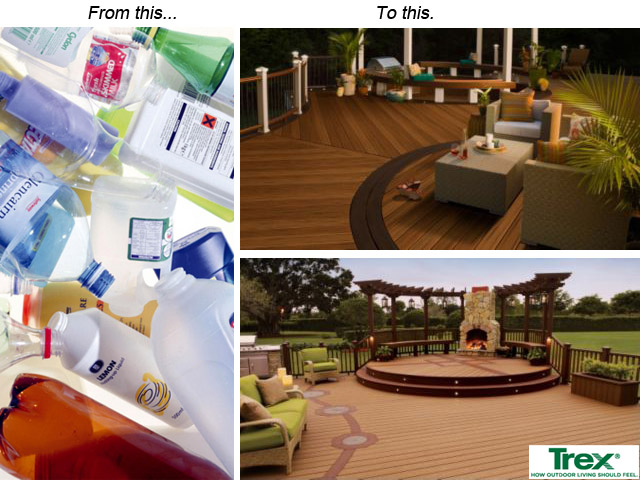 Updated August 8, 2021
The world's biggest manufacturer of composite decking and railing has kept more than 2.5 billion pounds of wood and plastic from entering landfills during the past five years – that's quite a few trees and plastic bags. Trex Company has been in the wood-alternative decking business for 20 years and its products are stocked at retailers nationwide.
'Trex was literally built on the use of sustainable materials, and we were eco-friendly before the term became widely popular," said Ronald W. Kaplan, chairman, president, and CEO of Trex.
About 95% of Trex's products are made from recycled materials. The types of recycled materials used in the Trex decking and railing products include plastic grocery bags, sawdust, dry cleaning bags, packaging scrap, and other household plastic materials.
In nature, it can take 20 or more years for a plastic bag to decompose, and as long as 450 years for plastic bottles to fully decompose! By reusing these materials, it reduces the amount of waste sitting in landfills for decades producing potentially harmful greenhouse gases and taking up space on our beautiful earth.
Trex is currently running a pilot program aimed at gathering an increased amount of recyclables from grocery stores, sports stadiums, schools, and businesses. It involves setting up "mini balers" on-site that basically crush recyclable items down into 50-lb. squares, which are then hauled off to Trex for manufacturing its decking products.
Trex isn't the only company out there profiting off recyclables. Companies like UPS, eBay and Ford reuse recyclable goods in one way or another to turn a profit. It's a smart, green way to make a profit while helping out the environment at the same time.
How Can You Make Money from Recycling?
Making money from recycling isn't just for big businesses, you can also earn some quick cash by recycling.
More than 10 states in the U.S. offer $0.05 to $0.10 bottle deposits. If you're in one of these states, you better take advantage!
You can also offload your old electronics for cash – it's better than letting them rot away in a junk drawer
Metal scrap yards accept scrap aluminum, copper, steel, cars, refrigerators, appliances, and other items (call 'em) that can net you a pretty penny.
Lesser known methods for earning cash by recycling include signing up for Terracycle and/or Recyclebank to earn rewards for living an eco-friendly lifestyle.