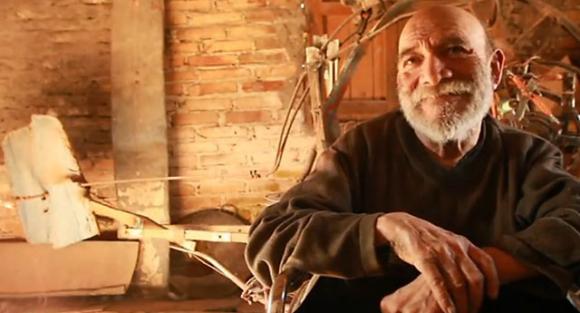 Updated August 31, 2022
Augustin is just a humble shoemaker from Honduras with a dream. His dream is to build and fly a helicopter made from scrap bicycle parts, rebar, 2x4's, and other discarded trash. His story is even more inspiring, considering he lives in extreme poverty, suffers from polio, and has been working on the helicopter since 1958.
Augustin's story caught the eye of The RISE Institute, a media production company, which filmed a short documentary about the project called "Everything is Incredible." The 10-minute short film (see it below) has won multiple film festival awards, which isn't surprising. It's quite an inspiring story.
The helicopter itself is quite a marvel. Augustin has worked on the project for more than half a century, pointing out that each piece of the helicopter took years to fabricate. The handmade gears and chains that power the propellers are intricately designed – it's amazing to think that these pieces were made from junk.
His story has spread like wildfire across the social media circuit. The 10-minute short film has already been viewed more than 250,000 times.
There's even a fundraising campaign setup over at Indiegogo.com raising money to help purchase Augustin's home and helicopter (he would retain both) and take him for a ride in a helicopter. The goal is to raise $30k, and as of this writing, organizers of the fundraiser are a third of the way there. UPDATE: The fundraising fell short of the $30k goal, but supporters were still able to help protect Augustin's helicopter and get him a ride on a real one. The funds have helped pay for his living costs, as well.
The reality is that Augustin will most likely never actually fly his handcrafted helicopter, but does that really matter? His story isn't about constructing an operational helicopter, although that has always been his intent. It's about inspiring others to follow their dreams and to never give up. If an old man in a wheelchair can dedicate 50+ years of his life engineering a helicopter out of discarded trash, wouldn't you say anything is possible?
Watch the short video below to see more of Augustin's story – it's guaranteed to inspire you! Be sure to share this story with others, so we can help make Agustin's dream of flight a reality.
Everything is Incredible, Film About a Disabled Honduran Man Who Has Been Building A Homemade Helicopter from Tyler Bastian on Vimeo.