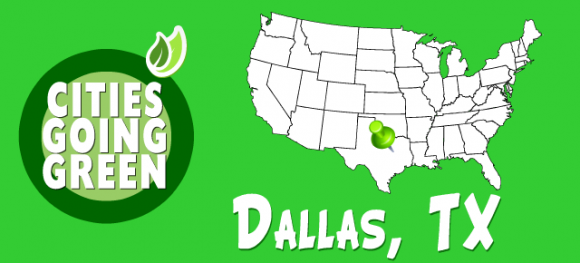 The city of Dallas, TX was near the bottom of the list in terms of pollution, air quality and recycling rates just a decade ago but within the past few years has made a major turnaround.
It adopted the Dallas sustainability plan in 2006 and since has made major improvements in the city's greenhouse gas emissions, air quality, green building practices and overall carbon footprint.
Dallas, TX has made strides in terms of boosting recycling rates to where they stand right now at about 50% of residents utilizing the city's comprehensive curbside recycling program and/or using any one of its 152 recycling drop-off locations. Call 311 to setup curbside recycling in the Dallas area if you haven't already (where have you been!).
Dallas is also home to dozens of Leadership in Energy and Environmental Design (LEED) certified buildings, including one of the greenest architecturally designed museums in the United States, the Perot Museum of Nature and Science.
The city also ranks among the top metro areas in the nation for number of Energy Star qualified commercial buildings. Dallas isn't the most bike-friendly city in the country; in fact, it was ranked by Bicycling Magazine in 2012 as the worst city in the U.S. for cyclists.
So, there's a lot of work to do yet, but the city has put into place a comprehensive Bike Plan to help create more bike paths and trails throughout the city. The city's focus on becoming a more sustainable and environmentally-friendly place to live is the reason we're honoring Dallas, TX with our 'Cities Going Green' distinction.