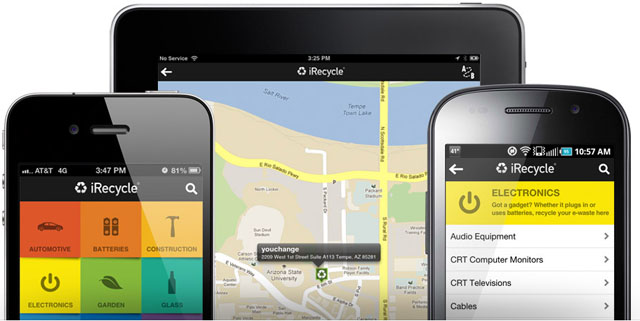 Source: Earth911
The holidays are over but now the real work begins: Cleaning up the excess of wrapping paper, cardboard, obsolete household items, and the list goes on. Fortunately, technology is here to help. An innovative new mobile makes it a breeze to find recycling centers near you willing to take your unwanted holiday junk.
From the eco-friendly experts at Earth911.com, the iRecycle mobile app can help you find the nearest recycling facilities for proper disposal of more than 350 different items, such as electronics, plastic waste, old clothing and even Christmas trees.
The newest versions of iRecycle for iOS (v2.5.1) and Android (v1.5) are extremely simple and intuitive.
The database of recycling/disposal sites in the iRecycle system currently tops 1.5 million, so it's a pretty good resource for finding a place to dispose of your unwanted items quickly and on-the-go.
Using the app is easy: Click a category and find the item(s) you want to get rid of, or simply use the search box to find a disposal location quickly. You'll then get a list of locations accepting whatever you're getting rid of; click on a location and gain access to a phone number, map, details, website, and other pertinent information.
The iRecycle app also has some cool social features that make it easy to share your exhilaration for eco-friendliness with your Facebook friends and Twitter followers.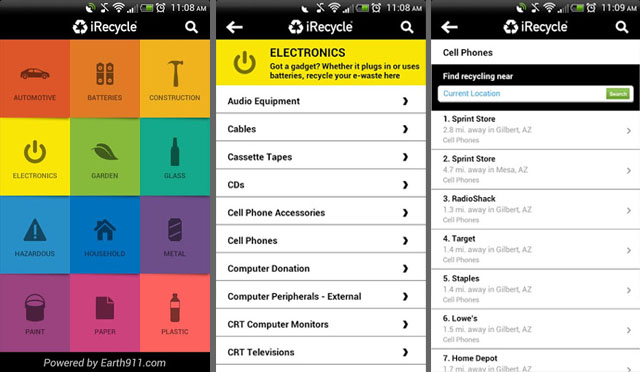 Source: Earth911.com
Collecting clutter around the holidays is a slippery slope; it adds up fast! By tackling the issue head-on, you can save yourself from a more extensive spring cleaning project several months down the line.
Cleaning up this time of year isn't fun, but it's an inevitable part of the holidays. The iRecycle app may help make the process a little smoother, or at least a little bit greener.