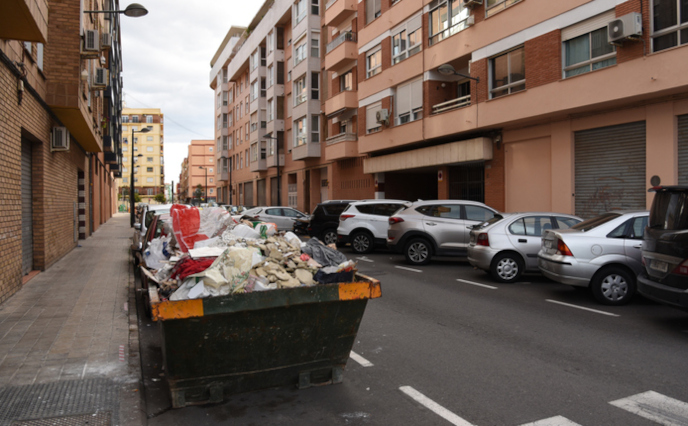 Updated December 6, 2022
Renting a roll-off dumpster in a big city is a different experience compared to renting one in the suburbs or rural areas due to lack of space.
While more challenging to place a dumpster in the city, it is very much possible with the proper planning.
Dumpster placement and any permitting requirements must be arranged in advance of the dumpster rental to ensure a smooth rental process from drop-off to pick-up.
This guide will go over the nuances of renting a dumpster in a big city and/or when renting a dumpster for a project in a high-rise building.
Jump to:
---
---
Dumpster Permit Requirements
A dumpster permit will likely be required when renting a dumpster for a project in a downtown area or large city, such as New York City.
An exception to this rule is if the dumpster is to be placed on private property, such as a driveway or alleyway that is not owned by the city or publicly accessible.
Getting a dumpster permit is a relatively simple process and most cities allow it to be done online.
For example, Chicago offers an online dumpster permit portal to complete the process quickly and easily. (See image below.)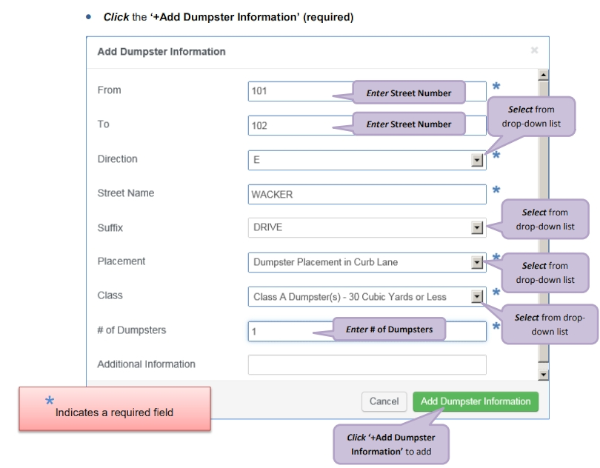 Your dumpster rental company should be able to obtain the permit or at least help you obtain it prior to the dumpster getting dropped off.
Dumpster permits generally require that the permit itself remain in public view—either on or near the dumpster—and orange cones and/or reflective tape be placed around the dumpster for visibility and safety purposes.
The dumpster also needs to be picked up no later than the time specified on the permit.
There may be other stipulations, as well, depending on your city's requirements.
Coordinate the time allotted on the dumpster permit with the rental period offered by your dumpster rental company well in advance of the rental to ensure the timing lines up.
Dumpster Rental Process
The dumpster rental process begins by researching local dumpster rental companies, and Hometown makes it simple.
Find local dumpster rental companies that may be able to accommodate the needs of your project. (Your city may work with a franchised hauler, and if so, your options may be limited.)
Get quotes from at least 2-3 of the rental providers you've researched.
In addition to quotes, ask about permit requirements, rental duration, types of debris accepted, and whether they can accommodate your project schedule.
Next, book the dumpster.
Be sure to have the dumpster permit secured (if applicable) and all the drop-off details (where/when) nailed down with the rental company. This will ensure a smooth rental process right from the start.
Book your dumpster at least a week in advance if possible. Container availability is limited, and during busy months, dumpster rental companies may not have the container size you need. Book early to avoid an issue like this.
The final step is pick-up. Be sure the dumpster is picked up before the allotted time on the permit runs out.
Many dumpster rental companies will pick up on the agreed upon date, but you can call for an earlier pickup if you finish the project quicker than expected.
---
---
Types of Dumpsters

There are four primary types of bulk waste containers available to rent on a short-term or long-term basis:
Roll-off containers
Trailer dumpsters
Bag dumpsters
Commercial front-load dumpsters
Roll-off containers and trailer dumpsters are the two most common type of short-term rental options.
Trailer dumpsters usually offer 20 cubic yards or less loading capacity, while roll-off container sizes peak at 40 cubic yards of capacity.
Common commercial dumpster sizes have capacities ranging from 2 to 8 cubic yards. These are the bins located at gas stations, grocery stores, apartment complexes, and other commercial businesses.
They are generally not available for short-term rentals for construction debris cleanup, or other projects, but some cities allow them due to their small, city-friendly size.
Not every dumpster rental company offers both types of dumpsters or every container size.
For example, some rental companies specialize in only smaller roll-off containers aimed at the residential market ranging from 6 cubic yards to 20 cubic yards.
Bag-style dumpsters, such as Bagster, have become popular in recent years.
These dumpsters offer approximately 3 cubic yards of loading capacity, so it's not an ideal option for bigger projects, such as kitchen or bathroom renovation.
It's also one of the most expensive options on a cost-per-yard basis.
Be sure to understand the upfront costs and the pick-up costs associated with bag dumpster usage before going that route.
The type and size of the dumpster is something to consider for your project.
One consideration is the amount of space you have available for dumpster placement.
For example, if the project is in a busy downtown area (e.g., Manhattan), space is extremely limited.
A smaller 10 yard or 20 yard dumpster may be the best option in this case.
A trailer dumpster may offer even more versatility, as it can be maneuvered into tight areas, oftentimes easier than roll-off containers.
Putting all the puzzle pieces together – scale of project, space available for placement, rules/regs – can help determine the optimal dumpster solution for the job.
Check with building management prior to renting a dumpster to ensure rules are followed regarding dumpster placement, rental duration, and other details.
Read more: How to Find Small Dumpster Rental Near You
Alternative Options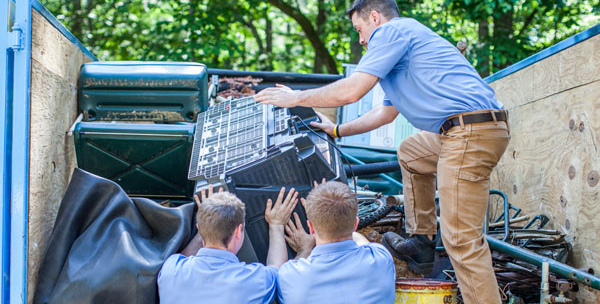 When renting a dumpster is simply not a viable option, hiring a junk removal service to handle the project cleanup is a great alternative.
This is also a great option in situations where you don't want to handle the loading of the junk or debris, or when a dumpster in the container size needed is not available within the timeframe needed.
Junk removal services are a convenient and fast option that involves a junk removal crew showing up at the job site, loading your junk into their truck or trailer, and hauling it to the proper facilities. They are essentially in and out, making it a more efficient option compared to renting a dumpster.
The extra convenience and efficiency of junk removal service does come at a premium. You can expect to pay more for junk removal services than renting a dumpster, although this depends on the project.
The cost to hire a junk removal company in most cities range from $100 for single-item pickups to $500 for a ¼ or ½ truck-load worth of junk.
Due to dumpster restrictions or strict rules of use in some cities, junk removal service is oftentimes the best option for disposal of bulk amounts of waste.
We recommend exploring both options by getting a few quotes from various local waste haulers, many of which may offer both dumpster rental and junk removal service options.
---
---
Keep reading: Trash Disposal Showdown: Junk Removal vs 10 Yard Dumpsters vs Bag Dumpsters