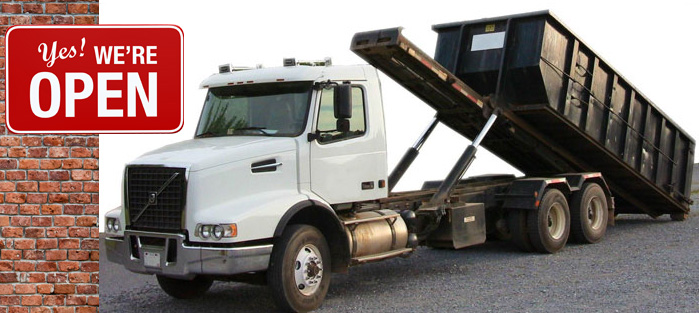 Updated February 22, 2023
Amidst the current situation with the coronavirus COVID-19 pandemic, there is a lot of uncertainty surrounding just about every aspect of our lives.
Many cities and states (see below) have mandated "stay-at-home" orders, and while this is certainly not an ideal situation, it does open some opportunity to work on home projects that have been on the back burner.
Trash collection companies, including dumpster rental providers, remain open for business
With the social distancing requirements in place across the U.S., it's important to avoid personal contact. However, you can still work on projects at home, even those that involve renting a dumpster.
Most dumpster rental companies are still open for business.
Waste and trash collection companies are considered by cities and states to be "essential services," meaning most are still open for business and dropping off / picking up rented dumpsters.
States that have issued stay-at-home orders (as of April 2020):
California
Connecticut
Delaware
Hawaii
Illinois
Indiana
Louisiana
Massachusetts
Michigan
New Jersey
New Mexico
New York
Ohio
Oregon
Washington
West Virginia
Wisconsin
(via CNN; list may be out of date)
Renting a dumpster requires no physical contact between customer and waste hauler
Staying safe and healthy is always the priority in situations like the one we find ourselves in now.
Keeping that in check, maintaining some sense of normalcy is also important.
By staying busy at home, you can maintain productivity while still abiding by the social distancing recommendations.
Dumpster rental companies are able to complete business without having any physical contact with the customer.
It works like this:
Customer calls for a quote and books the dumpster over the phone
Driver drops off the dumpster at the home or job site
Customer calls for pickup when finished loading the container, or the dumpster rental company picks it up on the scheduled date
Any remaining invoicing/billing is completed online or via the phone if necessary
There is no actual contact between the dumpster rental company and the customer. This makes it easy to maintain social distancing.
Learn more:
Declutter your home or business
With extra time on your hands, it's a great time to clear out clutter, debris or trash from your home or business. For many people, this is the ideal time to put spring cleaning into overdrive.
A 10 yard dumpster is a good choice for an average-size house cleanout. Disposing of large or bulky items, such as furniture, may require a larger 20 or 30 yard dumpster. A typical 10 yard dumpster measures 12 ft. x 8 ft. x 4 ft. (dimensions may vary) and fits well on a driveway or placed on the yard.
Get all the information you need to know to get started by referencing our Dumpster Rental Quick Reference Guide.
If you're ready to find a dumpster rental company that is open near you, click the link below.
---