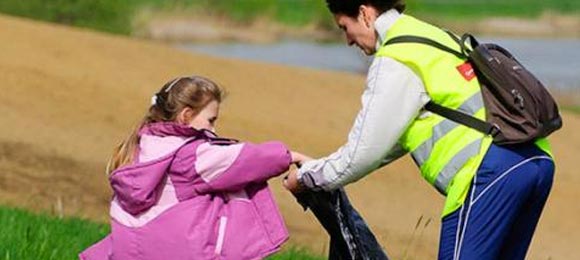 It's hard for kids to understand just how much waste is generated in the U.S. each year and how this waste is disposed of or recycled.
You can tell a child that the U.S. produces 250 million tons of municipal solid waste per year, but do they really understand what that means?
Maybe more important than helping kids understand the overall scale of waste management in America is teaching them how to properly dispose of various materials.
It's critical to teach kids what things go in the trash can, recycle bin, or compost pile, and what gets reused.
For many children, simply tossing trash into the garbage can is the solution in every case.
To help improve the health of humans and the environment over the next several decades, it's up to parents to teach their kids about responsible waste removal and how it has a major impact on our lives.
Here are several great ways to do just that:
Set an Example
As a parent, you know you can tell your kids something until you're blue in the face and still never get your point across.
However, kids do tend to respond to things they see you do.
Set a positive example for your kids, and believe it or not, they'll eventually start to follow suit. Set an example by:
Setting up curbside recycling service (if you don't have it already)
Composting food scraps, yard waste, and paper/cardboard products
Never, never, never litter!
Helpful Hint: Renting a dumpster is a great way to dispose of unwanted junk or trash that's piling up in your home. Find the size that's right for you, learn how dumpster pricing works, and see what people in your area typically pay for a 10 or 20 yard dumpster.
Take to the Internet
In the 21st century, we have this great thing called the Internet—make good use of it!
There are so many free resources out there that can help teach your kids about responsible waste removal, recycling, composting, and reusing.
Your kids are likely on the Internet for hours a day anyway, so why not take advantage of their love for the Web by showing them some fun and interesting sites about trash? (Yes, these do exist!)
There's a list of great Internet resources focusing on teaching kids about responsible waste handling over at Parenting Magazine.
NASA, the National Institute of Environmental Health Sciences (NIEHS), and the EPA offer fun games, coloring pages, and videos aimed at teaching kids about waste.
Head to the Museum
There are several museums across the country that focus on reducing, repurposing, and responsibly handling trash. Here are a few of them:
A simple online search can help you find other trash-related exhibits at a museum near you.
Take a Field Trip
Many waste-to-energy plants across the country allow you to tour the facilities.
Most require you to call and schedule a tour.
These waste facilities will help show kids firsthand what the future of waste handling is all about.
Kids will get to see the process of how garbage is converted into energy.
It's a very interesting process for both children and adults to see in person.
As of 2020, there are 75 waste-to-energy plants located in 24 states across the country.
Volunteer to Clean Up the Neighborhood
Virtually every community in the U.S. holds some type of neighborhood cleanup event at least once a year.
Get involved in your community cleanup initiatives, and include the kids so they experience what it's like to make a difference in the community they live in.
Contact city or town officials to find out about area waste removal events, such as roadside, beach, and river cleanups.
You can also search online at a site like VolunteerMatch.com to find local cleanup events.
Kids will learn to take pride in their community by helping keep it clean and free of litter.
Reuse When Possible
Talk to your kids about reusing certain types of waste instead of simply tossing it in the trash bin.
Reusing waste materials greatly reduces impact on the environment and reduces the amount of waste entering landfills.
It also saves you money in many cases.
A few examples of reusable items include:
Using egg cartons as a paint holder for kids to paint with
Reusing paper/plastic grocery bags as trash bags
Use the other side of printed computer paper for notes/grocery lists; when done with that, compost it.
Use reusable drink holders/lunchboxes rather than disposable alternatives
Following a sustainable lifestyle of reusing items rather than tossing everything in the garbage will rub off on your children.
They will learn to live the same way, which will help them become more in tune with the environment and the effects—both positive and negative—we as humans have on it.
---
---
Learn more: