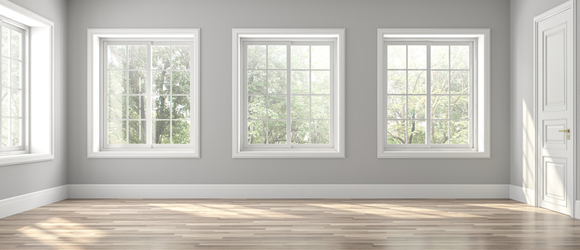 Updated October 7, 2021
When it comes time to move out of your rental property, it's important to make sure you're leaving the space in excellent condition to ensure your deposit is returned to you.
That's why we've put together a cleaning checklist so you don't forget a thing.
Jump to:
---
---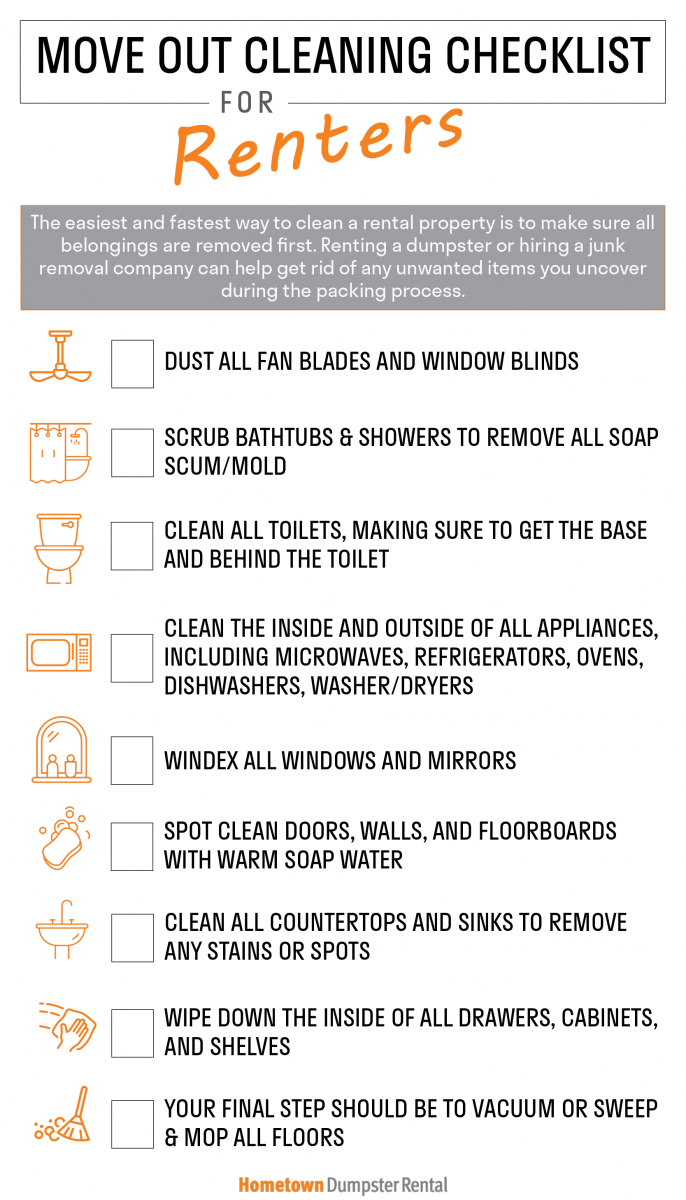 Before You Clean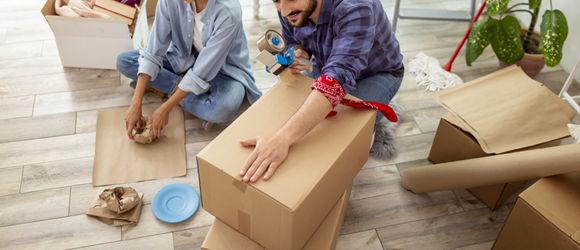 Cleaning your rental property should be the final step before handing over your keys.
All of your belongings should be packed and hauled away before you start cleaning.
Not only will this make the cleaning process go by easier and faster, but it will produce the best results.
During the packing process, there are usually piles of old belongings uncovered that you'll realize it's time to let go of, especially if you've been at this property for several years.
If you notice your pile of items to get rid of is bigger than you anticipated, hiring a junk removal company or renting a dumpster is a great way to get rid of unwanted items.
Some dumpster rental companies offer mini dumpsters that are perfect for small cleanouts, while a junk removal company will come and remove your items in a matter of minutes.
Learn more about dumpster rental and junk removal services:
---
---
Cleaning Checklist for Renters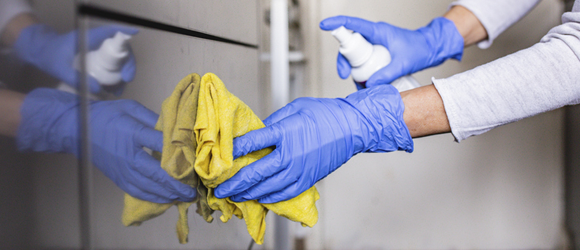 Once you've removed all belongings from the property, it's time to start cleaning.
The kitchen and bathrooms are the highest traffic, dirtiest rooms of the home, so we recommend starting there.
Bathrooms:
Thoroughly scrub the shower/bathtub from top to bottom, making sure to remove any built-up soap scum or mold.
Clean the toilets, making sure to get underneath the toilet seat. Don't forget to clean the base of the toilet as well as behind the toilet.
Next, clean the sink, making sure to wipe down the faucet and handles to remove any water stains or toothpaste.
Windex all mirrors and windows.
An often overlooked spot to clean in a bathroom is the walls. It's common for hair, products, and makeup to end up on the walls where you and your family spend time getting ready in the morning.
Finally, make sure to clean the floors and floorboards.
Kitchen:
If you have a fan in your kitchen, make sure to clean the blades for any dust.
Dust the top of your cabinets, refrigerator, and any other areas where dust could easily settle.
Clean the insides of all appliances, like the microwave, oven, and refrigerator to remove any remnants of food.
Make sure to clean the stove to remove all grease and spilled food.
Thoroughly scrub down all countertops and the sink, making sure to remove any stains.
Wipe down all drawers and storage areas where you use to keep food or dinnerware, including pantries.
Wipe down walls and backsplashes.
Clean baseboards, and sweep and mop the floors.
Once you've cleaned out these rooms, the rest of the house cleaning should go by relatively fast.
Other Rooms:
Start from the top and work your way down. Begin by wiping down fan blades and window blinds to remove any dust.
Wipe down walls and doors with soap water, especially around the door handles. Without even realizing it, dirt can build up over time and a quick wipe-down will leave it looking bright and refreshed.
Clean window sills and Windex any windows and mirrors in every bedroom, dining room, and living room.
Don't forget to wipe down any built-in shelves, drawers, or other storage areas throughout the house to make sure you aren't leaving your dirt and dust behind.
Finally, vacuum or sweep and mop all remaining floors throughout the house.
---
---
Continue reading: