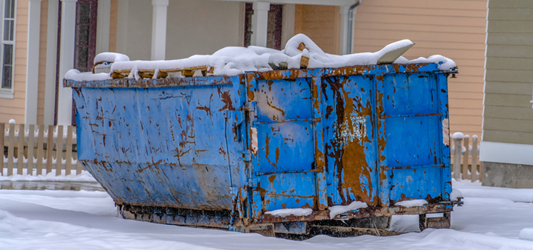 Updated November 3, 2022
Renting a temporary dumpster is one of the most efficient ways to get rid of large amounts of junk at once, and luckily, dumpsters are available for residential use year round.
There are a few things to keep in mind if you plan on renting a dumpster during the colder months to ensure a stress-free experience.
We'll go over these useful winter dumpster rental tips:
---
---

Check the Weather
If possible, try to schedule your dumpster rental during a time when heavy precipitation is not predicted.
Avoiding high winds will ensure your items stay put in your container and do not blow onto your property or neighboring properties.
Heavy precipitation can accumulate in your container, adding additional weight that can push you over your weight limit and result in additional fees.
If it's not possible for your timeline to schedule your rental around winter storms, be sure to have other protections in place, like tarps.
Learn more: Planning for Rain or Severe Weather During a Dumpster Rental
Have Tarps Available
Tarping the top of your trailer dumpster or roll-off container will not only keep your intended contents inside the dumpster, but it will keep out unwanted critters and prevent precipitation (like snow, hail, and rain) from accumulating at the bottom of the container.
Wet trash, junk, and debris always weighs more than dry contents, so protecting your dumpster from added moisture is the best practice to avoid going over your weight limit.
Keep reading: Calculating Wet Debris Weight to Avoid Dumpster Overage Charges
Dress Appropriately
If you will be the one loading your contents during freezing temperatures, be diligent about wearing the proper attire.
It's important to stay as dry as possible to maintain a safe body temperature, so water resistant boots, an extra pair of socks, dry hair, a winter hat, gloves, and an insulated jacket are all appropriate gear for working outdoors in freezing temperatures.
Be Prepared with Shovel and/or Salt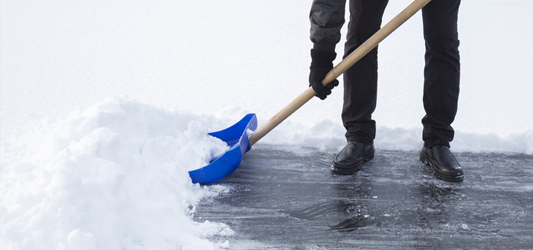 With accumulated snow on the ground, having your dumpster placed in a shoveled driveway or street will ensure the smoothest delivery and pickup.
Failing to remove ice and snow from the area you plan on having the dumpster placed makes it vulnerable to getting stuck or slipping from its position, putting the equipment, workers, and renters at risk of damage/injury.
Salting the area is an additional step you can take after shoveling to prevent people and equipment from slipping on built-up ice.
Get Multiple Quotes
Regardless of what time of year you rent a dumpster, reputable providers in your area will be able to help guide you throughout the process.
From which dumpster style and size you should rent for your particular project, to how to best protect your driveway and dumpster throughout the rental, local dumpster experts should be willing and eager to help answer your questions and earn your business.
The best way to find local dumpster companies in your area is to search on Hometown.
We provide an easy way to reach out to multiple dumpster companies in your area with a single quote request form.
You can read more about each company's services, read verified real reviews, and request free quotes - all in one convenient place!
---
---
Continue reading: