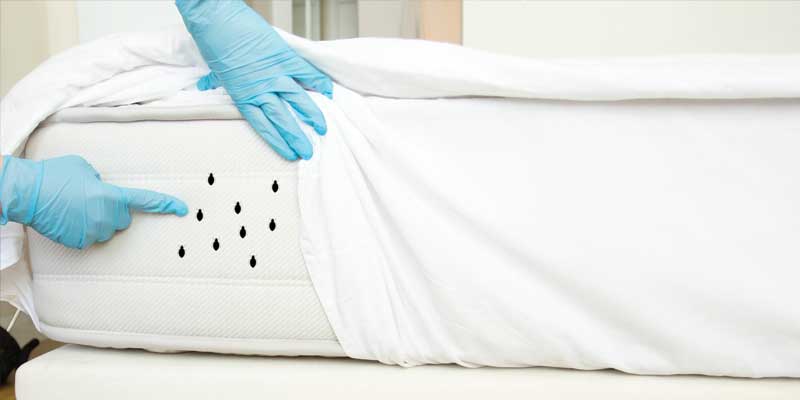 Updated May 22, 2023
Whether you're suffering from a bed bug infestation yourself or own a rental property that has been left abandoned with bed bug infested furniture, part of properly treating a home with a pest problem involves cleaning and disposal.
Bed bugs prefer to live near areas of the home where people often sleep, so bedrooms and living rooms are typical hot spots. They also love small hiding places and can easily fit through small cracks which can make them harder to spot until it becomes a bigger issue. Mattresses, bed frames, nightstands, rugs and carpeting, blinds and curtains, couches, stools, and even decor are all common household items that are often the perfect breeding ground for bed bugs.
When it comes to treating bed bugs, using insecticides alone isn't enough to ensure the problem is remedied. Careful and thorough cleaning paired with the appropriate disposal of infested items are critical to completely getting rid of a bed bug problem.
In this guide, we'll discuss:
---
---

Preparing Bug Infested Furniture for Removal
It's important to take the proper steps before removing furniture from your home so that you aren't infesting other households, but before you get started, you'll want to buy protective gear to protect yourself and the further spread of your bed bug infestation.
Wearing white coveralls that cover you head to toe will help decrease the likelihood that any bugs will sneak their way into a shoe or pocket, ready to be spread to the next room or home you walk in. Choosing to wear white is helpful for spotting any bugs that try to use you as their escape plan, and you should also wear gloves to protect your hands from being bit by these blood-hungry pests.
While wearing the proper attire, you should start by giving your furniture and the surrounding areas a thorough cleaning. This includes sweeping and/or vacuuming, steam cleaning upholstered furniture on high heat, and removing blankets, sheets, pillow cases, and mattress toppers. Bed bugs can't withstand high heat, so be sure to launder these items with hot water for at least 30 minutes, followed up by drying on high heat.
Once you've taken this first step in cleaning up your bug infested home, arrange for a professional bed bug treatment. This is an important step in treating your bed bug problem and ensuring that you'll be able to find removal services willing to remove your old furniture.
After your home and furniture has been professionally treated for bed bugs, you'll want to wrap your unwanted furniture in plastic wrap tightly and layered, being sure to leave zero cracks for any surviving bugs to escape. Because a few lone survivors are common after bed bug treatment, it's crucial to ensure there is no way that any bugs could escape the plastic wrap before removing it from your home to prevent trickle-down infestations. Tape can be a useful tool in helping you make sure your furniture is securely wrapped.
Professional Services That Will Remove Bed Bug Infested Furniture
Hiring professional services is the most efficient way to properly dispose of furniture that is/was crawling with bed bugs.
One of the fastest and most affordable ways to get rid of furniture you no longer want is to hire a junk removal company to do so for you. Junk removal companies will do all the heavy lifting and loading and haul your furniture to the appropriate landfill or recycling facility.
The cost of furniture removal varies based on the size and weight of the furniture, how much space it takes up in their truck, local landfill fees, cost of living in your area, and who you hire. With that being said, you can expect to pay $75 or more to get a single piece of furniture hauled away by a junk removal company. The minimum fee for most junk removal companies ranges from $75-$125. For jobs bigger than removing 1-3 small pieces of furniture, the costs will go up incrementally. The average cost for furniture removal by a junk removal company is $150-$500.
Because extra precautions need to be taken before removing bug infested furniture from a home, be sure to be completely transparent with each junk removal company that you speak with. Most junk removal companies will remove furniture that has been treated for bugs, but some may require that their crew members wrap your furniture in plastic themselves before hauling it away to ensure that the infestation isn't spread to other households on their watch. They will also typically need to wear protective clothing when removing your furniture. These additional measures will incur additional fees on top of their regular furniture removal price.
If you have several pieces of furniture to get rid of or you have a large amount of household items to throw away, renting a temporary dumpster may be a more cost-effective solution. A small home cleanout can be accommodated by a 10 yard dumpster, while larger home cleanouts may require a 20 yard dumpster.
Similar to junk removal, dumpster rental costs will vary based on where you live, what you're throwing away, the size of the dumpster you rent, the duration of your rental, and who you hire. So while the cost to rent a dumpster in your area may be more or less, the average cost for a 10 yard dumpster ranges from $250-$450 and a 20 yard dumpster costs $350-$550 on average.
Regardless of whether junk removal or dumpster rental services are the better option for your particular situation, it's best practice to get multiple quotes from locally-owned and operated companies in your area. Getting multiple quotes not only allows you to price shop, but it will give you an idea of the type of customer service you can expect from different providers and will help you determine who has the availability your project requires.
With Hometown, getting multiple quotes for junk removal and dumpster rental services has never been easier. We publish local companies across the U.S. who are eager to provide customers free quotes and earn their business. Rather than filling out a quote request form for each company you reach out to, you can fill out our single quote request form to save time and energy. You can get free quotes from up to 3 companies that service your zip code and make a hiring decision that will best suite your disposal needs.
Learn more:
How to Safely Remove Furniture with Bed Bugs Yourself
If you have a truck or trailer that can accommodate furniture hauling, DIY furniture removal may be an option for you. However, it's important to keep in mind the costs and time investment that is associated with this option.
Fuel costs, landfill fees, taking time to find one or more helping hands, and the time it takes to load, transport, and dump the furniture are all factors that should be taken into account, especially if you have to make multiple trips or travel far to the nearest landfill. Landfills located in large metropolitan areas can also have very long entry lines, forcing you to wait in line for 30+ minutes next to a smelly dumpsite.
Hauling large items yourself is the most time-consuming method for furniture disposal, so while it may appear to be saving you money upfront, be sure to consider the value of your time when debating which method is the best value.
Landfill fees vary from city to city, but the average cost of landfills across the U.S. is around $40-$60 per ton, or around $15-$30 per cubic yard for relatively small lands. As previously mentioned, landfill fees aren't the only cost to consider. Map out how far away you're located from the nearest landfill to estimate the cost of fuel for transporting and how much of your free time this task will take up.
---