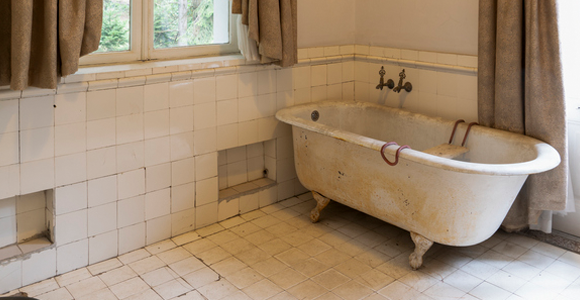 Updated February 23, 2023
Replacing a bathtub is usually saved for a whole bathroom remodel, which can be a huge project.
But, what exactly do you do with an old bathtub that you've torn out and need to get rid of?
Hometown has gathered a list of all your bathtub disposal options to make your project as simple as possible.
Jump to:
---
---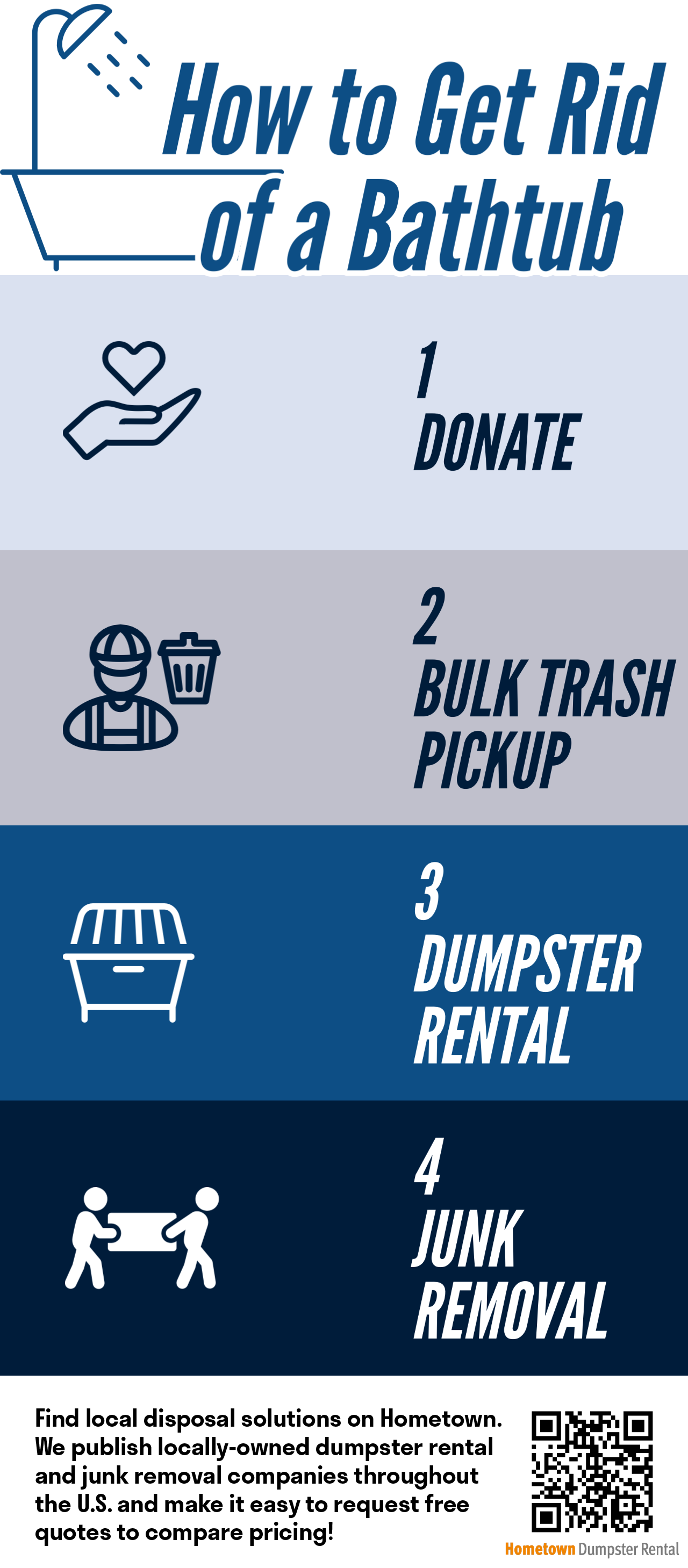 Donate
An environmentally-friendly way to get rid of your old bathtub is to donate it or list it as a free item on Craigslist or Facebook Marketplace.
If your tub is in decent condition and could be considered an upgrade for someone else's remodel, you might be able to find a donation center or individual that would be happy to take it off your hands.
Your local Habitat for Humanity is a great place to check and they sometimes offer free pickup so you don't have to worry about finding a way to haul it to their facility.
Schedule Bulk Trash Pickup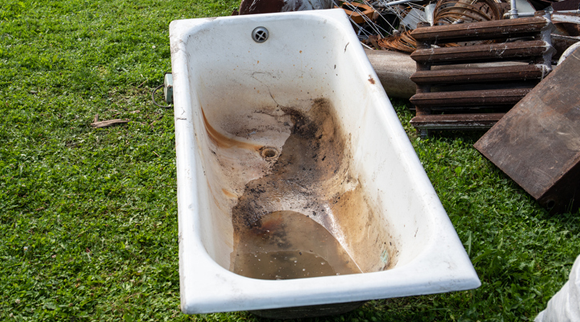 Some municipal weekly trash pickup services offer bulk trash pickup if it is scheduled ahead of time while others only offer it a few days out of the year.
Not every trash pickup service does, but double-checking with your local provider is worth a call.
If you're able to arrange this in a timeframe that accommodates your schedule, you'll need to make sure you have help moving your bathtub out to the side of the road.
Old tubs can be very heavy, so if you don't have the proper tools and manpower to do this type of heavy lifting, hiring a junk removal company might be the best option.
It's also important to note that getting rid of your bathtub with a bulk trash pickup service likely means it will end up in your local landfill.
If you're environmentally conscious, renting a dumpster or hiring a junk removal service that will recycle your old tub is the best solution.
---
---
Rent a Dumpster
If you're doing a bathroom renovation or home cleanout project and have a lot of other items to get rid of in addition to your old bathtub, renting a temporary dumpster is a great option.
Roll-off dumpsters feature a swinging back door so that you can easily walk in bulky and heavy items, given you have the help needed to load this type of heavy material.
Be sure to speak with several different companies to ensure you find one that accepts your intended items and to compare pricing.
You can locate and request free quotes from providers in your area by searching for dumpster rentals on Hometown.
You can read verified reviews from real customers to help you find a reputable and reliable company near you.
Learn more:
Hire a Junk Removal Company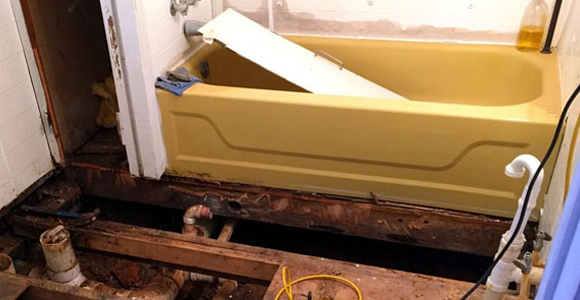 The easiest way to get rid of an unwanted bathtub is to hire a junk removal service.
Not all junk removal companies will remove and recycle tubs, but the ones that do can be in and out of your house in under 30 minutes.
Hiring a junk removal company to get rid of your old bathtub is affordable, fast, and requires zero labor on your end.
Hometown makes it easy to find reputable, locally-owned junk removal companies in your area.
You can request free quotes from as many providers as you'd like to ensure you get the best price and customer service.
---