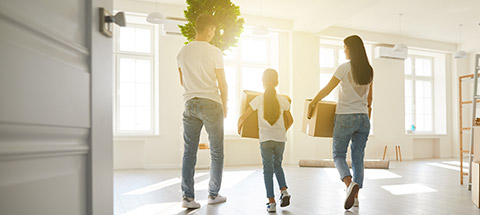 If you're a homeowner preparing to move out of your house, you're likely wondering where to start with the cleaning process.
Our move out cleaning checklist for homeowners outlines the steps to ensuring your move-out process is as tidy and stress-free as possible.
Jump to:
---
---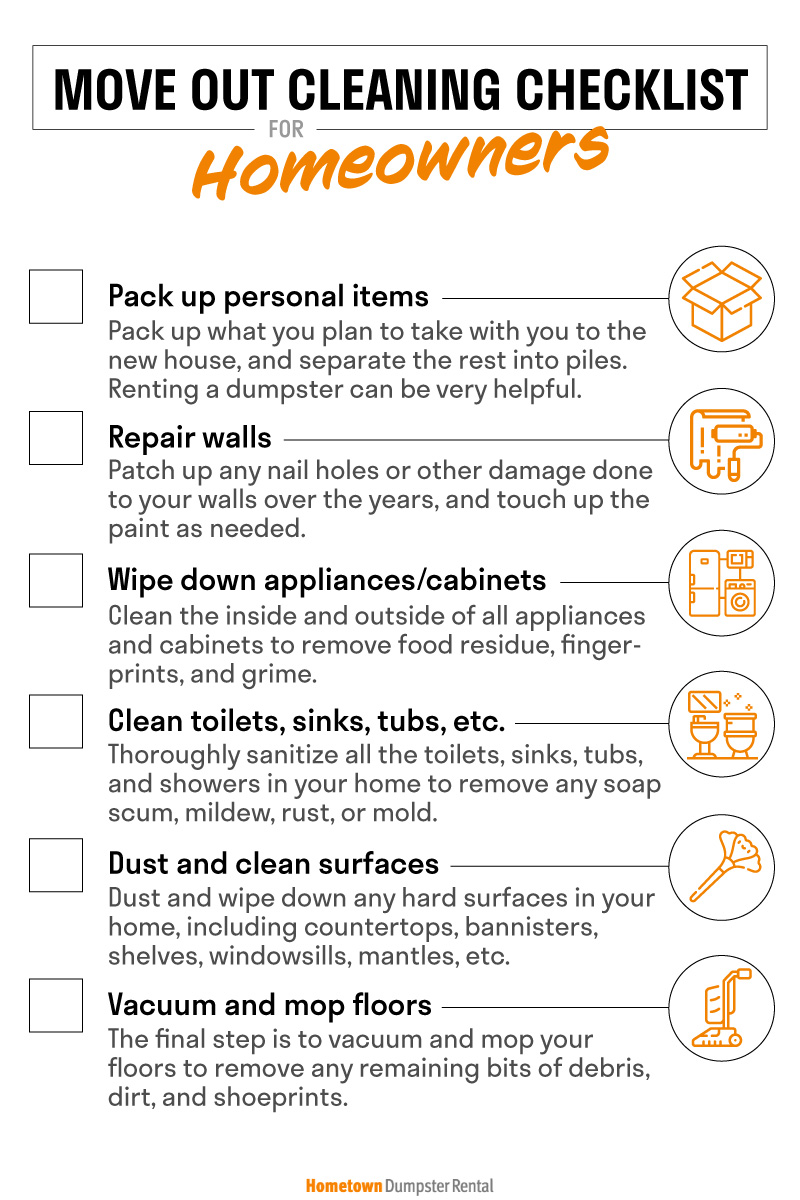 Remove All Your Personal Items
One of the first things you can start to do when moving is going through all your items, determining what you want to make the move with you, and packing them up.
When going through your items during the packing process, make separate piles for items you don't want to keep.
If they can be sold, add them to a 'sell' pile. If they can be donated, add them to a 'donate' pile.
If they can't be donated, they may be able to be recycled at a local clothing store drop-off bin or recycling facility.
Once you've packed up all your clothing and accessories and cleared out your closets, make sure to vacuum the floors and wipe down the shelves.
Dumpster rentals are great resources for homeowners preparing to move homes, especially if you plan to downsize. Junk removal services are another great option to consider, especially if you want someone else to handle the heavy lifting for you.
Learn more:
Repair Walls
If your walls have a lot of nails, hooks, drywall anchors, or general damage to them, we recommend removing them and repairing as needed.
If you only have a handful of cleanly hung nails or hooks, they can likely stay without worry of upsetting your home's buyer.
Once you've removed any existing hardware, patch up those unsightly holes.
If any drywall needs to be repaired, it may be worth hiring a handyman to help get the job done properly and quickly.
Similarly, if the paint on your walls has become knicked and scuffed over time, touch them up before moving out.
Continue reading:
---
---
Wipe Down Appliances and Cabinets
Don't forget to clean inside all cabinets, including in the kitchen and bathroom.
Residue from food, cooking products, toothbrushes, and other items can build up in cabinets over time, so be sure to wipe them all down once cleared of any items.
The same goes for the refrigerator. Empty it out and remove any remaining food. Then, wipe it all down with a disinfectant spray.
Similarly, stainless steel appliances can quickly become covered in scuffs and fingerprints, but wiping them down with a damp microfiber cloth can get them shining again quickly.
The same goes for your microwave and oven—be sure to clean them out thoroughly before moving out so as not to leave the new homeowners with a food-covered mess.
Clean Toilets, Sinks, Showers, and Tubs
Next, it's time to clean the bathrooms.
Thoroughly scrub and sanitize any toilets, sinks, showers, and tubs in your home to remove any soap scum, mildew, rust, or mold.
Remove any cobwebs and dust from ceiling fans and lighting fixtures.
Dust and Clean Surfaces
Just like in the bathroom, be sure to dust and wipe down any surfaces throughout your home.
Use an all-purpose surface cleaner and a clean microfiber cloth to wipe down countertops, bannisters, bookshelves, windowsills, mantles, and any other hard surface.
Vacuum and Mop Floors
Finally, run through your home with a vacuum to quickly pick up any remaining bits of debris and dirt, and mop where needed.
Don't forget to vacuum stairs, closets, and any other nooks and crannies.
To help make your pre-move cleanup easier, we recommend hiring professionals to help handle the mess.

Fortunately, Hometown's extensive network of reputable and reliable service providers makes it easy to find dumpster rental and junk removal companies in your area, request multiple quotes, and choose the best service for the job.
---
---
Keep reading: