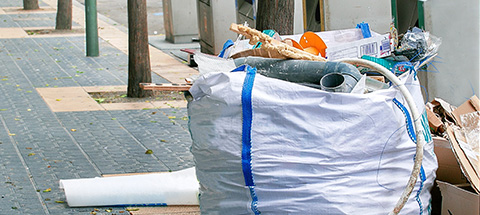 It's tempting to run to your local Home Depot or Lowe's to rent a dumpster for small home projects, but you should know that options are very limited in these cases.
You may think renting a dumpster or buying a Bagster from a big box store is the most convenient and best way to go, but you could end up paying quite a bit more than if you'd rented locally.
In this guide, we'll go over the differences between big box store dumpsters and dumpster from local rental providers.
Jump to:
---
---
Dumpster Options at Big Box Stores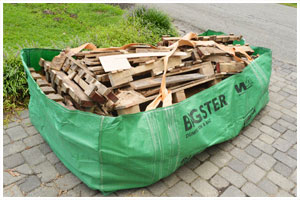 Most big box home improvement stores across the country, including Amazon, offer Bagster dumpsters from Waste Management.
These are bag dumpsters with a capacity to hold up to 3 cubic yards of material and no more than 3,300 lbs of material.
This is typically the only type of dumpster offered by large home improvement stores, which makes Bagster-style dumpsters only helpful for very small, lighter-weight projects.
National waste haulers, like Waste Management, also offer traditional dumpster rentals, but their rental prices are substantially more expensive than local hauler prices.
Rushing to contact your local big box store may seem like the quickest and easiest solution, but it could end up being an expensive and time-consuming mistake. Instead, we recommend reaching out to local dumpster companies with the help of Hometown.
Average Price
With only a $30 pricetag on average, the initial cost of bag-style dumpsters is attractive, but the pick-up/debris disposal costs can range anywhere from $100-$300+ depending on where you live.
At the end of the day, your bag-style dumpster will likely cost as much as, if not more than, a 10 yard local dumpster rental.
Even if you don't think you'll need the extra room, chances are, your debris will take up more space (and weigh more) than you anticipated.
In addition, you likely will find quite a few things lying around your house or property that you'd like to get rid of while you're at it.
It's easy to underestimate exactly how much will be going in the dumpster, and doing so can be expensive.
If you buy a bag-style dumpster, and you can't fit everything in it, you will have to buy a second Bagster, which will easily surpass the cost of a 10 yard dumpster.
Read more:
---
---
Local Dumpster Provider Options
Big Box home improvement stores are incredibly convenient, and Bagsters can be a useful means of disposal for some projects.
If you only have a small amount of debris that needs to go, Bagsters can be great, but always recommend getting quotes from a few local dumpster rental companies first.
You can get a free no-obligation quotes for a variety of dumpster sizes to see which will meet your needs and budget.
To ensure you get the best services for the best price, reach out to multiple providers for quotes.
---
---
Find out more: