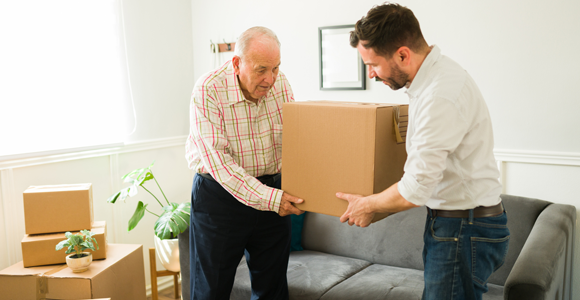 Updated February 23, 2023
Downsizing in older age is a great way to lessen the burden of independent living.
Having a home full of stuff can result in unhealthy clutter, unnecessary storage, and can increase the likelihood of a dangerous fall.
When you're ready to help your elderly relative clear their home full of stuff and downsize, these tips can help make the process go as quickly and smoothly as possible.
Table of Contents:
---
---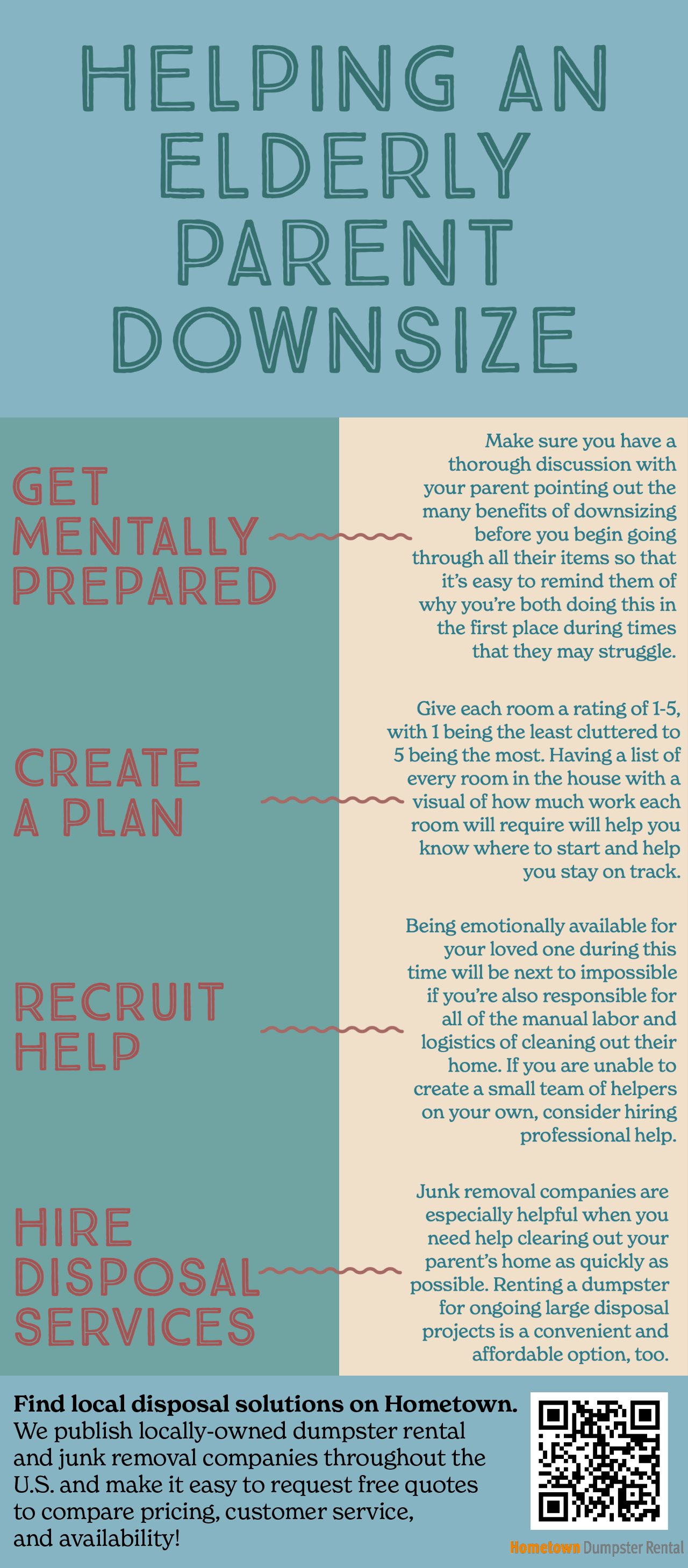 Get Mentally Prepared
Whether your loved one is excited or hesitant about the thought of downsizing, parting ways with things they've held onto for a lifetime can be very stressful.
It's important to consider the emotions that your parent might go through before you begin this process so that you can be prepared for roadblocks and know how to handle them.
Make sure you have a thorough discussion this with them before you begin going through all their items so that it's easy to remind them of why you're both doing this in the first place.
Point out the many benefits of downsizing in old age, like:
Seeing a return on their investment in their lifetime. If they've paid off their house and buy something smaller, they'll have more cash in the bank to live off of.
Lower monthly expenses like utilities, home insurance, maintenance, taxes, etc.
Having a smaller floor plan improves ease of access and makes upkeep take less time.
Being surrounded by other neighbors who are in a similar phase of life.
Being mentally prepared to encourage your parent to push through their emotions (and doing so patiently) is an important aspect to downsizing that has nothing to do with the physical labor most people think of when they start preparing for this type of project.
Create a Plan
Sitting down with your parent and creating a plan of attack before you dive in will help you be as efficient as possible.
Go through every room in the home and rank them based off the amount of clutter and junk they have and how much will need to be tossed or donated.
Give each room a rating of 1-5, with 1 being the least cluttered to 5 being the most.
Having a list of every room in the house with a visual of how much work each room will require will help you know where to start and help you stay on track.
Take a look at the types of items that are taking up space in your parent's home and the condition they are in.
Plan on separating the stuff you'll be getting rid of into different piles so that the disposal aspect of this project is simple and straight-forward.
We recommend creating a pile of items that can be donated and a pile of items that need to be thrown away or recycled.
Learn more:
Recruit Help & Get to Work
If you can, try to avoid doing all the labor yourself.
Downsizing your parent's home is a huge project and one that will likely take days, if not weeks, to complete.
Assuming that you're a working person with a family or demanding life of your own, it will be easy to become overwhelmed by this project if you try to go at it alone.
Because of the sensitive nature of this process, it's important to keep your cool and remain patient and understanding with your parent if there are parts of the decluttering and downsizing project that are difficult for them.
Being emotionally available for them during this time will be next to impossible if you're also responsible for all of the manual labor and logistics of cleaning out their home.
Any family members or friends that are willing to help you physically pack up rooms or keep your parent busy during this process is help that you should seek out or happily accept if it is offered.
If you are unable to create a small team of helpers on your own, consider hiring professional help.
Junk removal companies are especially helpful when you would like to get the home cleanout done as quickly as possible.
They can pack up each room for you while you help direct and guide them, or they come and remove the items you want to get rid of after you've gone through all the rooms and separated them yourself.
Hire Disposal Services
Even if you plan on having an estate sale or garage sale of sorts to unload some of the stuff taking up space in your parent's home, there will still likely be a lot of stuff that needs to be tossed or donated.
We mentioned that junk removal services are a great way to get rid of items that are no longer wanted, but did you know that they can donate items on your behalf, too?
Junk removal companies are notorious for separating items and donating/recycling whenever possible.
Most junk removal services are environmentally conscious and make their services more attractive by their ethical disposal practices.
Another disposal option if you have mass amounts of stuff to throw away is to rent a temporary dumpster.
Having a roll-off container or trailer dumpster placed in your parent's driveway right outside your parent's home provides a great way to manage garbage and debris so that it isn't piling up around the house as you're sorting through it.
If you've never rented a dumpster a dumpster before, it's probably a lot less complicated than it sounds, especially when you use Hometown.
Hometown publishes locally-owned, licensed, insured, and reputable junk removal and dumpster rental companies throughout the U.S. and connects them to customers in their area that are looking for ways to get rid of large amounts of junk, garbage, recyclables, debris, and more.
Our site is easy to use and provides a single quote-request form to fill out that can be sent to multiple service providers in your area so that you don't have to keep answering the same questions over and over when you're looking for dumpster rental or junk removal quotes.
Compare services in your area and make a decision based on pricing, customer service, and availability - all in one convenient place!
---