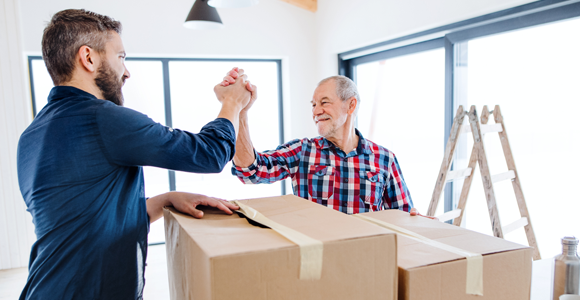 Updated January 19, 2023
There comes a time in every elderly person's life when it is time to downsize and move.
If you're in charge of managing your parents' cleanout project, you might be wondering what to do with all the "stuff" that has accumulated in their home over their lifetime.
Renting a dumpster is one of the most preferred disposal methods for home cleanouts, but unless you've rented a dumpster before, it can be difficult to know where to start.
Hometown helps people all over the country get in contact with locally-owned dumpster rental companies in their area, so we know our stuff.
We'll go over the top information to know to make renting a dumpster and helping your parents with their house cleanout go as smoothly as possible.
Jump to:
---
---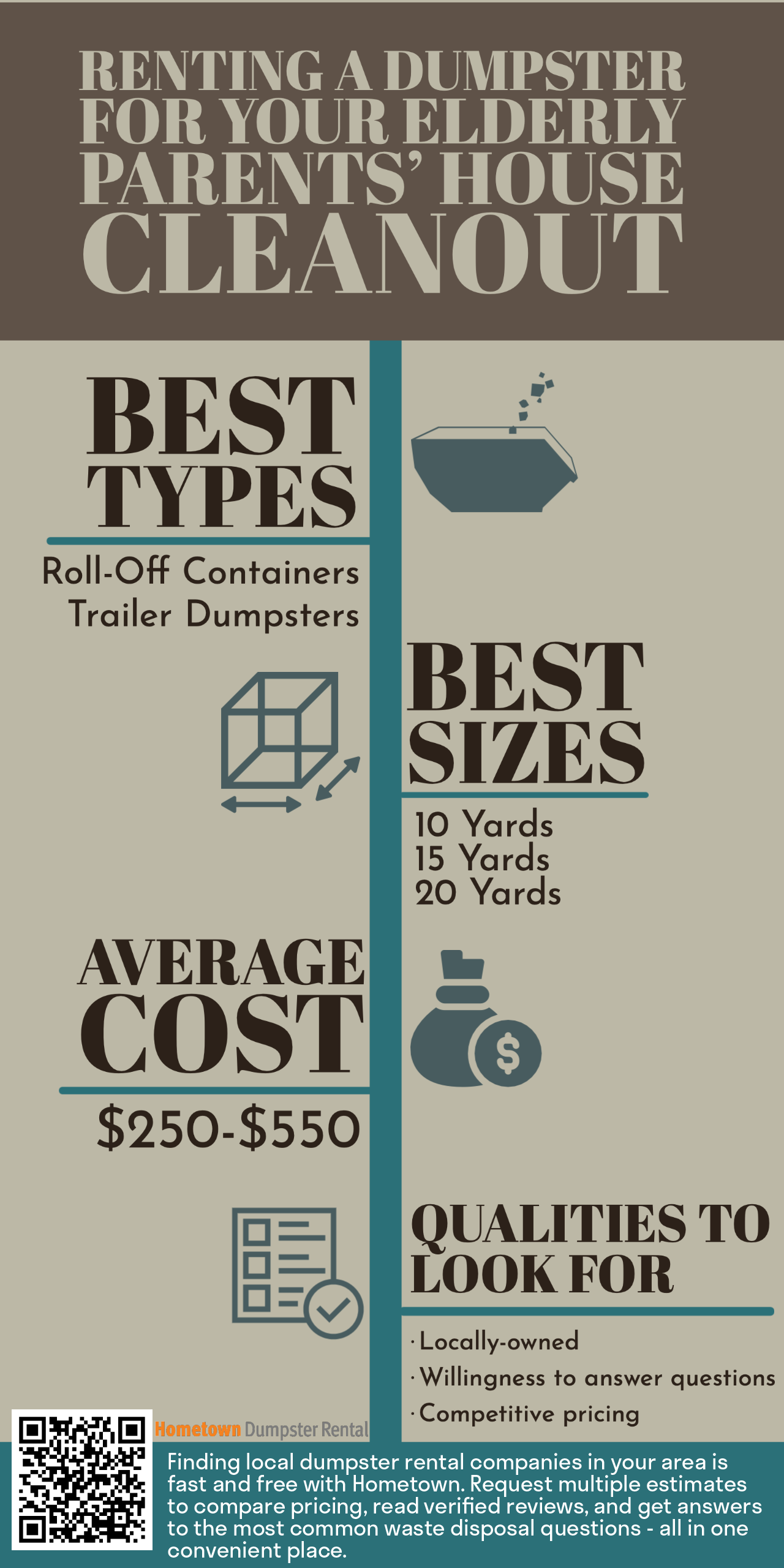 Types of Dumpsters
The most popular styles of residential dumpsters are roll-off containers and trailer dumpsters.
Roll-off containers typically come in a wider variety of sizes, but the larger sizes are most often used for construction/demolition projects or hoarding situations.
So for home cleanout projects, both types of dumpster styles will be suitable.
Both roll-off containers and trailer dumpsters feature an open top (without a lid) to make tossing in your junk and trash easy.
Roll-off containers sit on the ground and many have a swinging side door, which makes walking in heavy or bulky items very convenient. This makes them an attractive option for those whose elderly parents have old furniture or appliances to get rid of.
Trailer dumpsters sit on rubber wheels, so without a ramp, you'll have to have the strength and manpower to lift your large and bulky items.
Because of their rubber wheels, trailer dumpsters are often chosen by those who are concerned about driveway damage.
While reputable dumpster companies can easily place roll-off containers on a driveway without damage, the rubber wheels on a trailer dumpster greatly minimizes the chances of an accident happening. This makes them an attractive option for those who have recently installed a new driveway in preparation to sell their parents' estate.
The wheels on a trailer dumpster also make moving and maneuvering it very easy to do for anyone with a vehicle hitch.
There are different benefits for both types of temporary dumpsters, but either will work great for a home cleanout.
More info:
Dumpster Sizes
One of the reasons that roll-off containers are so versatile is because they come in various container sizes.
Deciding which dumpster size to rent for your home cleanout is an important step to avoid costly mistakes, and dumpster rental companies can help you choose the best one if you're unsure.
Renting a dumpster that is too small means that you may have to rent a second dumpster, instantly doubling costs, or it could mean that you'll go over your weight limit and get hit with overage fees.
On the contrary, renting a dumpster that's way too large means that you're spending more than necessary, although when in doubt, we always recommend going with the larger dumpster when you're deciding between two sizes.
Both roll-off and trailer dumpsters are measured in cubic yards.
The most common sizes for roll-off dumpsters are 10 yards, 20 yards 30 yards and 40 yards, while trailer dumpsters most often come with 10 yard, 15 yard, and 20 yard capacities.
Experienced dumpster rental companies do a great job of recommending the right dumpster size for your project as long as you provide accurate, detailed information about the contents you'll be putting in.
We've also written many articles that explain dumpster sizes in greater detail, with examples of project types and the sizes that best suit them, to help give you a visual.
Read more here:
Average Cost of Dumpster Rentals
The average cost to rent a dumpster in the U.S. falls between $250-$550 in most cases.
However, there are many different factors that will determine the price you will pay for a dumpster rental in your area, like cost of living, the dumpster size you rent, the type and weight of what you put in the dumpster, who you rent from, and more.
How to Find Quality Dumpsters
There's nothing worse than spending your hard-earned money on a company that offers poor or subpar service.
Through our years of research, we've found that the top three characteristics that set great dumpster rental companies apart from their competitors are:
Being locally-owned
Willingness to freely offer dumpster rental advice
Competitive pricing
When it comes to renting a dumpster, Hometown has taken the guesswork out of choosing a reputable service provider.
We publish locally-owned dumpster rental and junk removal providers across the U.S. and help connect them to consumers in their area who need their services.
Every company that is published on our site is vetted to ensure that they're licensed, bonded, and insured for the safety of all involved.
We've developed an easy-to-use quote request form that is simple, straightforward, and can be filled out within minutes.
With this single quote request form, you can select up to 3 pros in your area to send your request to.
All quotes are free. Always.
Getting multiple quotes helps you compare customer service, costs, and availability to ensure you get the best service when you need it most.
---