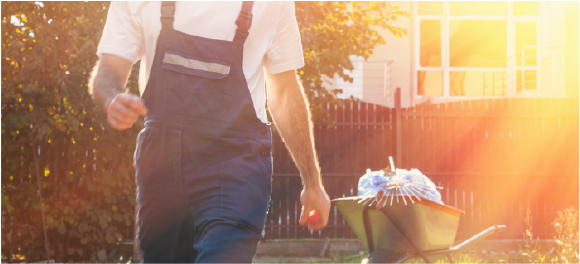 Looking for San Diego junk removal services?
You've come to the right place.
This guide answers some of the most common questions homeowners and business owners have about junk removal services in America's Finest City.
Jump to:
---
---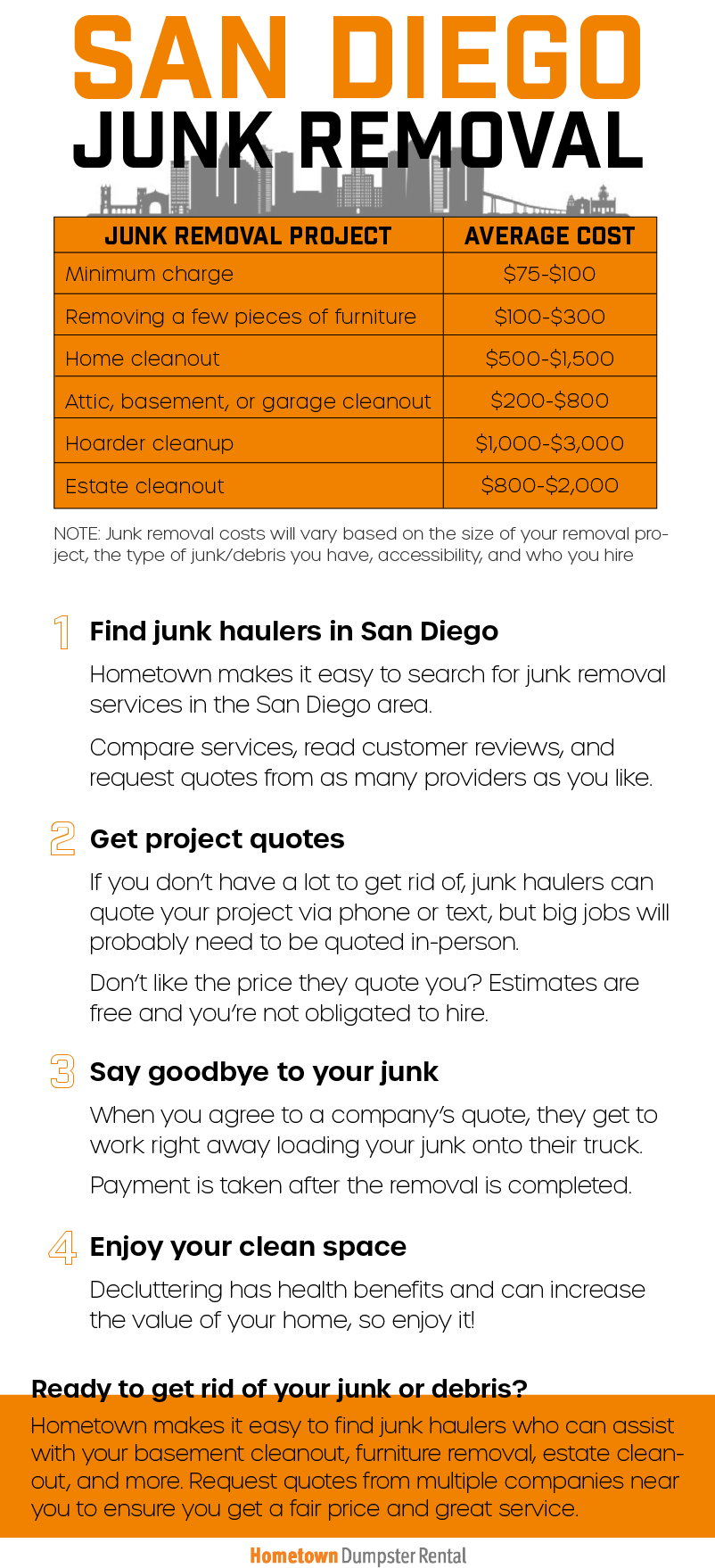 How Junk Removal Works
Find Local Junk Haulers in San Diego
Hometown makes it easy to search for junk removal services in the San Diego area and across the country.
From there, you can compare the services each company offers, read their customer reviews, and request quotes from as many service providers as you'd like.
Hometown asks local removal experts to verify their services, the items they accept and remove, the areas they serve, and more, all of which makes it easy for customers like you to find the right company for your junk removal project.
Get Multiple Quotes from Companies
If you have just a couple of large items to get rid of, like an appliance or a small furniture set, then the junk hauler may be able to give you a quote over the phone or via text before coming out to your site.
If you have more than a few items to get rid of, the junk removal service will likely need to see the junk in person in order to give an accurate estimate.
Typically, a crew of two people will come out to your property to assess the amount of junk you have and the amount of effort and time it will take to remove it before quoting you a price.
They then provide you with an exact quote, and if you're satisfied with the price, the team removes the junk on the spot.
If you don't like the price they quote you, then no worries—estimates are free, and you're not obligated to move forward with the service.
Get Rid of Your Junk
If you agree to the junk hauler's quote, they get to work right away.
The crew loads all your unwanted junk onto their trucks and hauls it away, leaving you with a clean-swept space.
Payment is only taken after the job is completed and your junk is gone.
Enjoy Your Clean Space
Once your junk is hauled away, all that's left to be done is relax and enjoy your newly cleaned space.
It feels great to get rid of unwanted or unused items cluttering up your life, especially when someone else does all the dirty work and heavy lifting for you.
Plus, most junk removal companies will handle your debris responsibly, donating any items in good condition and recycling whenever possible.
Find out more:
How Much Junk Removal Costs in San Diego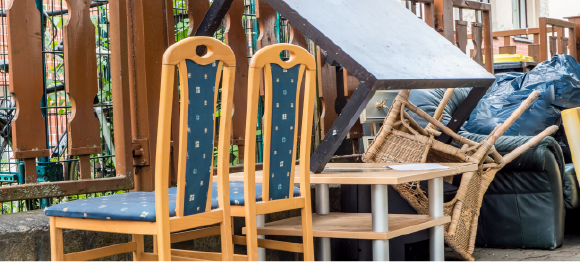 Junk removal costs can vary quite a bit depending on a variety of factors.
Junk removal prices depend on:
How much junk or debris you have
The type of junk to be removed
How easy it is to access your junk and haul it to their truck
Who you hire to do the work
Getting a closer look at local average costs for popular junk removal jobs in San Diego can help give you a rough estimate.
Average Costs for Junk Removal in San Diego

| Junk Removal Project Type | Average Cost |
| --- | --- |
| Minimum Charge | $75-$100 |
| Removing a Few Pieces of Furniture | $100-$300 |
| Home Cleanout | $500-$1,500 |
| Attic, Basement, or Garage Cleanout | $200-$800 |
| Hoarder Cleanup | $1,000-$3,000 |
| Estate Cleanout | $800-$2,000 |
San Diego Junk Removal Companies
There are a variety of companies to choose from when it comes to junk haulers in San Diego.
The best thing you can do is get multiple quotes from junk removal companies available to you.
Not only does this ensure you pay a fair price, but it also ensures you get great service.
Keep reading:
---
---
Where to Start
When it comes to junk removal and dumpster rental services, Hometown is the place to start.
More people visit Hometown to find a waste hauler near them than any other place on the internet.
We make it easy to find qualified junk haulers in the San Diego area and across the country. Browse your options, read customer reviews, and request quotes from as many providers as you'd like.
Read on: