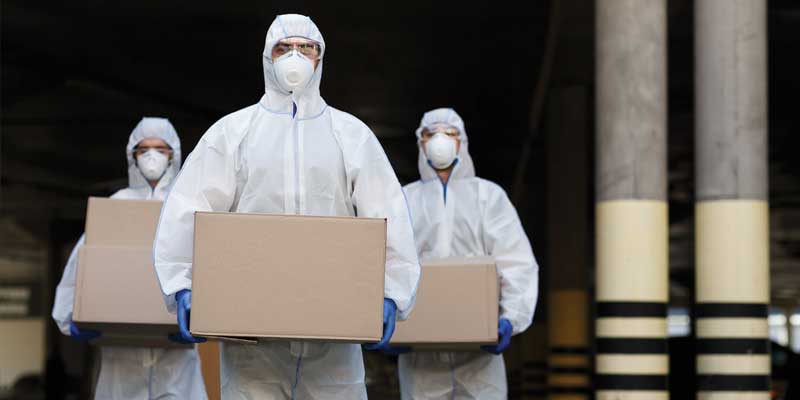 Updated May 25, 2023
Cleaning up a house in hoarding condition is not for the faint of heart. In fact, in many cases, it can be outright dangerous. That's why hiring professional services is always the best practice when remediating a hoarder's home.
When searching for professional hoarding cleanup services, knowing where to start can be half the battle. With hundreds of search results at the click of a button, it can be overwhelming to even begin the task of finding the right hoarding cleanup crew in your area that will not only fit your budget, but who will use discretion and prioritize quality customer service.
Finding the right hoarding cleaning service doesn't have to be hard when you use Hometown. We make it easy for homeowners and business owners to find locally-owned and operated junk removal companies across the country and vet them to ensure they're reputable.
In this guide, we'll go over:
---
---
What to Look for in Hoarding Cleaning Services
Professionalism
One of the most important things to look for when scouting hoarding cleanup services is professionalism. Do they answer your phone calls and emails in a timely fashion? Are they available and eager to answer all of your related questions honestly? Do they interact with their potential customers in a friendly and professional manner? Ask yourself these questions throughout the course of your initial correspondence.
Experience
It's also a good idea to find out the type of experience each junk removal company has with hoarding cleanups specifically. Because they're often the most extensive jobs junk removal businesses offer, you won't want your project to the be the first hoarding cleanout the company in question has tackled. Experience in the level of safety measures, attention to detail, and efficiency required to remediate a hoarder home is important if you want to complete your project correctly, on time, and within your intended budget.
Hoarding cleanups can be an emotionally delicate situation if the homeowner is around during the cleaning, so a company with experience in handling these situations can be the difference between a successful remediation and a complete backslide. It's important to know how to be delicate and discrete, yet efficient and motivating, and these skills often only come with proper education and plenty of previous experience.
Past Customers' Experience
Another important thing to look for when choosing a hoarding cleanup service is what their previous customers are saying about them. Offering the lowest rate in town might attract many customers to a company, but paying attention to the feedback they receive from previous customers is key when choosing who to hire. Read reviews from real customers on Hometown to get an idea of the level of customer service you can expect.
Price
With that being said, price should also be a factor to consider. While going with the cheapest company in town runs the risk of dealing with a less qualified crew, there's no reason that you should be spending more than the average going rate for hoarding cleaning services in your area. The average cost for hoarding cleaning services range around $1,000-$2,000 per day that it takes to complete the job, but there are many factors that are play in a hoarding cleanup. The cost of your particular job will vary based on the size and scope of your project, time and manpower required, presence of hazardous material, landfill fees in your area, where you're located, who you hire, and more.
Accurate On-Site Estimates
The best way to get an idea of what a fair price is for your particular cleanup project is by getting multiple quotes from local companies in your area. (Again, Hometown makes this easy.) Because hoarding cleanups are big projects that take careful planning and organizing, the junk removal companies you speak with will most likely want to send someone to the home to assess it in person in order to provide you with the most accurate estimate.
Read more:
How to DIY a Hoarding Cleanup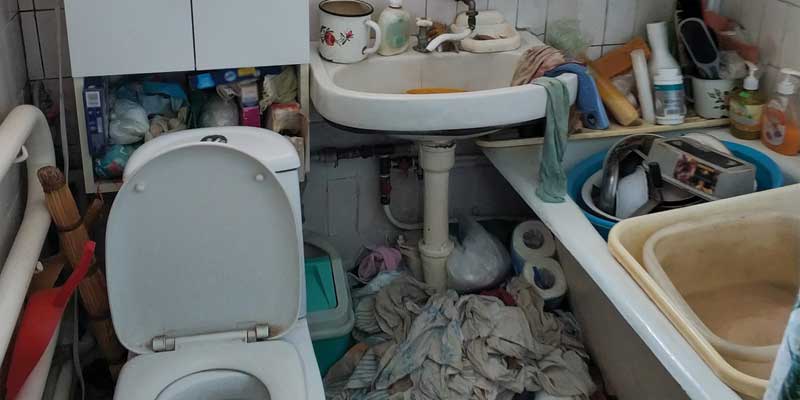 Doing a hoarding cleaning yourself is never recommended due to the safety and health risks, but there are ways to do it that will decrease your chances of injury and increase your level of efficiency.
Safety Equipment
One of the most important steps in a DIY hoarding cleanup project is to wear protective clothing from head to toe. Hazmat suits are ideal, but coveralls with hoods and shoe coverings, in addition to gloves, boots, goggles, and a respirator mask is necessary. People often underestimate the amount of toxic fumes that are airborne from mold, chemicals, animal droppings, decaying matter, etc. There are also typically plenty of sharp edges and rusty metal hiding in the depths of piled up junk, so leave no room for error and suit up accordingly.
Debris Disposal
Another critical component of DIY hoarding cleanups is having a proper disposal solution, i.e. a dumpster. Temporary dumpster rentals are perfect when you have large amounts of trash and they come in a variety of different sizes to suite the disposal needs of every project.
As is the case with junk removal services, Hometown can help you find dumpster rental services in your area that are affordable and available when you need it.
Keep reading:
---
---
Requesting Free Quotes With Hometown
Hometown simplifies the process of getting free quotes from dumpster rental and junk removal companies that provide hoarding cleanout services in your area. By doing a quick search of your zip code, you'll be shown local businesses near you that are reputable, qualified, and eager to offer free quotes.
You can select your own service provider, or Hometown will match up your request to the right local experts for you. Either way, we make getting quotes fast and easy.
Because of the extensive nature of hoarding cleanups, most junk removal companies will need to come to the job site to assess the amount of work that needs to be done and provide an on-site estimate that is as accurate as possible. However, dumpster rental quotes can be given over the phone or via email within 1-2 business days.
With Hometown, you can read reviews from previous customers to gather information about the type of customer service each company is known for and get answers to the most common hoarding cleanout questions so your project goes well from start to finish.
---