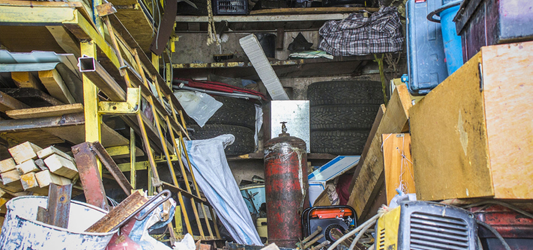 Updated July 22, 2023
Hoarding cleanup services provide a safe solution for reclaiming a living space that has been overtaken by unmanageable clutter and potentially dangerous obstacles.
Because the condition of hoarder homes vary significantly from one situation to the next, so does the cost for hoarding cleanup services.
On average, hoarding cleanups cost around $1,000-$2,000 per day, with most jobs taking between 1-7 days to complete.
The exact price you will pay for your hoarding cleanup will depend on a number of factors.
Factors That Determine Hoarding Cleanup Costs:
---
---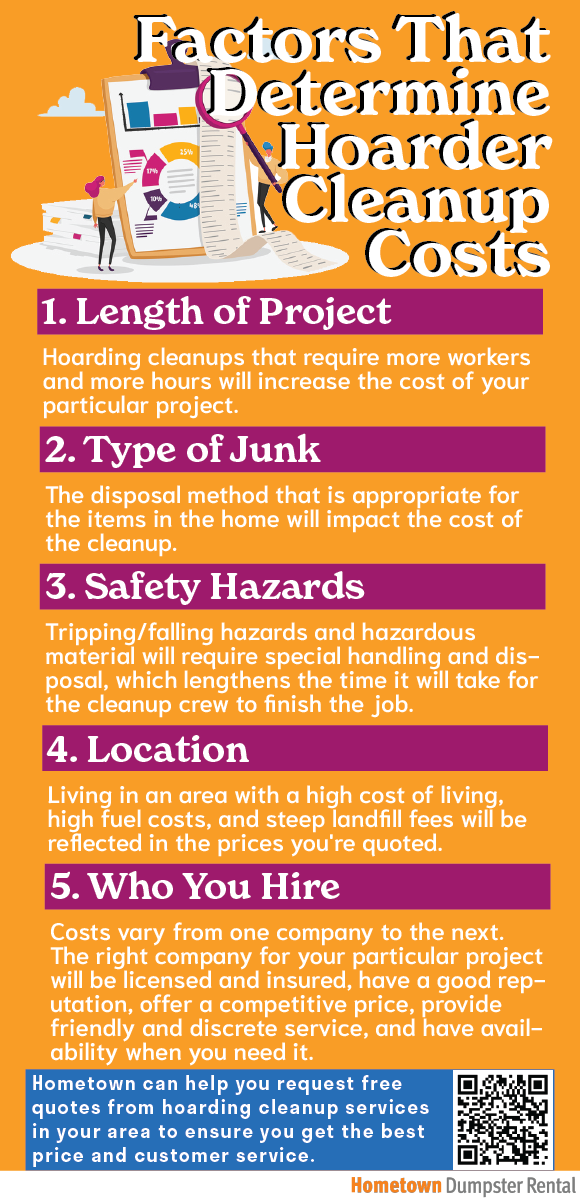 Length of Project
A large factor that determines the price you'll pay for a hoarding cleanup is the cost of labor.
Hoarding cleanups that require more workers and more hours will increase the cost of your particular project.
The bottom line is: The larger the project, the higher the cost.
Type and Amount of Items in the Home
The amount of items that need to be removed ties in with how long it will take to complete your project, but the type of material being extracted from the home is important, too.
If the hoarding home is in sanitary condition and the items being hoarded can be donated, sold, or recycled, you will likely pay less than a home full of items that need to be taken to the dump.
Landfills charge significantly higher tipping fees that recycling facilities, and dropping off donations to local charities or group homes is always free.
The disposal method that is appropriate for the items in the home with impact the cost of the cleanup.
Presence of Safety Hazards
A common occurrence in hoarder homes is the presence of safety hazards.
Common safety hazards that can be found in hoarder homes include:
Airborne: Dust, sand, insulation, particle matter
Biological: Mold, mildew, bacteria, asbestos, animal/human feces, insects, critters/animals, decomposing animals, decomposing food
Bloodborne Pathogens: Sharp edges, used needles, medical waste
Fire: Flammable materials, explosives, obstructed exits
Physical: Tripping hazards, animal/insect traps, weaponry, rusted metal, broken glass
Structural: Weakened flooring, ceilings, or walls from mold and/or water damage
Hazardous material requires careful handling and proper disposal.
Tripping and falling hazards are present in most hoarding cases, which requires a slower pace and more attention to detail.
All of these hazards will require special handling, which lengthens the time it will take for the cleanup crew to finish the job.
Keep reading:
Location
Where your project is located will have a significant affect on the price you will pay for your hoarding cleanup.
Living in an area with a high cost of living, high fuel costs, and steep landfill fees will be reflected in the prices you're quoted.
Living in a rural area that is far away from the nearest hoarding cleanup professionals or disposal facilities can increase the cost of your project, too.
Who You Hire
The cost of your hoarding project could vary slightly from one service to the next, which is why we always recommend getting at least 2-3 different quotes.
Not only does getting multiple hoarding cleanup quotes ensure that you pay a fair price, it also ensures you hire the best company for the job.
No matter the size of your hoarding cleanup project, knowing what to look for in a junk removal company can help save you money, time, and stress if you've never had to hire one before.
The right company for your particular project will be licensed and insured, have a good reputation, offer a competitive price, provide friendly and discrete service, and have availability when you need it.
Hometown specializes in helping people find qualified hoarding cleanup, junk removal, and dumpster rental services in their area.
Our free resources have helped thousands of homeowners and business owners in need of quality disposal solutions throughout the U.S. for over a decade.
By entering your zip code and answering a few quick questions about your hoarding cleanup project, you'll be shown locally-owned companies near you.
From there, you can request as many quotes as you'd like, learn more about each company, and read real customer reviews from others who have used their services.
---
---
Learn more: