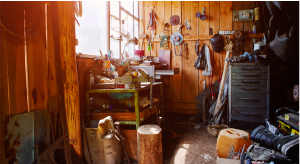 Updated June 22, 2022
A shed can be an incredibly valuable and useful space, but it's also one of those areas that can be prone to becoming cluttered and disorganized.
If your shed has become a mess and you're ready to clean it out and make it as functional as possible, Hometown is here to help.
In this guide, we'll list our biggest tips for decluttering and organizing your shed in order to make it its best.
Jump to:
---
---

Tip #1: Determine the Best Disposal Method Ahead of Time
Take a good look at your shed and your yard.
Get a good idea of what you're working with: how much you'll need to get rid of and how much you'll want to keep.
All the junk and yard waste you have will need to go somewhere, and oftentimes that's more than just tying off a couple trash bags and calling it a day.
A faster alternative to renting a dumpster to dispose of your junk and debris is hiring a junk removal company to handle the shed cleanout for you, or at least the removal and proper disposal of the items you no longer want.
Junk removal is a great option for people who want the job done ASAP and are willing to spend a little more money to make it happen.
Expect to pay at least a couple hundred dollars (for a small shed cleanup) or more to have a junk removal company clean out the entire shed for you.
Option 1: Curbside Collection
If you only have a small amount of debris to dispose of, and the items are on the small side, then you can likely dispose of the debris using your curbside trash collection.
However, be sure you aren't tossing anything in your trash that isn't allowed. Check with your trash collection service to confirm what is and isn't allowed in your curbside trash.
Option 2: Temporary Dumpster Rental
If your shed and/or yard has been accumulating stuff for awhile, you may have enough junk to fill a 10 yard dumpster.
For shed and yard cleanups that involve more than a small pile of trash, junk, or debris, we typically recommend renting a roll-off dumpster.
A 10 yard dumpster is big enough to handle a shed cleanout in most cases, but some rental providers also have smaller dumpster sizes available if your project is very minimal.
The national average cost of a 10 yard dumpster is $250-$450 for a one-week rental.
If you have a shed packed full of items to toss, you may need to rent a 20 yard dumpster, which costs $350-$550 on average.
Renting a dumpster is a great option because it's cost-effective for the loading capacity you get, and the standard dumpster rental period offers flexibility and time to complete your shed cleanout at your own pace.
Hometown makes it easy to find qualified local dumpster rental companies, read customer reviews, and request free quotes.
We recommend getting multiple dumpster rental quotes whenever possible to increase your chances of getting great services for the best price.
---
---
Keep reading:
Option 3: Junk Removal
Hiring a junk removal company is arguably the easiest of all shed cleanout and junk disposal methods.
Junk removal services involve having a crew of one or two disposal experts come to your home, remove the items for you, and sweep the area clean.
You pay a bit more for the crew's labor, but it saves you the time and labor (and gas money) to load up and haul your items to the landfill, local charity, or recycling facility yourself.
Hometown can help you find junk removal companies in your area, too.
Just like with dumpster rentals, we recommend getting multiple junk removal quotes to be sure you get great junk removal services for a great price.
---
---
Learn more:
Tip #2: Figure Out Your Sorting System
With most shed cleanout projects, you'll need to decide what to do with all your items:
Keep
Sell
Donate
Recycle
Trash
Separate your items into distinguishable piles so that it's easy to know what will need to go where: back in the shed, to another place in the home, to a local charity, or to the landfill or recycling center.
We recommend tossing your trash items directly into your dumpster or keeping those items in a place that is easy to access when it comes time to hire a junk removal company or load it up and haul it yourself.
Keep reading: Decluttering: A Guide for Success
Tip #3: Utilize Vertical and Horizontal Space
After you've gone through all the items in your shed and disposed of them properly, it's time to organize the items you've decided to keep.
Assess what items need to be stored in the shed, which items are used most often, and how best to store them for function's sake.
Utilize your shed's walls and ceiling beams whenever possible in order to maximize your shed's space while keeping everything organized and within reach.
Open shelves, peg boards, and drawers of varying sizes are all great storage options for tools and equipment commonly stored in sheds.
---
---
Find out more: