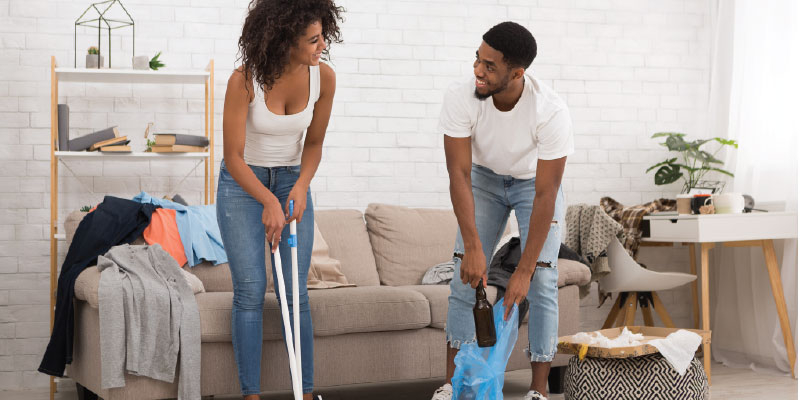 Updated March 31, 2023
Cleaning out the junk and clutter from your home isn't something that has to be saved for the spring; any time is a good time to regain control and refresh your living space.
The idea of cleaning out out a home or property top to bottom can be overwhelming to even think about, let alone follow through with. That's why we've put together this complete home cleanout checklist to help you organize an easy-to-follow strategy for guaranteed results. Our home cleanout guide will break down every part of the home and the most efficient methods to ensure a successful home cleanout.
We'll go over:
---
---

Where to Start
The first thing you should do when tackling a whole home cleanout is to map out a plan of attack.
First determine what your goal for this cleanout is. Are you in charge of an estate or eviction cleanout and need to get rid of every single item throughout the entire house? Are you preparing to move and want to get rid of as much as possible before packing up your belongings? Has it been years since you've gone through your home and decluttered items you rarely use? Knowing what your goal is and the type/amount of items you'd like to get rid of will help you plan for how you'll dispose of these items.
The next thing you should do is create a schedule. Do you have a deadline that this project needs to be done by, or can you take your time and work on it whenever is convenient? Are you someone who likes to dedicate a whole week/weekend to see a project to its completion, or do you like to work in sections and tackle one area at a time with breaks in between? Having a rough idea of what you want your project schedule to look like will help you create a plan, which is critical for a successful home cleanout. If you have a hard time deciding where to start, create a map of your home and label each room with a rating of 1-5: 1 being the easiest to clean and 5 being the most difficult to clean.
Basements and attics used for storage of things that have piled up over the years are great contenders for a 5 rating, while smaller rooms that are used and organized often, like bathrooms, will be easier to clean out and can get a lower rating of 1. Create a list and order your rooms based on their difficulty level to help you decide which rooms to start with and which rooms to end with. You can either decide to tackle the most difficult rooms first and save the easy rooms for last, or vice versa. Whatever you find most motivating is the path you should take.
Before you get started, you'll want to have a way to dispose of or organize the items you're removing. Do you plan on throwing everything away? Will you be donating or trying to sell some valuable or gently used items? Unless you plan on throwing everything out, you'll want to make sure you have boxes or bags to organize your items that can be donated or sold so that they aren't mistakenly mixed in with all the junk you plan on trashing.
Kitchen Cleanout
Unorganized kitchen tools, expired pantry items, mismatched or chipped dishes, and messy cabinets can make a kitchen look and feel like a stressful, cluttered mess. Even the dirtiest kitchen cleanout can be completed with minimal stress and relative ease if a plan is established before you begin. The first thing you should do is determine what you want to get rid of. Are you getting rid of everything in the kitchen, or just the junk you no longer use? Maybe you're moving and you want to keep the basics and get rid of all the food. Whatever your goal is, establish it before diving in.
If you're handling an estate cleanout, eviction, or are moving out, start by going through all cabinets and drawers and create three separate piles: one pile of items to keep, one to donate, and one to throw away. If you aren't moving and are just doing a basic kitchen cleanout, you can keep the items you're not getting rid of in the drawers and cabinets for now, but remove any items that can be donated, sold, or thrown away and place them into respective piles.
If you need to get rid of one or more kitchen appliances, consider hiring a junk removal company to do the heavy lifting for you. In addition to appliances, they can also remove your bags or boxes of unwanted items throughout the house, allowing you to get rid of all your junk in one fell swoop. One step further, junk removal companies can even help with the aftermath of a kitchen remodel and any interior demolition that happens as a result. They can haul away any debris you have in addition to any appliances and furniture you need hauled away as well. Find local interior demolition contractors to help with your kitchen remodel by searching on Hometown Demolition.
Once you've removed all the items you no longer want to keep, it's time to clean and organize the remaining items. If the kitchen is completely cleared of all items, cleaning should be generally straight forward, and we recommend working from top to bottom.
Start by dusting any fans or light fixtures and cabinets anchored on the top half of the kitchen. Then, clean bottom cabinets, drawers, or other storage areas. For your drawers and cabinets with food and items still in them, and the refrigerator, remove the items to clean the area they're stored in, and then be sure to place them back in their respective "home" in a neat and orderly fashion.
From there, you can clean the insides of your kitchen appliances, like microwaves, refrigerators, ovens, and dishwashers if necessary. Once all the interiors of your kitchen have been cleaned, clean all the remaining surfaces in your kitchen, like the countertops, outsides of your appliances, and the floors.
If you're taking breaks between the different areas of your home, you should find a disposal solution for your piles of garbage and junk right away so that you aren't living amongst the piles. Items that can be donated can be dropped off at Goodwill or The Salvation Army during business hours. Garbage can be placed in your trash bin, unless there is a very large amount of items to throw out. If it won't all fit in your garbage bin, you should consider renting a dumpster and tackling the rest of your home as soon as possible. Dumpster rentals are an affordable and efficient way to manage a home cleanout project and can take the stress out of figuring out the disposal aspect of your project.
Living Room Cleanout
Cleaning out your living room can be handled in the same way that a kitchen cleanout is approached, but it will likely take you less time. Living rooms aren't typically rooms we use for storage and instead tend to be a less cluttered living space in comparison to kitchens, basements, and bedrooms. That said, if you have a large, old entertainment center with hundreds of DVDs, games, or other items, you'll certainly want to take the time to go through and organize these items and get rid of things that are no longer used.
Old furniture or technology can sometimes be sold, donated, or given away for free, but may need to be hauled away to a landfill if they are too worn to be salvaged. In this case, a dumpster rental or junk removal company is your best solution. Even if you have a truck that can haul it to the landfill yourself, you'll likely need to make several trips by the time you're done cleaning out your entire home. Some cities allow you to place large furniture items at the end of your driveway for pickup, but you have to pay for this service ahead of time and make arrangements with your trash pickup provider to avoid being fined.
Learn more:
Bedroom Cleanout
As with every other room in your home, the first step to cleaning out a bedroom is to determine what your goals are and what needs to go. If it's been a while since you've cleaned out your bedroom (or your children's), there may be items stored in the back of closets or dressers from years ago. A good place to start in a bedroom is the closets. Not only are the closets where most of our clutter and unused items are stored, but once your closet is emptied and reorganized, you'll likely find that you have space to store the items that were previously shoved underneath the bed or scattered on top of dressers.
If you store all of your clothes in your bedroom, consider separating your wardrobe based on seasons. If it's currently a warmer season and you have winter coats, jackets, and shoes taking up valuable space in your closet, consider boxing up your winter wardrobe and storing it elsewhere to make your closet more manageable and functional. Doing this will automatically require that you go through your closet twice a year to swap out your wardrobe, conveniently making it a bi-annual habit of sorting through your bedroom storage and helping you keep your closet under control.
When you're struggling with deciding what to keep and what to get rid of, consider when the last time it was that you used or wore the item in question. If it's been 6+ months, it's probably safe to donate or throw away.
Bathroom Cleanout
Bathrooms should be relatively easy to clean out as they tend to be smaller and the storage in bathrooms tends to be for items that we use regularly, if not daily. Take the same approach as you did with your kitchen cleanout and start with the top of the bathroom and work your way down to lower cabinets, drawers, and storage areas.
If you're someone who enjoys accumulating cosmetics and has a hard time getting rid of these items and storage of these items has now become an issue, you should start your bathroom cleanout with these items.
Many cosmetics have expiration dates, so be sure to check for dates on your makeup. Most makeup products shouldn't be kept for longer than 6-12 months. Keep in mind that toiletries or cosmetics of any kind should never be donated unless they are completely unused and unopened, so if you have half-used products that you'd like to get rid of, be sure to throw away the product and recycle the containers when possible.
---
---
Attic Cleanout
For the average homeowner, the attic is the least visited part of their house, making it an ideal breeding ground for dust or an undiagnosed mold or vermin infestation. This is why you should wear protective gear when sorting through your piled up boxes in the attic. An attic cleanout, more than any other space in the house, should be an area that you tackle with a partner. There are risks associated with climbing up and down attic stairs or a ladder, combined with the poor ventilation and heat risks of working in an attic.
When cleaning out an attic, the best strategy and is to start by either removing all items or moving all items to one end of the space so that you can go in and do some deep cleaning before working in the area. Sweep, dust, and vacuum the attic top to bottom before sorting through everything that is stored in there.
Even if you only use your attic for storage and don't plan on getting rid of anything, it's still important to periodically go through the items that are kept in there to ensure that there is no water or pest damage to the items you're storing in there. It's common for people to store family heirlooms or photographs in their basement or attic, and since these items are sentimental, you want to check on them often to ensure they're still in good shape.
If you're removing everything from the attic, consider hiring a professional junk removal company to eliminate the risk of injury. Navigating ladders or attic stairs can be dangerous on its own, let alone with the added obstacle of removing and hauling boxes and other heavy items. Hiring a junk removal crew to clear our your attic will cut down the time it takes you to complete your project significantly.
Basement Cleanout
Cleaning out your basement will follow the same strategy as all other rooms: establishing a plan, sorting through the area in sections, and separating items into piles to keep, donate, and trash. Working on a large area, like a basement, in sections will help you stay on track and will make it less likely for you to get overwhelmed throughout the process.
If your basement is unfinished, dusty, and full of cobwebs, we recommend taking the same approach as you would for an attic cleanout by being prepared with protective gear like gloves, boots, and masks for protection. If you have to remove everything and haul it up one or more flights of stairs, consider hiring a junk removal crew, or at the very least, recruiting help of your own. If you want to avoid handling this dirty job altogether, basement cleanout companies can assist you.
When reorganizing your belongings, keep like items together for easy access. For example, keep holiday decorations in one central location, family keepsakes in another, etc.
Read on:
Garage Cleanout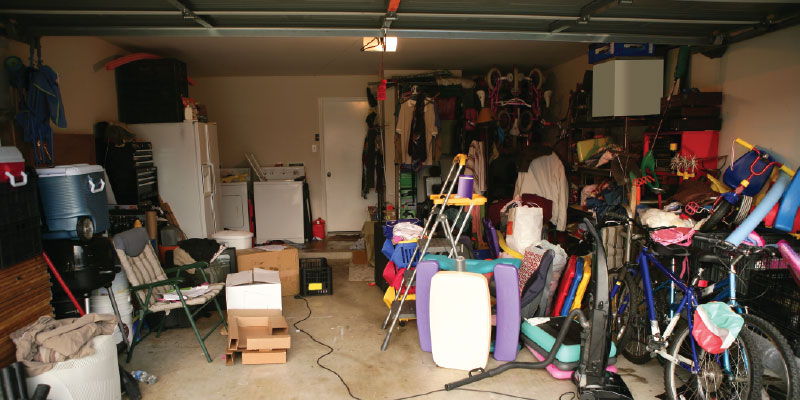 While accessing a garage typically doesn't require walking up and down flights of stairs, a similar approach should be taken to a garage cleanout as you would a basement cleanout. Garages can be a host for bugs and other pests and should be sorted through carefully. It's also common for garages to store different types of flammable or otherwise dangerous chemicals, like gasoline, fertilizers, oil, lighter fluid, paint, and other car fluids. It's also not uncommon for sharp or rusty metal to be found in garages, like nails, tools, and other metal surfaces.
Use caution and protection when sorting through your garage, but utilize the same strategies that you use throughout the rest of your home but removing items you no longer want or need, and then cleaning and organizing the remaining items, being sure to keep like items in the same area. You can organize your garage to have a section for lawn care items, an area for tools and equipment, and area for car items, and an area for toys and other leisure activities. If you want to avoid handling your dirty garage cleanout, garage cleanout services are a great option.
Yard Cleanup
A well-landscaped home can be worth 5.5-13% or more than a comparable home without landscaping, so when you take on a full home cleanout, don't overlook your yard. The first step to cleaning up your yard is to have a disposal plan in place. Most yard waste like grass clippings, twigs, and weeds can be composted. If you don't have a place to compost your yard waste and have a lot of it, consider renting a dumpster or hiring a junk removal company to haul away your collected yard waste for you.
When it comes to cleaning up your yard, start by collecting and bagging any litter that has blown into your yard. If you have lawn equipment, furniture, or toys, put them in their proper place. Next, you can scan the yard for any twigs, sticks, and branches and either bag them up or place them in a bucket that you can later use as kindling later. While you're scanning the yard for sticks, also keep your eyes peeled for any rocks or stones that are large enough to disrupt the mowing process.
From there, you should start weeding, either by hand or with the aid of a weed killer if the issue is widespread across your yard. Once the yard is cleaned up, spruce up your shrubs, bushes, and trees by trimming them when needed and giving them a nice shape. After all aspects of your yard have been manicured, top it off by mowing your yard and then using a leaf blower to clear off the driveway, sidewalk, and patio from any debris.
Professional yard waste removal services are a great resource for people who would like assistance with the entire yard cleanup or simply a pile of yard waste debris. Although, in some cases, a yard waste dumpster rental that is loaded strictly with yard waste and no other junk is another great option if you don't mind loading the debris yourself and saving money to do so.
Continue reading:
How to Cleanout a Home Faster
There are two options to consider when cleaning out a house: renting a dumpster and hiring a junk removal service If you're someone who wants to clean out their home but you struggle to find the time or motivation to get it done, hiring a professional house cleanout company to assist you could be the perfect solution. If you're someone that likes to cut costs, then a temporary dumpster rental may be the option you prefer.
If you plan on going the DIY route rather than hiring a full-service junk removal company, hauling it all to the landfill yourself may not be a feasible or desirable option, let alone the most cost- and time-effective. Renting a dumpster is arguably the best way to manage all the garbage your home cleanout will produce. This is especially true when you know you'll need to get rid of large or bulky items like old appliances, electronics, light fixtures, furniture, etc.
The convenience of having a dumpster on hand compared to having to haul individual truckloads to your local landfill yourself will have a significant impact on the time it takes you to complete your home cleanout project. For perspective, a 20 yard dumpster holds around 10-12 pickup truck loads' worth of items, not to mention you won't have to wait in line for potentially hours for your chance at damaging your vehicle or popping a tire at the landfill.
If you'd rather have more help, junk removal services are the way to go. Experienced junk removal companies that offer home cleanout services have the ability to empty out a large home full of unwanted items, donate salvageable items to local charities, recycle items that are accepted in recycling projects, and dispose of the rest - all in a time-efficient manner.
Junk removal companies have the equipment and manpower to remove heavy items up and down flights of stairs and make it easy to get rid of all your unwanted junk so you can focus on cleaning and reorganizing the items you plan on keeping.
Regardless of which service you decide will work best for your project, you'll likely get the best price and the best service by working with a locally-owned and operated company. Hometown makes it easy to find local junk removal and dumpster rental companies that service your zip code. You can fill out our single quote request form to send to up to 3 local service providers in your area so that you can receive multiple quotes to compare pricing, availability, and customer service.
Learn more:
---