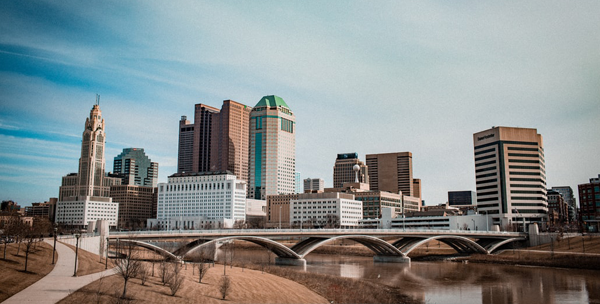 If you're thinking about renting a dumpster in Columbus, OH, this guide is the perfect place to start.
We're here to answer all your questions about requirements, permits, and competitive pricing when it comes to dumpster rentals in Columbus.
Jump to:
---
---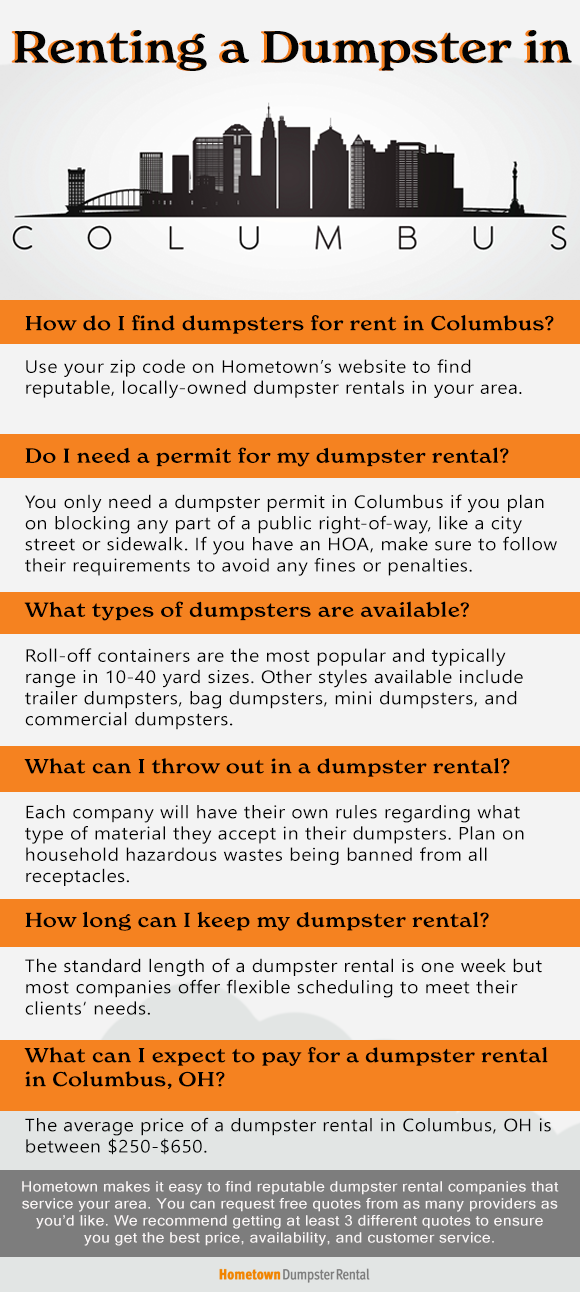 Finding Dumpsters for Rent in Columbus
Hometown makes it easy to locate and contact reputable, locally-owned dumpster rental providers in zip codes across the U.S., including Columbus.
We do our due diligence to ensure we advertise reputable companies, so you can feel confident when reaching out to providers with Hometown.
You can easily and conveniently request free quotes from as many providers as you'd like.
We recommend getting quotes from at least three different providers to ensure that you get the best service at the best possible price.
Thoroughly explaining the details of your disposal project to each company is crucial to getting the most accurate quote.
Ask each dumpster company the right questions to avoid getting hit with surprise and costly overage fees on your final bill.
Learn more:
When Dumpster Permits Are Necessary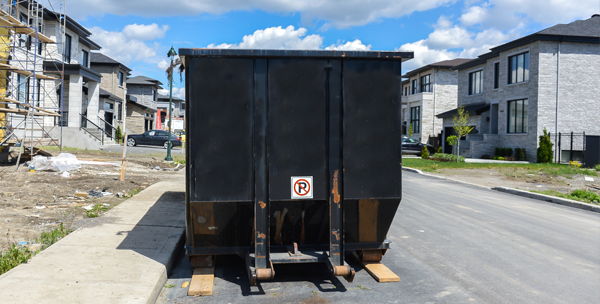 Dumpster rental permits are only required in Columbus, OH in the event that you plan on having it placed in a public right-of-way, like a street or sidewalk.
Permits are not required if you intend on having a dumpster placed on your private property, like a driveway, yard, or privately-owned parking lot.
Be aware of any HOA rules and requirements if applicable.
While your HOA may not require a permit, they may require ample notice and written permission if you have a dumpster rental placed on your private property.
Read on:
Available Dumpster Types
Dumpsters come in a variety of different styles.
The most popular temporary dumpsters are roll-off containers, but there are plenty of other styles out there including trailer dumpsters, bag style dumpsters, and mini dumpsters.
Roll-off dumpsters offer an open top and a swinging side door that allows you to easily walk in heavy items, like furniture or appliances.
The most common sizes offered include 10 yard, 20 yard, and larger 30 yard and 40 yard dumpsters, which are great for large construction and demolition projects.
There are steps you can take prior to having a roll-off container delivered to prevent any potential damage being done to your driveway.
If have any concerns about setting a dumpster on your driveway, parking lot, or yard, trailer dumpsters are great alternatives to roll-off containers.
Trailer dumpsters have rubber wheels that not only makes the placement of the dumpster easy, but makes driveway or property damage highly unlikely.
Learn more:
---
---
Items Allowed in a Dumpster
As a general rule, dumpster rental companies in the city of Columbus do not allow the disposal of hazardous material in their containers.
This includes, but is not limited to: tires, car batteries and liquids, paints and lacquers, pesticides, and other combustible material.
Beyond that universal rule, no two dumpster rental companies are the same and all have their own rules regarding what is accepted and what isn't, which is why it is imperative that you be as specific as possible when describing your disposal needs to a potential rental company.
Some companies allow all types of material, like household junk, construction and demolition debris, yard waste, recyclables, and more.
It is not uncommon for dumpster companies to require that certain materials are clean loaded.
"Clean loading" a dumpster involves loading only one type of debris into a dumpster so that it can be reused or recycled.
Common materials that can be clean loaded include concrete, brick, roofing shingles, cardboard, aluminum, wood, yard waste, and more.
Continue reading:
Dumpster Rental Lengths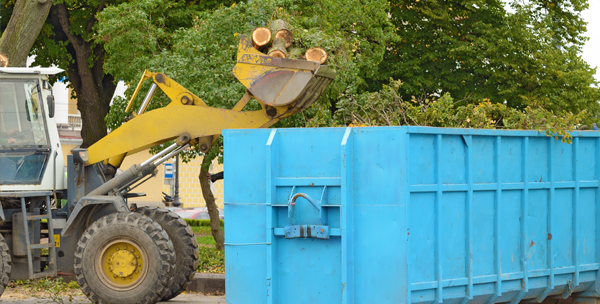 Dumpster rental periods are normally one week long, but most companies offer flexible scheduling to accommodate your particular needs.
For large, ongoing projects, it is not uncommon for companies to allow containers to be rented out for weeks or months at a time.
Some companies offer shorter rental periods at a discounted price, while others will charge the same price for a 3-day rental as they would for the standard 7-day rental.
If you only need a dumpster rental for 1 day, it's worth asking the rental company if they offer a lower price for a quicker turnaround time.
Ultimately, you'll get the most accurate answer regarding dumpster rental lengths by asking each provider you speak with what their specific policy is.
Keep reading:
Average Cost of Dumpster Rentals in Columbus, OH?
Factors that affect the cost of dumpster rentals include:
Length of the rental period
Size of the container
Materials being disposed of
Total weight of the material
Time of year
Who you rent from
That said, the average price to rent a roll-off dumpster in Columbus is between $250-$650.
---
---
Learn more: