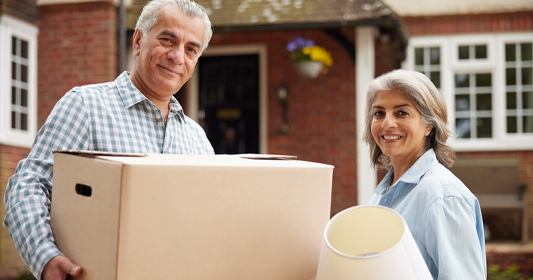 Updated June 22, 2022
When you've hit the season of life where your children have moved out and you suddenly have more space than you need, you may consider downsizing your home.
There are many benefits for empty nesters to downsize their home, like lower living expenses and less time spent on maintenance and cleaning.
If you're one of the thousands of empty nesters getting ready to downsize this year, you don't have to do it alone.
Hometown is here to help you strategically plan your downsizing project so that you can start enjoying your new space sooner.
We'll go over:
---
---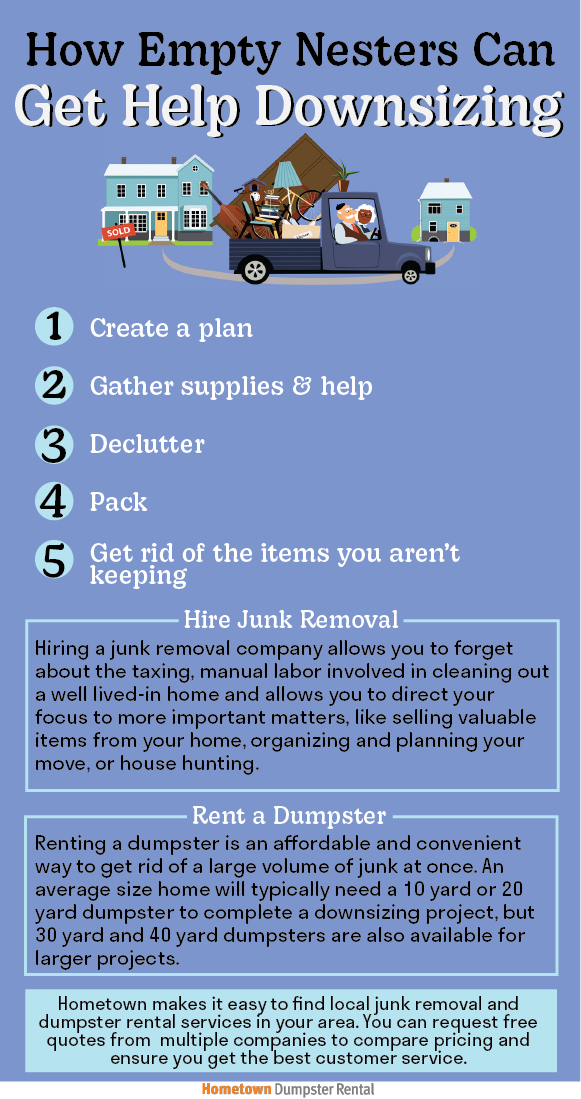 Steps to Downsizing
Downsizing your home can feel like a very overwhelming task, especially if you've been in your home for the greater part of your children's lives.
Breaking down your plan of attack before diving in can help you organize your project and alleviate a lot of stress down the road.
Step 1: Create a Plan
Planning ahead, especially far in advance, is one of the best ways to create and maintain a timeline when it comes to large, ongoing projects.
Starting your downsizing project months in advance will give you time to pace yourself and take breaks as needed, whether to rest or to address unexpected projects and curveballs that life may throw your way.
When outlining your plan, try to think of the rooms that need the most work and start there.
Plan on focussing on one room at a time so that the rest of your house remains as undisturbed and livable as possible.
Create a list of all the rooms in your house, how long you anticipate it will take you to go through, declutter, organize, and pack up each room, and what days/times you plan on tackling each area.
Don't worry if you need to adjust this as you go. Some areas of your home may require more or less time than you anticipate.
Step 2: Gather Supplies and Help
Before you start tearing your rooms apart, make sure you have boxes, bags, packing tape, protective wrapping if necessary, like bubblewrap or newspaper, and manpower for items that require heavy lifting.
Starting to declutter and organize without the right "tools" is the quickest way to lose the momentum you've started.
Step 3: Declutter
With each room that you tackle, start by sorting through all your items and decluttering.
Organize all your belongings into several different piles:
Donate
Recycle
Sell
Throw away
Keep
Separating all your belongings into these groups will help you visualize how much you'll be taking with you and how much less space you'll need to store your items in your new, smaller home.
This part of the process can be exciting for some and sad for others, but oftentimes, it's both.
You may find yourself struggling to part with old memories or things your children once needed, but this is when you need to remind yourself of why you're doing this.
Memories can't be thrown away or donated, but old items that collect dust and require extra storage space that you pay for every month, can.
Downsizing helps empty nesters embrace a new season where life is meant to be simpler and more relaxing.
If you find yourself struggling in some rooms more than others, create another pile of items to have your children or spouse go through.
Sometimes the support to keep or get rid of certain items can help you make a decision you feel confident in.
Learn more:
Step 4: Pack
After your belongings are separated into the appropriate piles, start carefully packing away the items you plan on taking with you.
Having these items packed away and out of sight will eliminate the chance that they'll be picked up and thrown out with the items you aren't keeping.
Step 5: Get Rid of the Items You Aren't Keeping
Depending on your situation, you'll have several options available to you when it comes time to getting rid of old items, like:
Having a garage sale
Hiring a junk removal company
Renting a dumpster
Donating your items
Listing your items for free or sale online
You can choose one or multiple methods to part with items you no longer need.
Regardless of the method you choose, you'll likely feel a huge weight lifted off your shoulders once you've cleared your space of all your accumulated "stuff" gathered throughout the years.
Keep reading:
Hiring Junk Removal for Downsizing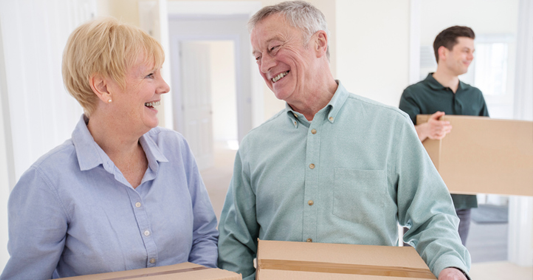 Junk removal companies are experienced in helping households of all shapes and sizes declutter and downsize but can be especially helpful for empty nesters.
Having someone else do the heavy lifting, loading, hauling, and unloading for you is a huge help for anyone, especially those who shouldn't be putting their body through strenuous labor.
Hiring a junk removal company allows you to forget about the taxing, manual labor involved in cleaning out a well lived-in house and allows you to direct your focus to more important matters, like selling valuable items from your home, organizing and planning your move, or house hunting.
Experienced junk removal companies understand how vulnerable a time downsizing can be for empty nesters and will offer as much, or as little, assistance as you deem necessary.
They have the ability to empty out a large home full of unwanted items, donate salvageable items to local charities, recycle items that are accepted in local recycling programs, and dispose of the rest.
If your needs are less involved, they will also show up to remove single pieces of furniture or appliances.
Finding junk removal companies that service your area is easy with Hometown.
By entering your zip code and answering a few quick questions about your project needs, you'll be shown licensed and insured junk removal companies near you.
You can request free quotes from as many companies as you'd like to compare pricing, availability, and customer service.
Read more:
Renting a Dumpster for Downsizing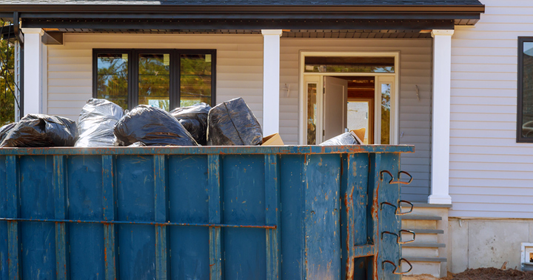 If junk removal services are outside of your budget or if you would rather do the decluttering and disposal yourself, renting a dumpster is an affordable and convenient way to get rid of a large volume of junk at once.
Most dumpster rentals last 5-7 days but can normally be adjusted to fit your specific needs, making it a great option for ongoing projects that last days to weeks.
Roll-off dumpsters are the most popular type of dumpster for these types of projects due to their open top and swinging side door(s) that make loading easy for everyone.
An average-size home will typically need a 10 yard or 20 yard dumpster to complete a downsizing project, but 30 yard and 40 yard dumpsters are also available for larger projects.
Dumpster rental companies are great at guiding you towards the dumpster size that will best accommodate your downsize.
If you find yourself debating between two different dumpster sizes, we always recommend going with the larger dumpster.
Underestimating the amount of junk you have to get rid of can be very easy to do and renting two 10 yard dumpsters will cost hundreds of dollars more than renting one 20 yard dumpster.
Your neighbors may even be inspired by your efforts and be motivated to clean out some areas of their home as well. Going in on a dumpster with neighbors nearby is a great way to save on your disposal costs.
When searching for dumpster rentals near you, we always recommend renting from a local company as local dumpster rentals tend to cost less than their large chain competitors.
Just like with junk removal, Hometown makes finding local dumpster rental companies fast and easy.
Request free quotes to price shop and read verified reviews from real customers so that you feel confident about the service you hire.
---
---
Continue reading: